Why did Apple choose Hyundai as its iCar partner?
This is not the first time Apple has been caught relating to the car project. In 2014, some senior Apple executives visited the BMW factory to check the production of electric vehicles, but the relationship was not going anywhere. Since then, there has been some speculation about "Project Titan", Apple's top secret project on cars.
It takes a few more years to materialize any iCar, but now is a good time for Apple to speed up. The epidemic dragged down global sales just as car manufacturers were starting to seriously face the big challenge of eliminating internal combustion engines in response to climate change. The need to develop electric vehicles has led to a new wave of cooperation in the industry, as companies allied to reduce costs.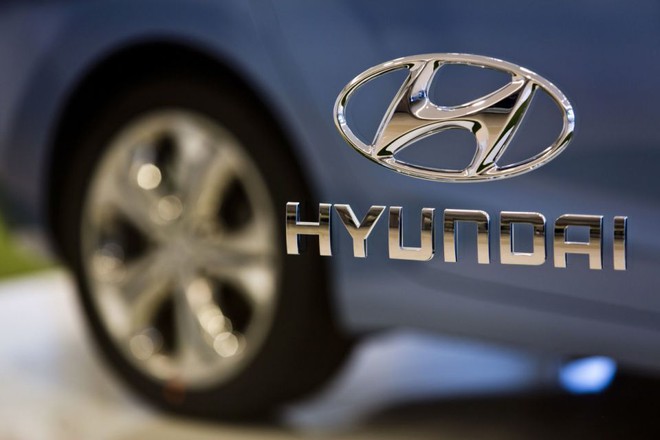 Hyundai is a major Korean car manufacturer. Photo: Bloomberg
As a result, automakers – which are not interested in helping newcomers to enter this market – are suddenly more open. Hyundai is among the most open-minded businesses, whether it's partners inside or outside the industry. The Korean company is cooperating with Baidu (China) and Nvidia (US) on self-driving car technology, with Rimac (Croatia) on electric cars, with Grab and Ola on car services. This may be the attraction of Hyundai in the eyes of Apple.
The Korean car manufacturer is also the backbone of a multidisciplinary conglomerate that makes everything from steel to elevators. According to automotive expert and Birmingham Business University professor David Bailey, being in a huge industrial network is also a plus for Hyundai.
Hyundai has made significant strides in the new generation of vehicles. In December 2020, the company launched a manufacturing platform called E-GMP, which allows them to sell electric cars that travel nearly 500km on a single charge and can be charged 80% in 18 minutes, just like other electric cars are selling in the market today. It can also serve as a platform for its sedans and other SUVs.
Peter Wells, professor of Cardiff Business School, director of the Center for Automotive Industry Research, commented that Hyundai has gone through all the hard work and produced good, quality, reliable, competitively priced cars. The relationship with Apple will be an interesting pairing, opening a new era for the four-wheeled industry.
Another reason Hyundai is the logical choice: The company is an experienced player in Asia, which has been predicted to be at the heart of global economic growth over the next few decades. Its production site is also close to China, the world's largest car market, and is the driver of electric vehicle demand. The majority of Apple's supply chain is in China.
Investors "sniffed" the potential benefit over the weekend, driving Hyundai shares up nearly 20% in Seoul. This is the company's best performance for at least the past 20 years.
In a study, Wedbush Securities analyst Daniel Ives said electric cars " could become a trillion dollar opportunity in the next decade and a smart strategic move for Apple ". However, large-scale vehicle production is particularly difficult and cooperation is the most viable route to launch iCar.
According to Mr. Ives, based on conversations with investors over the past few weeks, they want to see Apple cooperate rather than build its own car factory. If shaking hands with a player like Tesla, Volkswagen, this will be "golden relationship".
Apple can also choose from multiple partners. According to Professor Wells, Honda is always "more open and flexible" than many other Japanese carmakers. The company also sells millions of vehicles in the US each year. He predicted Apple would partner with someone like Honda, given their position in the market.
Meanwhile, the world's largest car maker Volkswagen is another affordable option. The German company opened the MEB electric vehicle platform to other automakers. They also signed agreements with Ford to develop electric cars and self-driving cars.
However, the possibility of Apple forming an alliance with Tesla, the current top electric car maker, is not appreciated. Last month, Tesla CEO Elon Musk revealed that he tried to sell himself to Apple, but CEO Tim Cook even "refused to meet".
The prospect of being "injected" by Apple is extremely attractive to car manufacturers, as they want to increase sales and revive from Covid-19. However, producing someone else's branded car seems to be quite a far-reaching scenario for many sides, especially highly positioned automakers. According to Wells, who is volunteering to be the first car manufacturing partner for a company like Apple is an interesting question.
According to CNN
Source : Genk