While many countries hit 5G speeds of hundreds of megabits, the US averaged only 51Mbps
The average download speed on 5G networks in the US is 50.9Mbps, a commendable step up from the 4G average, but still lags well behind many other countries where 5G speeds Ranges from 200Mbps to 400Mbps. That is statistical data from OpenSignal, collected from 12 countries based on user speed tests conducted from May 16 to August 14 this year. The US ranked bottom in the top 12 countries in terms of 5G speed, with the remaining 10 out of 11 countries having 5G speeds at least twice that of the US.
The average 5G speed in the US is 1.8 times higher than the average download speed on the country's 4G network (which is 28.9Mbps). Tests performed by users in neighboring Canada showed that 4G speeds averaged 59.4Mbps and 5G speeds reached 178.1Mbps. Taiwan and Australia both achieve average 5G speeds of over 200Mbps, while South Korea and Saudi Arabia have the highest 5G speeds, at 312.7Mbps and 414.2Mbps, respectively.
In the US, the average download speed for the occasional 5G user is 33.4Mbps – this includes the speeds they get with both 4G and 5G. This result places the US second in the 12 countries surveyed by OpenSignal, with the highest speeds belonging to Saudi Arabia (144.5Mbps) and Canada (90.4Mbps). The US removed the gauze a bit in terms of 5G effectiveness, the percentage of the time users are connected to 5G; specifically, they reached 19.3%, ranked 5th, while Saudi Arabia ranked first with 34.4% and the UK last with 4.5%.
The charts below show us the ratings of 12 countries in terms of download speeds on 4G and 5G networks, percentage of time users are connected to 5G, and overall download speeds: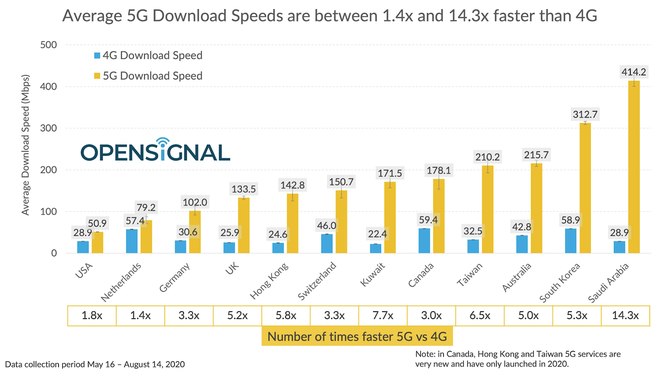 The average download speed of the 5G network compared to the 4G network in other countries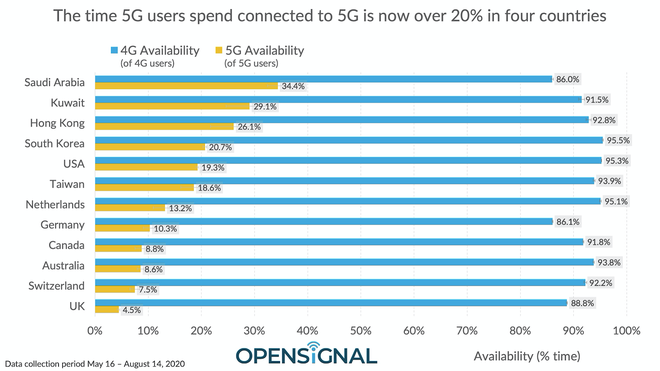 How often 5G users are connected to 5G networks in countries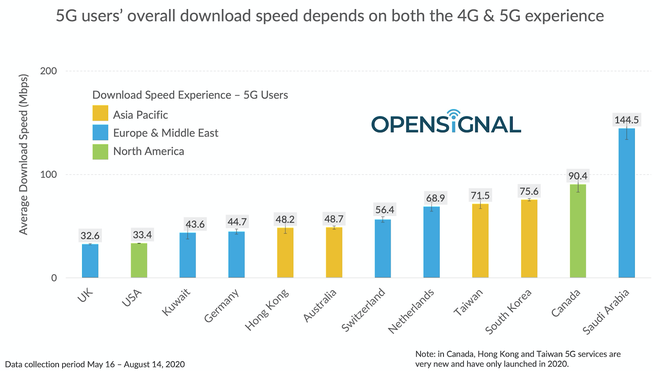 5G users overall download speed in countries
OpenSignal says it collects " billions of measurements a day from more than 100 million devices globally ", and the 12 countries in this report are the ones with the highest quality data they collect. .
Speed ​​improves only modestly in the shortwave spectrum
The relatively small gap between 4G and 5G speeds in the US (28.9Mbps vs 50.9Mbps) reflects the situation in which shortwave bands are widely used for both old and new networks. Specifically, T-Mobile has upgraded a large part of the shortwave 4G network to 5G, which improves the speed but not as much improvement as the promises of 5G network, which works best on the frequency band. long. OpenSignal explains that:
" The relatively modest download speeds on 5G networks in the US are due to the limited number of new midwave bands for 5G and the spread of the shortwave spectrum – 600MHz for T-Mobile and AT&T 850MHz – this is. providing excellent coverage and efficiency, but the average speed is lower than the 3.5GHz midwave that is the main 5G frequency band in every country outside the US ".
An earlier study by OpenSignal in June, based on tests from March 16 to June 13, showed that Verizon is currently the "champion" of average download speeds on 5G networks, reaching 494.7Mbps. . T-Mobile and its newly acquired subsidiary (Sprint) both average 5G speeds of just over 49Mbps, while AT&T reached 60.8Mbps.
But Verizon's 5G network has very little coverage, mainly because of Verizon's reliance on millimeter-wave frequencies, which are easily blocked by walls and cannot be reached, hence download speeds on the network. Verizon's 5G is high, but it has no real impact on average speeds in the US across all carriers. Users of OpenSignal's speed test only caught Verizon's 5G signal with a frequency of 0.4% of total usage time, compared with 22.5% for T-Mobile, 14.1% for Sprint, and 10.3% of AT&T. The following charts from the June OpenSignal report show the average download speeds on each carrier's 5G network, the 5G network efficiency of those carriers, and the overall speed 5G users enjoy. .

Download speeds on 5G networks

Effectiveness of 5G network

5G user's overall download speed
Even though Verizon's small-scale 5G network, the US still ranks higher in terms of 5G efficiency than in terms of 5G speeds, because the shortwave bands other carriers use " are ideal for achieving has wide 5G coverage and allows users to connect to more 5G networks than countries using higher 5G bands ". OpenSignal also said, " In the US, T-Mobile and AT & T's low-band 5G services have resulted in relatively high results in terms of 5G effectiveness. Only 5G access – which means phones won't need to connect to 4G first for 5G to work anymore – can help 5G services thrive in the future. "
The gradual shift from 4G to 5G can be quite similar to from 3G to 4G, which began about a decade ago. The current 5G market, in OpenSignal's view, is " immature ". " We are still in the early stages of the 5G era, an era that will last at least a decade because the first 5G services are only launched in 2019, and in many countries, we continues to see 5G services aimed at new smartphone users starting to be rolled out for the first time, "the OpenSignal report said.
Reference: ArsTechnica
Source : Genk