What is the secure browser on mobile platform 2020?
Ad filtering feature, malicious code

Have you ever wondered why when you search for information about a vacation on Google, the websites you then visit will display a series of advertisements for countless services such as hotel rentals, airline tickets, … This is because websites have used Cookies to collect data, from which to find out what is the user's interests and provide more relevant information to help users easily access the information. news that I searched for before.
Instead of struggling to find and install various ad-blocking software, users can now immediately own this "technological net" on the latest updated version of Coc Coc. Coc Coc's advanced ad filter will prevent annoying ads, malware or behavior-tracking elements, helping users have the best experience on a safe and optimal network. . On the other hand, advertisements that provide useful, user-friendly information can still be displayed to balance the interests of content providers.
The convenience of the above feature is built into Coc Coc browser. If you want to turn off or advanced settings, go to settings on your computer / phone and take the following steps:
Click the 3 dashes in the toolbar below the screen -> Go to Settings -> Click on the Filter Ads -> Click the Turn on / Off filter ads
Browser lock feature
Suppose in the following cases:
– Friends, relatives or children borrow their phones to do something that you cannot control
– You will use the "Save password" feature for the next time and your password is revealed
Not locking your browser is really dangerous. It allows someone to access your phone and your browsing history / documents, which could put your information at risk.
To solve the above problems, Coc Coc's mobile platform has come up with a solution called Browser Lock – browser security feature built into the application. This feature allows users to set a password for their browser to prevent outsiders from being able to access inside to view document / browser history files. In addition, Coc Coc also allows the use of fingerprints or facial recognition (Face ID) to unlock and security features at electronic payment sites. To enable this feature, follow these steps: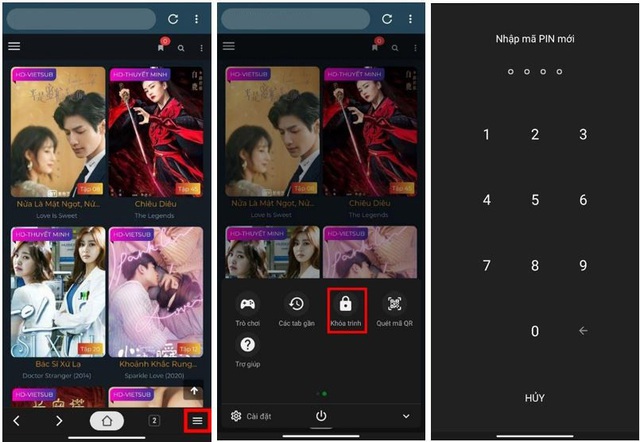 Press the 3 dashes in the toolbar below the screen and swipe horizontally -> Tap on Lock browser -> Tap Turn on browser lock -> Enter PIN 2 times
Synchronization between the browser on a computer and on the phone
For many users, the typical work has to frequently handle work or handle urgent documents, making them "adjacent" to a bulky computer anytime, anywhere. To solve this problem, users can use the sync feature of Coc Coc browser. Just log in with Google or Facebook accounts on the platforms, users will receive instant data on all different devices such as computers in the office or at home, personal phones. To use this feature, follow these steps: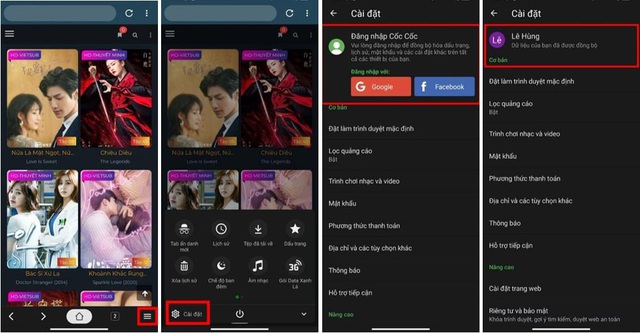 Click the 3 dashes in the toolbar below the screen -> You will see the login with Coc Coc (here, Coc Coc allows you to connect with your Google or Facebook account) -> Select login with 1 in 2 platforms Google or Facebook is done.
Download Coc Coc and experience faster, more convenient and safer browsing experience with:
Coc Coc regular version: coccoc.com
Coc Coc PRO: pro.coccoc.com
Hopefully, this article will help users who have been, are and will use Coc Coc feel more secure in the process of experiencing and using intellectual products of Vietnamese and Vietnamese people.
Source : Genk