Want to play high quality video at a fast speed, the following methods should be applied immediately
Businesses in many fields from media, education, beauty, to retail … are quickly grasping this trend by increasing the number of video content on digital platforms they own.
Videos are capable of containing more information, helping viewers to receive more content directly, in a shorter amount of time. Besides, video is an environment that does not limit the way content is displayed, from mutex videos (videos including images and illustrations), short clips, motion videos (using rendering techniques), etc. often with a fresh presentation through video can attract attention, interact many times.
The shift from text and still images to dynamic content is a strong growing trend and is being embraced by agile businesses to increase the cohesion of existing customers and potential customers. And it's important to remember: This is not a temporary trend; To date, the largest online video network, YouTube, has been registered as the second largest search engine in the world (after Google), with more than 1 billion monthly users.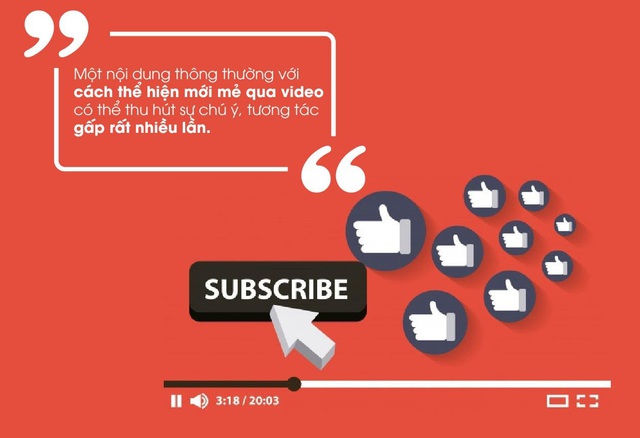 Taking advantage of the explosion of video on online platforms (website, social networks …) is undoubtedly the indispensable path for businesses now and in the future. However, want to join the "game" quickly and without many obstacles, it is necessary to grasp some of the following optimization techniques.
Consider a suitable hosting solution
The first is storage issues. We all know that videos have a lot more content to them, but because of that they often have large to very large volumes. And of course, more storage space is needed.
Cloud storage with unlimited capacity will meet this demand. Along with that, the automatic management features such as calendar reminders, deletion … according to the periodic installation time help reduce many manual management jobs and human errors.
Optimize the speed and quality of transmission is very important
Next is the need to optimize the storage and streaming to ensure viewers can experience the maximum video quality, while saving bandwidth and cost savings. Usually the video will be saved as mp4. Downloading and playing an entire mp4 video like this will be very resource intensive. Meanwhile, not all videos will be viewable in its entirety. Users will probably only see part of the video and then switch to another content.
So one trick that can be applied in this case is to split the video into smaller sections. Where the user views it will send a request there, instead of uploading the entire video from the beginning. This way helps both reduce the load capacity, while saving bandwidth effectively (used for watching videos not to watch).
Once we have the optimal stock of videos ready for streaming, we need to optimize one more final delivery step. It is using the CDN content distribution network to ensure the fastest transfer of files from the repository to the player player of the end user.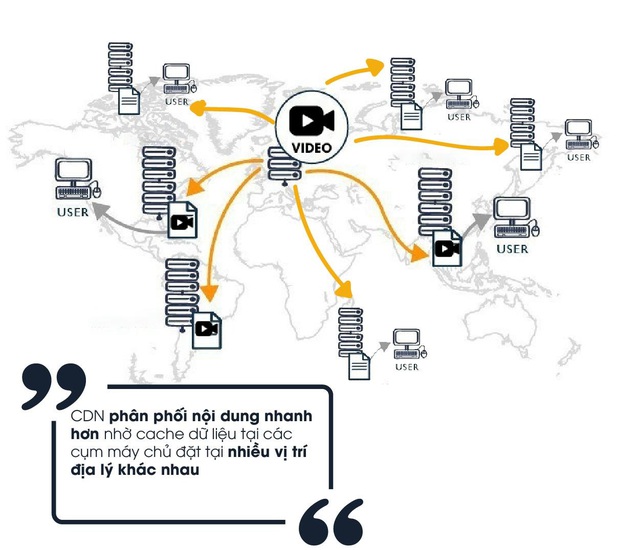 CDN's ability to speed up the download and return of files lies in the mechanism of caching data at server clusters located in many different geographical locations. Content that has been broadcast via the previous CDN will be cached in a location closer to the user, along with which the CDN will identify which content is close to which user to navigate appropriately. As a result, the distance to download, download and play files to users will be much shorter. Waiting time will also be reduced and users are almost unaware of any disruptions. This is one of the practical problems that BizFly Cloud and the comprehensive cloud solution system solved for businesses.
BizFly CDN – solutions to accelerate and protect websites and BizFly Simple Storage – unlimited cloud storage solutions, are solutions of the BizFly Cloud ecosystem, operated by VCCorp – Leading company in the field of technology and communication. With many years of experience working with major partners such as Topica, VTV, Vingroup, Fahasa, 7-eleven, Ahamove, etc., BizFly Cloud will help businesses choose and identify the most suitable solutions for their needs and special needs. enmity of his activities.
Businesses do not need to invest large amounts of money to purchase hardware equipment or pay for specialized personnel, only pay for the resources actually needed to use at a very reasonable cost. The system calculates fee based on actual usage, clearly showing the costs incurred, making monitoring and management easier than ever.
For customers who are interested in CDN service, you can register for a FREE 30-day trial and receive a 3-month Offer at:
Website: https://bizflycloud.vn/cdn/
Support hotline: 024 7302 8888/028 7302 8888
Source : Genk