Wall Street was suddenly strongly sold-off, Dow Jones lost more than 800 points, technology stocks plunged
Specifically, the Dow Jones industrial average fell 807.77 points, or 2.8%, to 28,292.73 points, witnessing the strongest drop in a day since June 11. The S&P 500 fell 3.5 percent to 3,455.06 points and the Nasdaq Composite fell 5 percent to close at 11,458.10.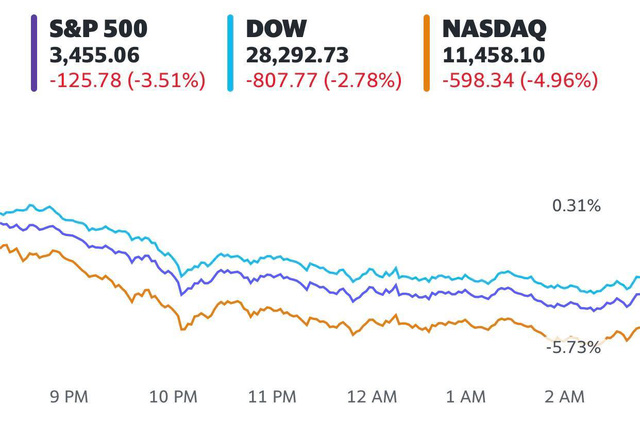 Apple shares fell 8%, recording the biggest drop in a single session since March 16. Amazon and Netflix both fell more than 4% and Facebook lost 3.8%. Microsoft slipped 6.2 percent. Alphabet fell 5.1%. The technology sector in the S&P 500 closed down 5.83%, marking a record 10 consecutive sublimation days. In addition, the industry also recorded the biggest decline in one day since March.
Meanwhile, stocks of companies that benefited from the reopening of the economy showed positive developments, in contrast to the negative trend of technology. Travel operator Carnival increased 5.2%. Macy's is up nearly 8%.
Thursday's move came after another record high for the S&P 500 and Nasdaq Composite, which contributed to a strong rally, sending the market away from the March 23 low.
Since the end of March, the S&P 500 has gained more than 50% and the Nasdaq has increased by more than 60%. The Dow has risen more than 50% during that time.
The decline in this session occurred despite better-than-expected data on unemployment benefits. The US Department of Labor said the number of people applying for unemployment benefits for the first time was 881,000 in the week ending August 29. Economists polled by Dow Jones expected the number of first-time applications to drop to 950,000 last week.
Source : Genk