Vsmart Star 5: Buy 1 get 2, both have a luxury smartphone, just "vi vu" use 4G for free 18 months
The first product of Vsmart in the year 2021 Star 5 is sold in The Gioi Di Dong, promising to become a popular phone that is well received and loved in the segment. With three main upgrades: integrated 4G DATA package, performance and design, this "national smartphone" makes users go from surprise to surprise.
Pioneers offer free DATA package with phone
Vsmart Star 5 is the first smartphone in Vietnam with built-in Internet access package through virtual SIM (vSIM) attached to the device, instead of a physical SIM. Like the eSIM technology commonly found on high-end and high-end smartphones, this virtual SIM only needs to be activated with VinaPhone to be used, no need to insert a hard SIM inside the device. Users can enjoy 4G thanks to 10GB of storage per month and free for 18 months.
This is also the most attractive point for young people, entertainment needs such as listening to music, watching videos online or reading newspapers, making video calls are enhanced. No worries while fighting the game with "hard disk" but you receive a text message from your phone running out of DATA capacity.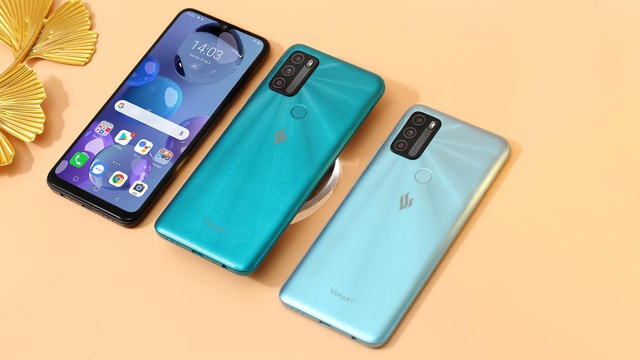 You will not have to worry about Internet access costs anymore when it is 18 months free
The integration of virtual SIM with available DATA 10GB / month is an advantage for users. Currently, if you buy a data SIM separately, you will have to pay between 250,000-400,000 VND / year for a SIM with 4-5 GB / month. If counting the use of the monthly package, with a corresponding rate of 10GB / month, the cost is up to more than 2 million VND / year, and further calculated with 18 months is more than 3 million. Thus, owning Vsmart Star 5, you are considered to be refunded for the purchase price when the price of the product is only about VND 2.69-3.19 million. Buy 1 but get 2, too good to deal with, right?
In addition to the virtual SIM built in the machine, Star 5 is still equipped with a physical SIM tray and a microSD card slot that supports up to 256GB.
Outstanding performance in the same segment
The first model in the 5th generation of Vsmart smartphones owns a powerful VOS 4.0 operating system, developed on the Android 11 platform. This latest pure Vietnamese operating system will certainly not disappoint Vsmart fans. A series of latest features, including: Share contacts by scanning QR codes, Access alerts, Friendly mode for the elderly to easily use, …
Users can also share data quickly with other Vsmart devices with just one touch
Compared to Star 4, Vsmart Star 5 upgraded its configuration with the MediaTek Helio G35 8-core processor to help experience "hit" games such as PUBG Mobile, Lien Quan in a smooth mid-range configuration, without worrying about stutter lag. The Star 5's internal storage is available in either 32GB or 64GB.
The strength of the device is a 5,000mAh battery, easily meeting the needs of all users to use the phone all day. The device supports 15W fast charging via USB-C port, helping to charge 50% of the battery within 1 hour.
Trendy design, impressive set of 3 cameras
In terms of design, Vsmart Star 5 is equipped with a 6.528 inch water drop screen, helping to maximize the display area, improving the high viewing angle for entertainment experiences like never before. IPS LCD technology with HD + resolution provides wide color gamut, good colors, clearer display quality.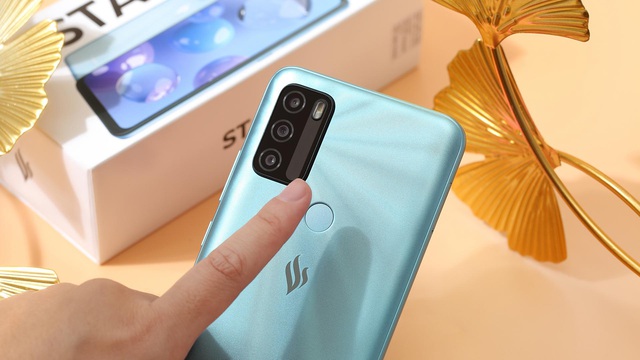 Star 5's camera system is upgraded more impressively than the 4th generation. Specifically, the 3-megapixel rear camera with 13MP main lens, 2MP font removal support, and 2MP macro lens. And the front camera is a water drop, with 8MP resolution. In addition, the built-in artificial intelligence in Vsmart Star 5 automatically detects the scene and optimizes the image for the highest quality image without post-processing, and the ability to take good photos. regardless of day and night (Night mode).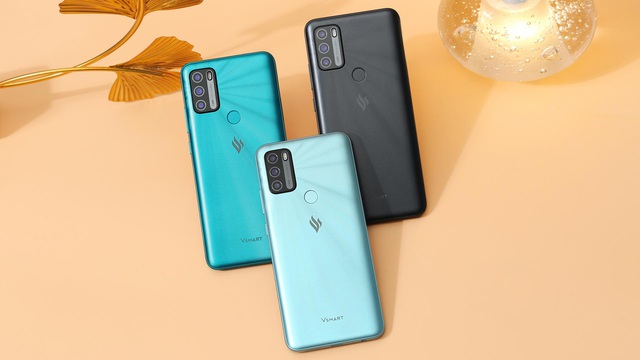 The design language is enhanced with 3 fresh and youthful colors: mint green, emerald green and black
If you are looking for a smartphone surfing free 4G "ferry ferry" every month, cheap price and good configuration, Vsmart Star 5 is the perfect choice for you. Like its predecessors, Star 5 has been applied by VinSmart to stand out from the market. Accordingly, users who buy the machine are entitled to a warranty of up to 18 months, "101 days warranty 1 for 1" and an attractive 0% installment program.
You can pre-order the product by calling the hotline 1800.1060 or clicking here .
Source : Genk