VNPT offers MyTV Box 2020 – substantial upgrade feature, constant price
MyTV TV service is provided to each customer's TV screen through many forms such as: through traditional set top box device, smartbox and application on smart TV, smartphone.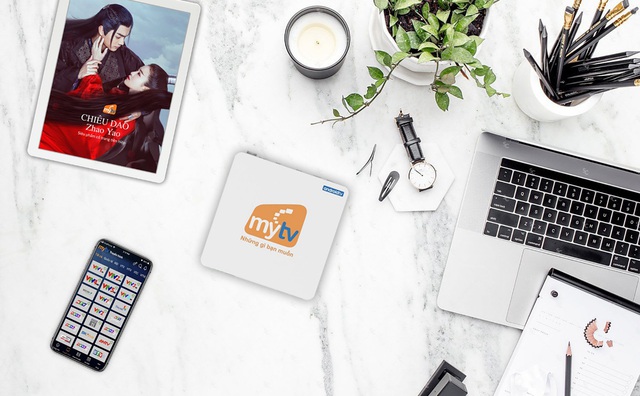 Recently, VNPT has officially launched the latest generation version of the smartbox called MyTV Box 2020. MyTV Box 2020 (Android TV) is a Set-top Box device using Android TV 9.0 operating system, checked tried and certified by Google. The device is optimized for MyTV television service, with Full HD quality, fully integrated and fully supported by Google services and application stores and other advanced and attractive features compared to its predecessor smartbox. AOSP old version.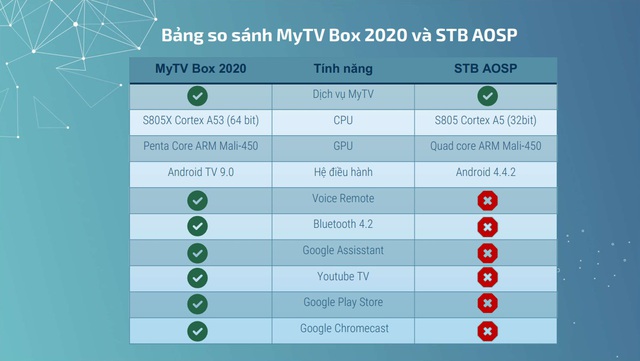 This feature comparison table shows outstanding improvements of the MyTV Box 2020 compared to its predecessor
MyTV Box 2020 has a new upgrade configuration is Android TV 9.0, replacing the old Kitkat 4.4.2 operating system. Android TV 9.0 operating system helps MyTV Box 2020 to have many modern features, suitable to the entertainment needs of the majority of customers of technology TV. Below are some of the outstanding features of MyTV Box 2020 that the old AOSP version has not yet had.
• Google Assistant: intelligent virtual assistant for users, performing user requests through voice, or entering text to search information on the network and content on the MyTV service system. Google Assistant will combine all Google products including Youtube, Google search, Maps, … With the Google Assistant virtual assistant, you can update information quickly, well support internal discovery. content entertainment and perform tasks on MyTV Box 2020 more effectively.
• Google Play Store: largest app store in the world. Search, download, manage and update applications, games and digital content using the remote control or voice.
• Google Chromecast: Support sharing photos, videos and online programs from computer, phone to TV screen.
• Recommendation: smart content recommendation feature. At the interface of MyTV Box 2020, the Recommendation feature will take recommendations from Applications installed on the device, based on user habits, from which users will have a full experience and more interesting with similar content of interest (watching movies, playing games, listening to music).
• Youtube: MyTV Box 2020 is integrated with Google's YouTube application, optimized for Android TV operating system. Users can view, share video content, and sync content under a signed Google account.
• Control with connection via Bluetooth: MyTV Box 2020 control supports 2 infrared connection standards (default) and Bluetooth. The remote switches to Bluetooth mode automatically when using advanced features such as the Google Assistant. With the Bluetooth mode, the controller will become more sensitive, operate at a longer range, not be affected by obstacles.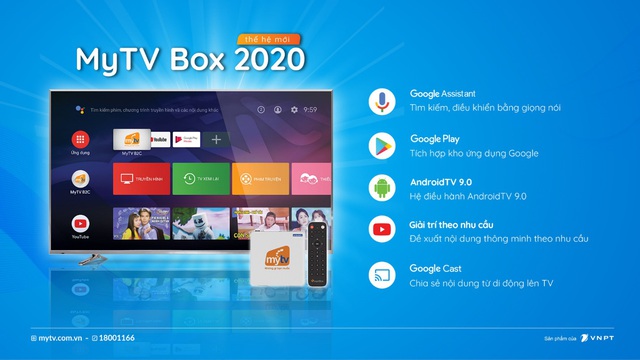 Reference configuration of the product MyTV Box 2020
With the new generation Smartbox of VNPT this time, users can enjoy entertainment with applications in the Google Play store, watch their favorite videos via Youtube, play music games and interactive applications via TV control. In particular, the MyTV TV application has been integrated into the compact MyTV Box, allowing users to immediately log in and use this service easily.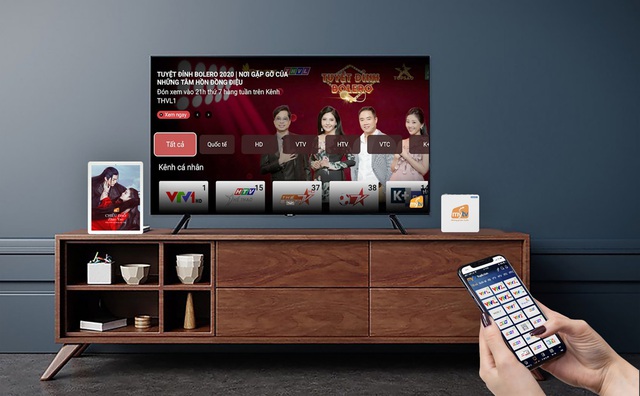 MyTV application home page interface
Following the great success from 10 years of establishment and development, MyTV service constantly improves content and services, providing users with a lot of entertainment options. The largest number of TV channels with lots of HD channels, 4K content brings a super-smooth visual experience, full of famous and popular international channels such as HBO, Fox Sport, Disney Channel, Discovery … . Huge movie warehouse constantly updating new movies. Copyrighted films from major foreign television stations, live broadcast live stream. Copyright to international sports tournaments. Online training and entertainment programs that guide young children's life skills. And there are many other attractive services such as karaoke, games, exclusive news …
Regarding the price policy, MyTV Box 2020 is still sold with the TV service package MyTV. Accordingly, although the new box has more upgraded features, the fee for the MyTV service using MyTV Box 2020 compared to the AOSP smartbox is unchanged. This can also be considered as a good incentive from VNPT for customers. (Refer to the price associated with MyTV Box 2020 in the MyTV package here: https://mytv.com.vn/bang-gia-cuoc )
With the above preferential price policy, users now have an additional choice of entertainment via television that is considered extremely reasonable in the pay TV market in Vietnam.
To learn more about the product, interested users can directly contact hotline 18001166 for a free consultation or consult information on website mytv.com.vn.
Source : Genk