[Vingroup AGM] Billionaire Vuong wants to sell hundreds of thousands of VinFast cars in the US by 2026
On the morning of June 24, Vingroup (VIC) held the 2021 annual general meeting of shareholders.
Planned revenue 170,000 billion dong, profit after tax 4,500 billion dong.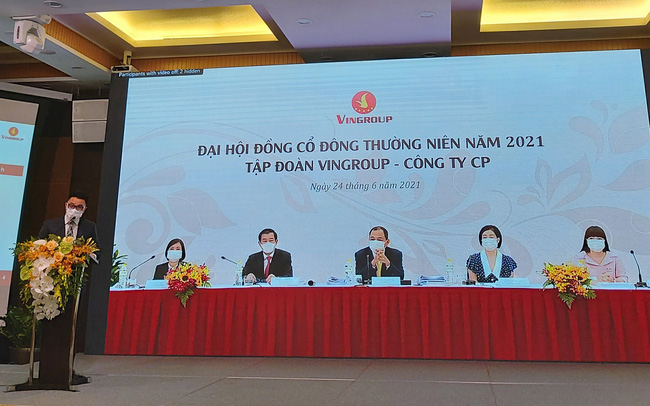 Plan to pay stock dividend at the rate of 12.5%, equivalent to the total number of shares to be issued is expected to be 422.8 million units. After the issuance, Vingroup will increase its charter capital to VND 38,052 billion.
The plan to issue ESOPs up to 0.2% of Vingroup's charter capital, the implementation time is not later than June 2022.
—
The three main pillars of the Group, namely Technology – Industry – Trade and Services, continue to be promoted, creating a solid "tripod" position.
Technology – Industry segment is expected to launch 5 electric car models and 3 smart car models VF e35, VF35, VF36.
In the smart device segment, VinSmart will focus on developing IoT products and Infotainment features for VinFast cars and a smart ecosystem with three spearheads: smart cities, smart homes and smart services.
In the field of residential real estate, Vinhomes continues to deploy and hand over mega-urban projects, accelerate the implementation of the multi-channel sales model combining online and traditional, and at the same time launch business activities in the area. secondary business, support home buyers.
In the field of retail real estate, Vincom Retail continues to provide the market with nearly 100,000 m2 of retail floor space, bringing the total retail floor area of ​​the system to 1.8 million m2.
In the field of tourism – entertainment, Vinpearl maintains the development of the domestic market with the spearheads being online sales channels and corporate channels. At the same time, the company develops and expands key foreign markets through the implementation of strong marketing and communication activities to prepare for opportunities as soon as international routes are reopened.
In terms of capital and investment, Vingroup deploys many forms of capital mobilization at home and abroad through a variety of financial instruments, effectively controlling new open investments and optimizing the efficiency of capital use to serve the needs of customers. short, medium and long-term business strategies of the Group.
——————-
Discussion part:
Worried about the VinFast project?
Mr. Pham Nhat Vuong: This problem is probably the whole world has an anxious mindset. Electric cars are not an easy thing but something for Vietnam to change its stature. Why do we confidently sell cars in the world?
VinFast's target is the conversion from petrol cars to electric cars. If I told you the numbers we plan to sell in foreign markets, you might be even more worried. For example in the US, in 2026 we plan to sell hundreds of thousands of cars.
If not for the lack of chips, we also plan to sell 56,000 cars here, but now we have to adjust it down to 15,000 cars.
We compete with gas cars, not with electric cars. The battery is transferred from the buyer's ownership to this VinFast owns and leases.
We implement the concept of battery rental, charging the battery rental plus the charge for charging exactly the same as the cost customers pay for gasoline. Wherever the car goes, the money will go there
So what is the advantage of this concept?
First, electric cars are cheaper. Operating costs are cheaper, repair and maintenance costs are up to 35% compared to gasoline cars.
Second, the feature is much smarter. Therefore, it is very possible to compete with gasoline cars.
However, the disadvantage of electric cars is that the running distance is not too long. We fix it with super fast charging technology, in 20 minutes charge from 70-80% of the battery, run about 400 km more.
All costs from batteries to maintenance are for VinSmart to be responsible. VinSmart's business model has been calculated relatively well.
If competing directly with gasoline cars, the story of quantity is extremely simple. In the US, the total number of electric vehicles in the total number of cars is only 2%. A year, the US sells from 16-18 million cars, if we only need to capture 1% of the market share, we have 160-180,000 cars.
Our vehicles apply the highest standards (5 star NCAP). Our intelligent self-driving is world-leading, all Tesla has we have.
Soon we will launch Level 3 self-driving feature, the highest feature.
The lack of chips is a big global problem. We will have to compete with that and reduce the business plan.
About industrial real estate?
Mr. Pham Nhat Vuong: We have plans to deploy in many places, we are currently doing procedures, so we cannot say when we will deploy what. Currently, there are many approved industrial park projects, this is similar to the real estate market, many projects are approved but still short of goods.
We compete by making the product to the end result.
Vinbiocare project?
Mr. Pham Nhat Vuong: Vinbiocare aims to develop biotechnology products, not just vaccines. This company will produce functional foods, medicines… step by step cautiously and surely.
Now the country is in need, we make the vaccine. But that project is not-for-profit, all costs we will try to collect, necessary will finance, even accept the initial risk of testing vaccines with projects that are not necessarily successful, accompanying the project. Because simply, if we wait until it is successful, we may not be able to buy a vaccine, let alone transfer technology.
Is there a plan to invest in Vung Tau, the location in the South is similar to Quang Ninh, Hai Phong in the North?
Mr. Pham Nhat Vuong: We don't have a plan in Vung Tau because we are implementing a very large project in Can Gio. In terms of location, Can Gio is only two minutes away from Vung Tau. In the immediate future, we have completed this project.
Comment on the shortage of real estate supply?
Mr. Pham Nhat Vuong: The supply of real estate in the short term is scarce, but when will we not be able to forecast, because this depends on the speed of licensing by state agencies.
But no matter what, the point is to get the final product accepted by the market. In fact, when the supply is high, Vinhomes' products are still sold stably.
We research how to create the best living and consumption ecosystem for Vinhomes residents, thereby creating an absolute competitive advantage.
Obviously, the price of Vinhomes houses is higher than neighboring residential areas, but why do customers still choose Vinhomes?
================
This year, Vingroup Group elects the Board of Directors for the new term 2021-2026.
The list of candidates includes:
– Mr. Pham Nhat Vuong (Chairman of the Board of Directors of Vingroup)
– Ms. Pham Thuy Hang – Vice Chairman of the Board of Directors
– Ms. Pham Thu Huong (Member of the Board of Directors, Vice Chairman of Vingroup)
– Ms. Nguyen Dieu Linh (Deputy General Director, Member of the Board of Directors, Vice Chairman of Vingroup)
– Mr. Nguyen Viet Quang (Vice Chairman of the Board of Directors, General Director of Vingroup)
– Mr. Park Woncheol (SUPEX Strategic Advisory Council of SK Group, Department of New Business Development; Member of the Board of Directors of SK Southeast Asia Investment Co., Ltd; Member of the Board of Directors of Vingroup)
– Mr. Adil Ahmad (Chairman of FWD Takaful; Member of the Board of Directors of HSBC Amanah Malaysia Bhd; Member of the Board of Directors of FIDE Forum)
– Mr. Chin Michael Jaewuk (Independent member of the Board of Directors of Pepper Savings Bank – Korea; CEO of Shareable Asset)
– Mr. Ronaldo Dy-Luacco Ibasco (Operating Director cum Executive Board Member of Emerging Power; Founding Shareholder and Managing Director of Treetop Lane Capital; Capital specialist of Boldr – Philippines; Independent member of the Board of Directors of Cebu International Finance Corp.).
Source : Genk