VinFast for renting and exchanging electric motorbike batteries: Pros or cons?
The advantage of this form is to help manage the battery effectively, avoid indiscriminate battery discharge, harm the environment, and bring more benefits to customers. However, this new policy is creating mixed views, when users do not fully understand the benefits and how to deploy.
Why buy a car and still have to rent a battery?
This is a question many consumers ask on forums, communities love and use electric vehicles. Users with the nick Th.T.Ta on the Delicate forum said that it is not okay to buy a car while buying a battery and if "the rent is equal to gasoline, why buy an electric car". According to this person, when choosing this policy, the user not only costs to buy a car but also loses the battery rental, and is "stuck" with the battery deposit.
However, according to Mr. Tuan Anh – owner of an electric car dealership on Tay Son street (Hanoi), customers are disturbed because they do not fully understand this policy. He said that VinFast's policy of renting and exchanging batteries was first introduced in Vietnam but not new in the world. For example, in Taiwan, this policy has been successfully applied.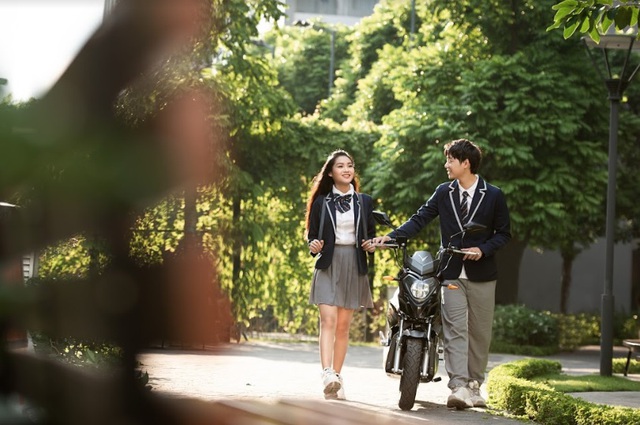 Regarding the question why buying a car still costs money to rent a battery, Mr. Tuan Anh explained that thanks to this policy, the price of VinFast electric motorbike can be reduced so low, because if including the battery, the price of the car will be reduced. the team adds more than 10 million dong, while customers must bear all risks related to batteries during use.
In fact, the battery deposit will be received when customers do not use the car anymore and bring the battery to pay for VinFast. Therefore, customers do not lose this deposit. The purpose of the deposit is only for VinFast to better manage the battery, to avoid customers throwing away the batteries indiscriminately when they are no longer using cars, causing harm to the environment.
Before concerns about the cost story, Mr. Tuan Anh said that users can still self-charge the battery at home and optimize the cost problem when using a high frequency car. "Users will not only be able to reduce the initial vehicle purchase cost, but also not bear any risk during use. If the battery is damaged or degraded, customers will be able to replace the battery. When there is no longer need to use it," he said. Using the car, customers can return the battery and get a deposit back, "said Tuan Anh.
New solutions for the risks of users
Some customers expressed concerns about the feasibility of the battery exchange station, especially about the coverage of this system. Ms. Mai Lan (Song Hao, Nam Dinh) said that she was very interested in VinFast's policy of changing and hiring batteries, but wondered when the new battery exchange system would be available in Nam Dinh. "If there are too few stations, I don't want to use them yet because it will take a lot of effort to change batteries when the station is too far away," Lan said.
However, this idea has been answered by other customers. Member conan1907 on the Delicate forum thinks this policy is reasonable if there is a battery exchange station on the road. Midlove member analyzed that the battery exchange station is being widely developed by VinFast with many allocation plans nationwide.
Regarding subscription fee and exchange of battery, member with nick Tea Stone 68 said: "The quality of finishing is good, ok. The price of exchanging the battery is similar to the price of gasoline but it is okay if the battery is not damaged, and not maintenance costs, regular oil changes and other costs such as motorbikes. " This member also predicted that if the exchange station was widely developed and this model was successful, it would be a premise for the development of Vietnam's electric motorcycle market. Meanwhile, other companies can share infrastructure with VinFast.
According to Facebooker Ha Chuyen, this policy is new but helps users save the cost of buying batteries without risk of battery, and the cost of renting a cheap battery.
In the same opinion, Ms. Thuy Dung (An Lao, Hai Phong) said that she had used a floating electric car with unknown origin and after nearly 2 years, she had been in the situation "changing the battery, it cost almost buying a car. If you don't change it, you will throw the whole car away. " Therefore, Dung said that if VinFast battery exchange system is present in many places, this will be a very convenient model for customers. Customers will not have to worry about the "battery suddenly rolling out".
"The price of renting a battery may be lower or equal to the price of petrol, but long-term use is much more economical because you do not risk the loss of tens of millions of dollars for replacing new batteries as I have encountered," Dung said. .
Not only that, in order to increase the mobility and save costs during vehicle operation, VinFast users can also equip a separate battery charger to self-charge the battery at home, at a cost of only 1, 1 million.
VinFast is implementing the "Surfing with brand name, giving millions" program in May 2020, with a free 1-year free battery subscription for the first 2020 customers who buy electric motorbikes from now until May 31 / 2020 (whichever comes first), and a 50% discount on battery subscription fees for 3 months 5-6-7 / 2020 for customers who have purchased a car in advance.
Source : Genk