Vietnamese startup turned to produce Coffee masks during the COVID-19 pandemic: The first in the world, reducing the risk of waste for VND 99,000 / item, using 30 days without washing
The prolonged COVID-19 epidemic is putting tremendous pressure on the economy in general and businesses in particular, especially for startups. Many companies have quickly shifted, taking advantage of existing materials for distribution channels … to do other business to respond to pandemics.
One of them is the coffee grounds shoe startup that has attracted much attention in the market and has been converting production to today's hot product: coffee masks.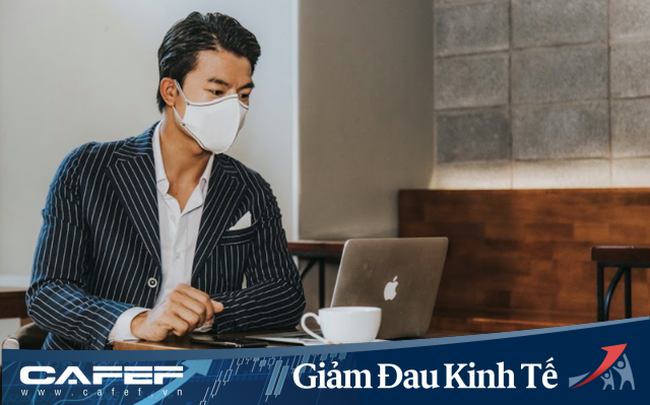 The world's first coffee mask, reducing waste risk
In detail, after the success of the coffee shoes, the ShoeX brand continues to bring another interesting surprise when introducing AirX – the first coffee mask in the world, made entirely from Vietnamese coffee.
According to Le Thanh, founder of ShoeX, AirX is not only an attempt to respond to the Covid-19 pandemic but also a sustainable solution to save the environment. In particular, 4 criteria that Le Thanh put in the initiative of Coffee Mask include: Environment. Antimicrobial. Saving. Fashion.
First in the environment , according to statistics during the COVID-19 pandemic in China, 116 million tons of masks were consumed every day. Especially during the peak of the outbreak, hospitals in Wuhan released about 240 tons of medical waste and every day, most of 7.4 million Hong Kong people threw away disposable masks.
The situation is similar for other countries, including Vietnam, which is the concern of observers throughout the season. Facing that situation, AirX is a solution to make the mask have a longer life, because of the environment.
Talking about antibacterial properties , AirX masks use 99.99% dual antibacterial technology with 2 layers of protection. Outer layer okay woven with coffee fibers, using PowerKnit technology, washable every day. Inside is a biodegradable membrane, manufactured using a technology that combines Nano Silver and Coffee. Each filter can be used for up to 30 days without washing, with AATCCC 100 certified performance by QUATEST 3.
Each AirX coffee mask is stored separately in each dedicated 3-layer packaging, to ensure maximum disinfection function of the membrane filter with Nano Silver particles. The difference of this mask is the natural aroma of coffee, making the responsibility of "wearing a mask" is no longer something too stifling but more relaxing and more comfortable.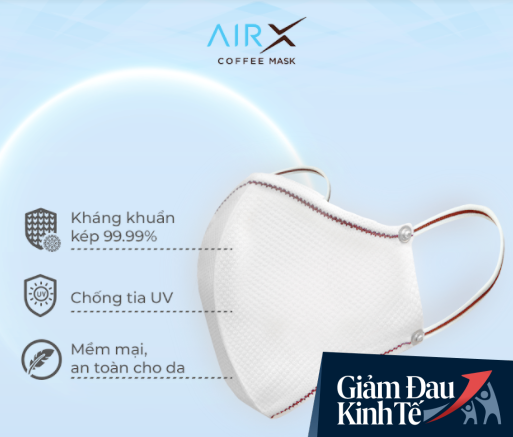 Price 99,000 VND / item, use 30 days without washing
Not only in technology, what the founders are happy to do for AirX is the thrifty , reasonable price for the majority of consumers.
According to Le Thanh, the sustainable wave has been around for a long time, but many people will wonder: "Why are eco-friendly products such as organic produce, for example, more expensive? And is a sustainable lifestyle Firm is only for people with conditions? "
The reason for this, according to Mr. Thanh, may be due to the demand for green products is not as much as mass products with cheap raw materials, higher labor costs and most importantly, compliance with business ethics because Strict quality standards from all stages of production.
"Having to embark on making environment-friendly products to see a lot of challenges to create a product with an output of up to 10,000 pieces per day with a reasonable retail price: VND 99,000 / item," said a representative of the company. to speak.
Thus, the cost for users will be about 3,000 VND / day for the first month and 1,000 VND / day for the remaining months when only need to replace the filter after 30 days of use. Economic twice as fast as disposable medical masks with an average cost of VND 6,000 / day.
Finally fashionable, the AirX has a FlexKnit design that hugs the nose but still soothes the skin, without causing irritation. A wide selection of colors, from personality to elegance, makes AirX a fashionable accessory , an ideal companion for both men and women not just during the season.
Currently selling on the company's website, Tiki, Shopee and agents, are researching exports
Currently the product is being sold, through the online form at the website of Shoex.net (5 packs each). In addition, the Company also links to sell products on e-commerce products such as Tiki, Shopee (retail by individual), and through agency channels.
Regarding export strategy, its representative revealed that it has received orders from the US, Singapore, Germany and Europe. However, import standards vary from country to country, so it takes time to apply for certificates.
"For Thanh, the future of green products such as AirX Coffee Face Mask is also a global expectation. In Vietnam, we are also shaping a generation of green living. Every day, self-help holding a personal cup to buy coffee, go to the market with a cloth bag, reduce a plastic straw … all make us really happy, " Thanh said.
People want to experience modern and comfortable living, but in return, the living environment is paying a heavy price. Therefore, in its ability, AirX aims to constantly research to come up with useful solutions.
Source : Genk