Vietnamese people still cling to use the old interface of Facebook
September 22nd is the deadline for the return to the old interface of Facebook, forcing 2.7 billion users to use the new interface. Until a week later, the Vietnamese still flocked to find a way to reuse the old version, which has a more familiar layout.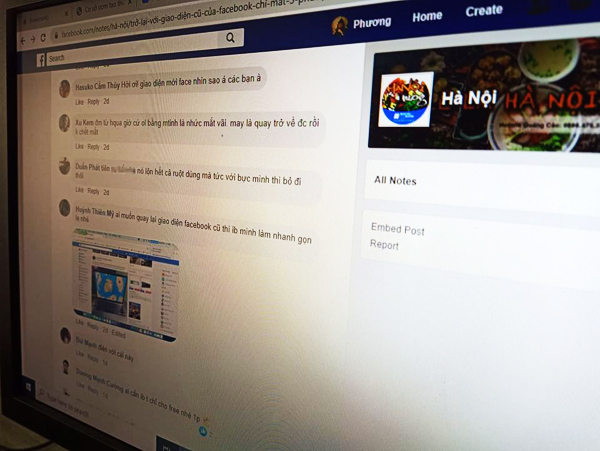 Frustrated by the new interface, Vietnamese people rushed to find ways to return to the old interface
One of these must be Old Layout, an extension for users of the Google Chrome browser. After one week on the Chrome market, this add-on has more than 100,000 installs.
According to user reviews, Old Layout is quite safe and secure, but it cannot fully utilize Facebook's features such as video calls. As explained by Matt Kruse, the author of this add-on, the reason is because Old Layout deceives Facebook that you are still using an old browser and therefore cannot use all the functions of the new interface.
It is not clear when Facebook will block this trick, but at present there are still quite a few Vietnamese who want to return to using the old interface. Try searching with simple syntax on Google, there are 56 million results returned when typing the phrase 'old Facebook interface'.
The funny thing is a lot of users have followed a guide back to the old look in a Facebook note dating back to 2010, which requires self … to lock out the account. In particular, some people also take advantage of the psychology of wanting to return to the old interface to sentence likes, follow statements or even deceive others.
In addition to the old familiar easy to use interface, according to users, the new interface of Facebook is quite slow, especially when dragging to download more or opening chat frame interface (loading). That is why Vietnamese people are angry, even cursing at Facebook's new interface so badly on the Internet.
The new interface is badly criticized by the Vietnamese.
The new interface was first announced by Facebook in 2019 with a minimized design on the main white tone, which can be changed to a black background in night mode. The new interface advertised by Facebook is a wider and deeper arrangement of News Feed with faster loading speed.
Since September 2020, Facebook users around the world have been switched to the new interface, with the deadline to use the old interface September 22. The last interface change nearly 10 years ago also happened a similar situation, when users also find all the ways to return to the old interface.
Source : Genk