Vietnamese people still cannot enjoy benefits of IT development
VietNamNet Bridge – Vietnam is proud of its strong development in information technology (IT) as it strives to become an IT power by 2020. However, the majority of people still do not enjoy the benefits of IT.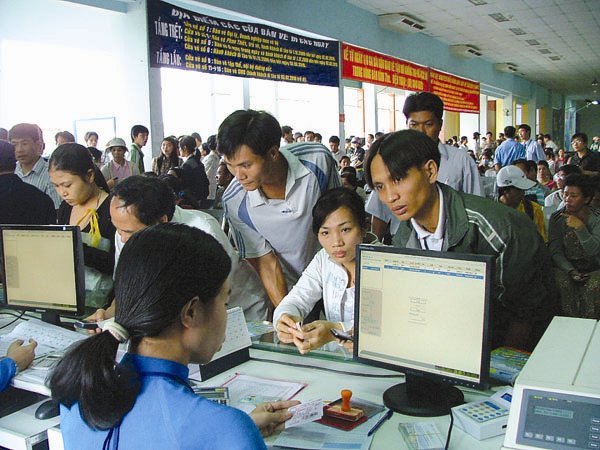 In early 2015, the Vietnam Railway Corporation (VRC) put ticket sales online. With the new system, passengers can save time because they do not have to go to the stations to get tickets. However, sales have been unsatisfactory.
In late July, one million students in the country could not access the Ministry of Education and Training (MOET) official website to check their national high school exam results.
MOET later admitted that the ministry's website, which was designed for 60,000 concurrent visitors only, was overloaded because of the high number of visitors at the peak time.
A chief information officer of a Hanoi-based company noted that nearly all agencies and organizations in Vietnam have email systems of their own. However, nearly all of them use free foreign systems also because the foreign systems are more effective.
Some days ago, businesses were shocked after seeing their names in the taxation body's list of enterprises that had not paid tax.
They complained that they have lost many partners who did not want to do business with such enterprises.
The Ministry of Finance admitted that there were 'mistakes' in the list provided by the taxation body. And the culprit was the erroneous tax management system (TMS) used by the agency.
Two years ago, Vietnam began allowing people to register their businesses via internet to help investors save time and money.
However, few business people intended to register this way. The business registration office admitted that 'some problems' still exist in the nation's business registration information system.
When asked what was behind the technological errors, an IT expert said the problem was not the capability of the IT industry.
He noted that there was no boundary in IT infrastructure. It is feasible to lease broadband service from Amazon or Microsoft to satisfy students' demand for checking exam scores or selling train tickets at peak time. Services such as content delivery network (CDN) can also be considered.
"The problem does not lie in IT capability, but in the people's ability to use IT power in a reasonable way," he said.
The Prime Minister in 2010 approved the IT development plan, under which IT will see the annual growth rate 2-3 times higher than the GDP growth rate, with the industry making up 10 percent of GDP of Vietnam.
Source : http://www.infoworld.com/