Vietnamese people buy half a million cars in 2022, the leading distributors of Toyota, Ford, Hyundai, Mercedes Benz … in Vietnam, double and triple profits compared to 3 years ago.
In 2022, the scale of Vietnam's auto market has reached the sales threshold of 500,000 vehicles/year for the first time, surpassing the threshold of the small market.
The number of new cars sold in Vietnam in 2022 reached a record of 508,547 vehicles, including 404,635 cars of VAMA and importers, 81,582 cars of TC Motor – Hyundai car seller and 24,000 cars of VinFast (according to Vingroup). announced).
According to the synthesis of VAMA and SSI Research, in 2022, the number of cars sold in Vietnam will peak in April-May at the threshold of 40,000-45,000 cars/month. While in 2021, the demand for car ownership skyrocketed in the last 2 months of the year.
In terms of market share, Toyota cars are the most popular choice in Vietnam in 2022. Toyota cars increased their market share from 17.5% to 22%, occupying the top 1 position, surpassing Hyundai and Kia.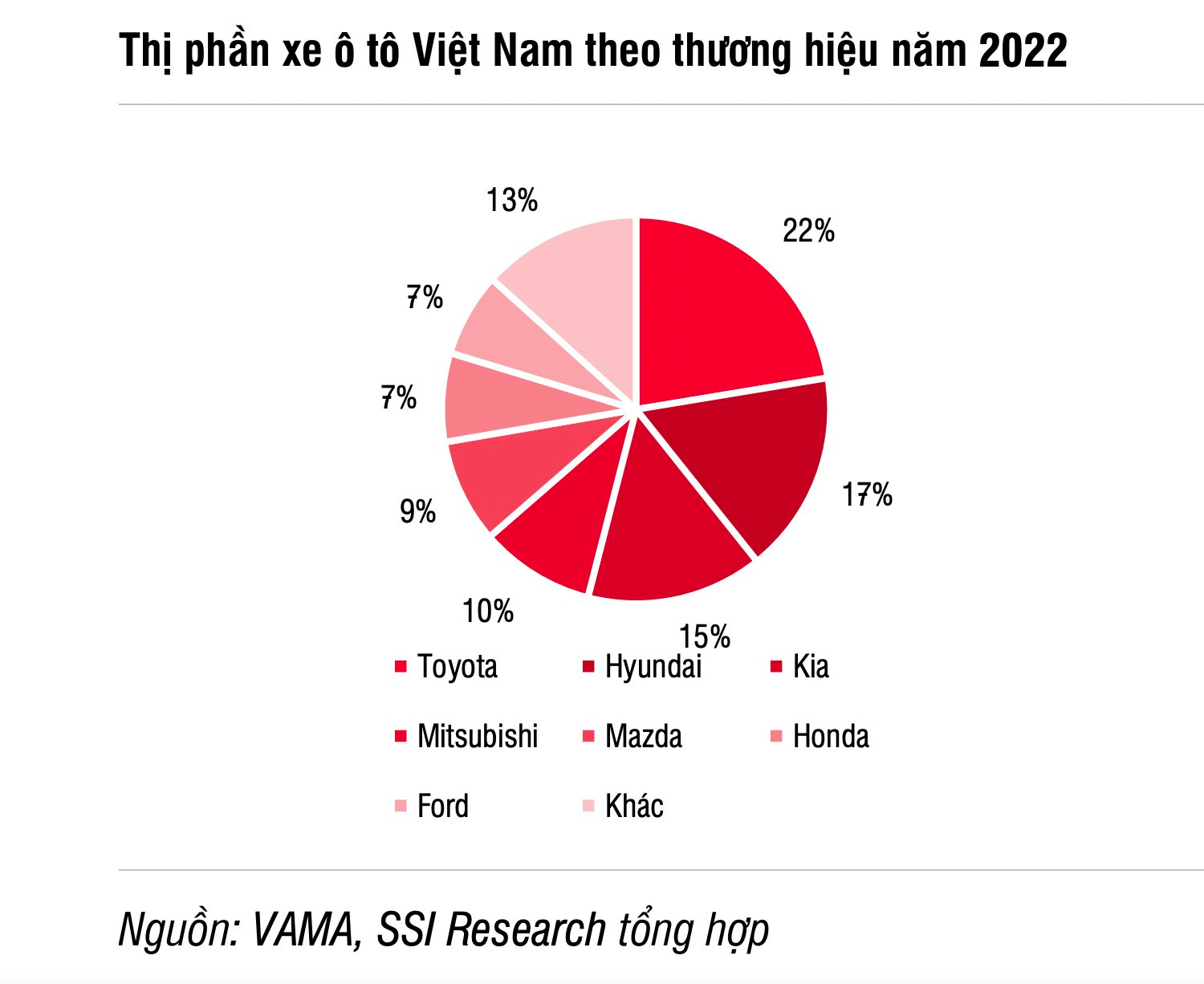 Thanks to good sales, a series of leading auto distributors simultaneously reported historical revenue and profit
According to statistics, the total revenue that a series of automobile distributors in Vietnam has achieved has reached billions of USD in 2022. Notably, some big winners such as TC Group (5 billion USD), Savico (nearly 1 billion USD)…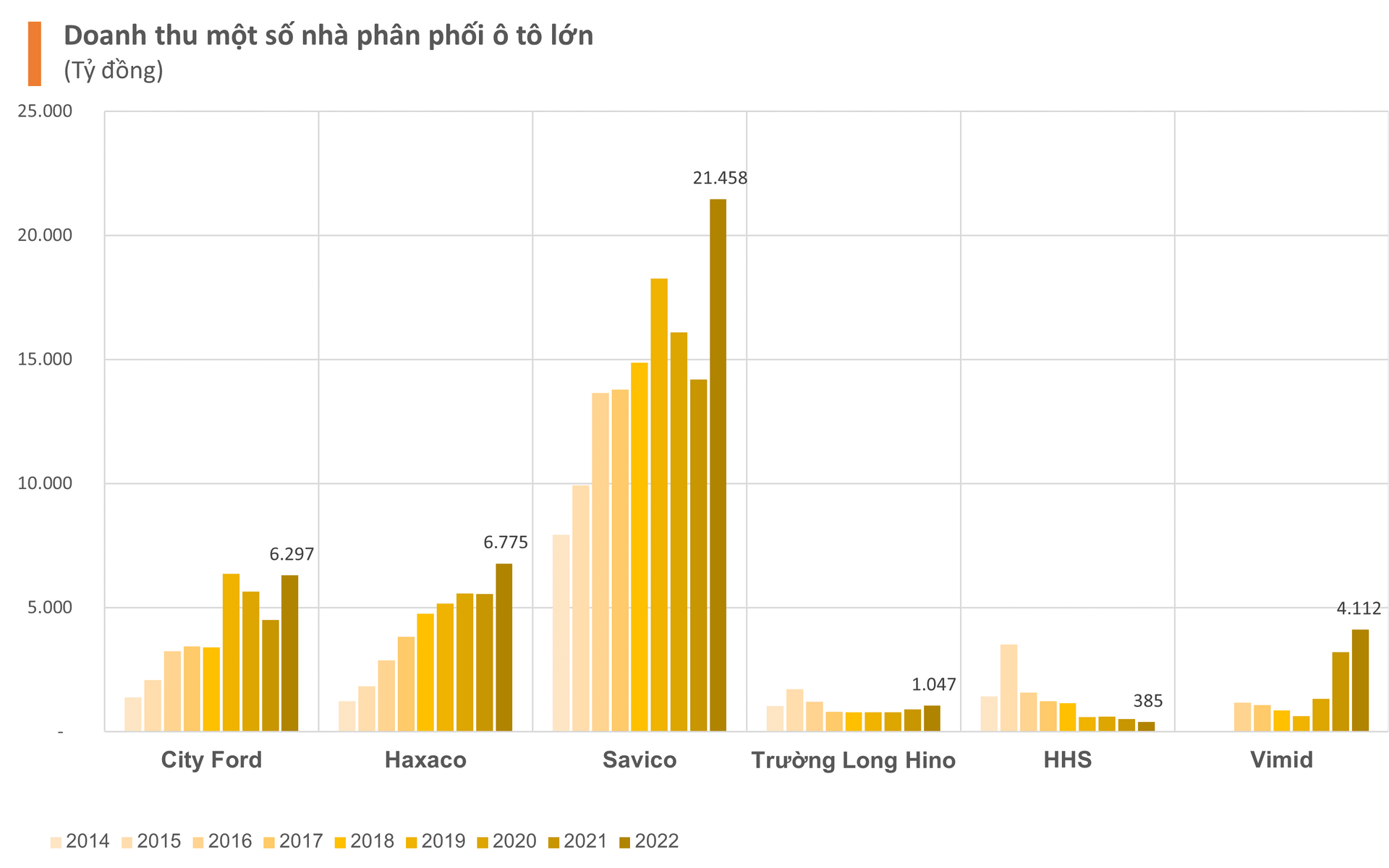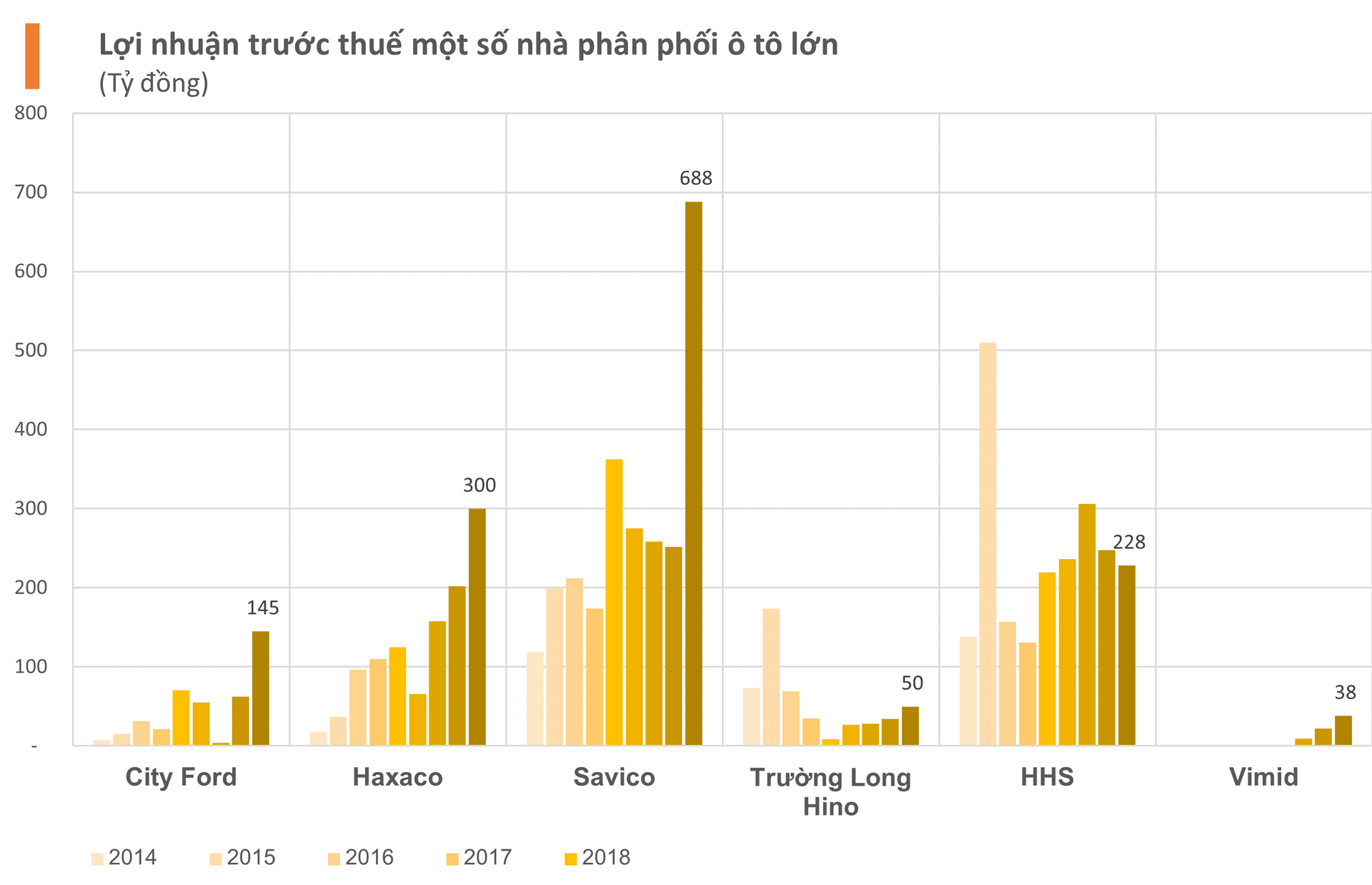 In 2022, the largest automobile distributor in Vietnam, Saigon General Services Joint Stock Company (Savico, code: SVC) reported revenue of nearly 21,500 billion, profit before tax of nearly 688 billion, exceeding 24% of the revenue plan and exceeded 168% of the profit plan, set a new peak.
Savico is a distributor of many car manufacturers such as Toyota, Ford, Hyundai, Mitsubishi, Volvo… has a network stretching from North to South, in which, Savico has the largest distribution market share with Toyota and Ford cars.
City Auto Joint Stock Company (code: CTF) achieved revenue of VND 6,297 billion, up 40% compared to 2021. Profit after tax and net profit reached more than VND 117 billion and VND 109 billion, respectively, 2.2 times higher than the same period.
Demand for Ford pickup trucks spiked in 2022, with CTF benefiting from being the largest Ford auto dealer.
For Hang Xanh Automobile Service Joint Stock Company (Haxaco, code: HAX) , revenue in 2022 reached VND 6,775 billion, up 22% over the same period in 2021. Pre-tax profit reached VND 300 billion, up 49% compared to the same period in 2021. year 2021.
In the first 9 months of 2022, the car market is good, the economy is stable, and the loan interest rate is low, making HAX's profit for the whole year grow strongly. HAX is currently the leading Mercedes Benz distributor in Vietnam. Male.
According to the summary report on production and business results of Thanh Cong Group (TC Group) , in 2022, the group's revenue is estimated at 118,000 billion VND (about 5 billion USD). The automotive divisions of TC Group have distributed 81,582 vehicles, up 15.6% compared to 70,518 vehicles in 2021.
Although not listed in Vietnam, the application for IPO listing in the US shows that Vinfast recorded a revenue of VND 10,000 billion in the first 9 months of 2022. According to the 2022 consolidated financial statements announced by Vingroup, revenue from production and related services reached more than 13,500 billion.
Vinfast has sold a total of 24,000 cars in 2022, including 7,400 electric cars.
Consumption will decelerate growth in 2023
SSI Research pointed out that, after a strong growth in 2022, it is estimated that the number of cars sold in 2023 will only increase by 5% compared to 2022 (according to EIU's forecast). Automotive chip shortages and supply chain disruptions are unlikely to affect the market in the second half of 2023.
Many challenges will arise such as: Car consumption and car prices at dealerships may not be as high as in 2022, as consumers reduce spending during a recession. Besides, buying a new vehicle in installments will be more expensive and difficult. Government support (including cutting the registration fee and delaying the payment of excise tax) has ended, as consumption has returned to pre-Covid levels.
SSI also pointed out the trend, automobile enterprises increase production in Vietnam, helping to reduce car selling prices. THACO, a Vietnamese automobile manufacturer, has recently successfully negotiated to locally assemble a number of BMW brand models (X3, X5, 3-Series, 5-Series), putting pressure on brands. other luxury car brands. In addition, TC Motor, the affiliate brand between Thanh Cong Group and Hyundai Motor, also inaugurated phase 1 of their second factory in Vietnam. This $140 million plant will supply 100,000 units per year when completed in 2025. As for electric vehicles, this product has the potential to create a breakthrough for the automotive industry in Vietnam. In 2022, Audi and Mercedes-Benz have officially announced a number of electric models for the luxury car segment. In the popular car segment, Hyundai and Kia both introduced electric models in Vietnam.
However, it is too early to assess the impact of electric vehicles on the automobile industry in Vietnam. Car manufacturers have just begun to test and sell to gauge the interest of consumers and the government in switching to this type of vehicle when Vietnam has no strategy to develop charging station infrastructure for electric vehicles. Moreover, the price of EV models is still high compared to gasoline models , analyzed by SSI Research.
Source : Genk