Vietnamese customers are upset because iPhone 12 is not in stock
Some iPhone 12 Pro and iPhone 12 Pro Max models are in short supply, making customers angry, some call the retailer scam, and some ask to withdraw deposit to buy elsewhere. However, the shortage occurred in the whole market.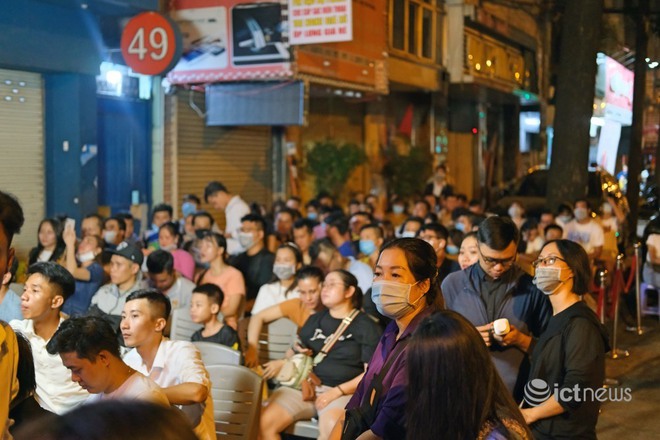 Customers waiting in line at night to buy iPhone 12 on Tran Quang Khai street (District 1, HCMC). (Photo: Hai Dang)
Retailers in Vietnam officially sold 4 iPhone 12 devices from November 27. Up to now, some models of iPhone 12 Pro and iPhone 12 Pro Max, especially the yellow version, with 128GB or 256GB capacity are almost not available. It is expected that new shipments will be available in December.
Due to a deposit in advance but not receiving the phone, many customers expressed dissatisfaction.
On the Gioi Di Dong website, on the product information page of iPhone 12 Pro Max 128GB and 256GB versions, many people expressed impatience. There are customers who deposit from October but are scheduled to have the device until December 27. There are people who have paid the full amount, ie over 30 million dong, must also wait. Usually, guests are scheduled until December 27, some guests are scheduled to early January 2021, even some people have not yet made a specific date.
In the comment section, someone said "too bored", someone asked to withdraw the deposit to buy elsewhere. In other iPhone 12 models, there are very few comments.
In response to ICTnews, The Gioi Di Dong said that some models are not available, so even customers who pre-order are still not available. This situation happened all over the market.
According to the systems statistics, the iPhone 12 Pro Max is placed in the most of the 4 models, with up to 68% in some places. In particular, 128GB version of internal memory takes up the bulk. This is the reason why this model is out of stock.
It is almost difficult to find iPhone 12 Pro, iPhone 12 Pro Max low capacity, yellow versions at current retailers.
CellphoneS said that customers ordered a lot of iPhone 12 Pro Max 128GB version, but not enough for delivery, some people even thought that they were cheated when depositing without the device.
"Customers must listen to cursing, but the shortage occurs on the whole market for some models," said Nguyen Dat, manager of more than 20 Di Dong Viet stores.
Although not available in some colors and memory capacity, the CellphoneS side confirmed that higher models, like iPhone 12 Pro Max 512GB version, are still green.
"We persuade customers to switch to other colors with higher capacity, can offer a slight discount or give gifts to customers to pay extra", the representative of CellphoneS said.
Although the iPhone 12 Pro Max and iPhone 12 Pro are in stock, the other two models, the iPhone 12 Mini and iPhone 12, are still available for sale.
IPhone 12 models are delivered to customers from November 27. According to some retail chains, this year sales are 2-2.5 times higher than last year, the highest ever.
Explaining the reason why Apple's new iPhones are being bought a lot, Mr. Nguyen Viet Anh – Deputy General Director of FPT Retail – said that the source of portable products this year is less in stock, so customers rushed to buy genuine.
Mr. Mai Trieu Nguyen, owner of Mai Nguyen chain, said that in recent days, his store has been crowded with customers asking to buy iPhone 12, much larger than previous years.
This year, Apple brought iPhone 12 to Vietnam earlier than before, the price was as cheap as the portable products, with a cheaper version, thus attracting many buyers, Mr. Nguyen explained to ICTnews.
"In previous years, customers who wanted to buy genuine had to wait two months, the price was 3-5 million dong higher than portable goods, so they lost patience", Mr. Nguyen explained.
Apple initially planned to sell the iPhone 12 in Vietnam from the beginning of December. After that, the device returned a week earlier, with a price adjustment of 2 million dong per model compared to expected.
Source : Genk