Vietnam surpassed Bhutan to become the happiest country in Asia
Recently, the New Economics Foundation (NEF) based in the UK has released the ranking of happiness index (HPI). Surprisingly, Vietnam has surpassed Bhutan to become the 5th happiest country in the world and No. 2 in Asia Pacific.
In particular, Bhutan, the country always known as the happiest in the world, is only modestly ranked 56th in this ranking. With a few million people living peacefully and peacefully, with beautiful natural scenery at the foot of the world Hymalaya, Bhutan was once honored as "the happiest kingdom in the world". Bhutan has a Ministry to take care of the well-being of the people. And is the only country that does not emit greenhouse gases, or "emit negative numbers" – with at least 72% of the territory still primeval forests.
Statistics show that the country with the highest HPI is Costa Rica (44.7), ranking first among 140 countries and territories. Countries in the top 5 are Mexico (40.7), Columbia (40.7), Vanuatu (40.6), and Vietnam (40.3).
Ecological Footprint (Ecological Footprint) is a new term used in the 1990s by scientists William E. Rees and Mathis Wackernagel of the University of British Columbia. Accordingly, the ecological footprint is a measure of the demand for land and water capable of bio-productivity needed to provide food, wood for humans, for surface construction of infrastructure, carbon dioxide absorption area, capacity to contain and assimilate waste.

According to the NEF, Vietnam is a country with a low ecological footprint as well as a lower GDP per capita than regional economies like Hong Kong. However, Vietnam beat other economies in terms of happiness index.
In particular, Vietnam is one of the only three countries in the top 10 rankings with the ecological footprint index just enough for the environment to regenerate in time with human exploitation needs.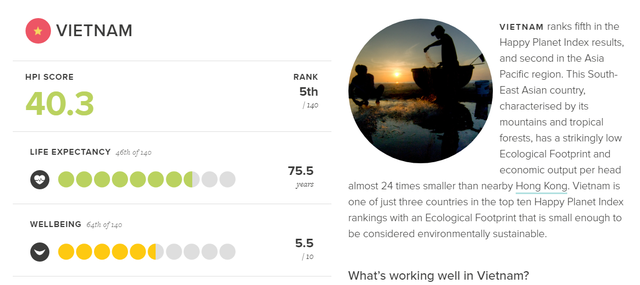 The NEF report states that Vietnam's prosperity index is lower than those in the top 10 happiest countries in the world, but it is still higher than economies like Hong Kong. This is a surprise when the Vietnamese economy is less developed and has an Ecological Footprint index that is only 1/5 of that of Hong Kong, thereby showing a slower rate of resource extraction.
In addition, the life expectancy of the Vietnamese people is also assessed to be significantly improved, especially after the Covid-19 pandemic was well controlled by the government. The clear evidence is that both Vietnam and the Gambia have equal GDP per capita, but the Vietnamese live an average of 17 years longer than the Gambia.
Source : Genk