Vietnam produces the first batch of Covid-19 vaccine Sputnik V
On July 21, the Direct Investment Fund of the Russian Federation (RDIF) and the No. 1 Vaccine and Biological Products Company Limited (Vabiotech) officially announced the trial production of the Sputnik V vaccine in Vietnam.
The Sputnik V vaccine produced by Vabiotech will be used in the National Immunization Program after the technology transfer is completed and the quality control results at the Gamalaya Institute (Russian Federation) are satisfactory.
Dr. Do Dat Tuan, President of Vabiotech hopes that the cooperation between RDIF and Vabiotech will soon provide quality Covid-19 vaccines at reasonable prices to the people of Vietnam and other Southeast Asian countries.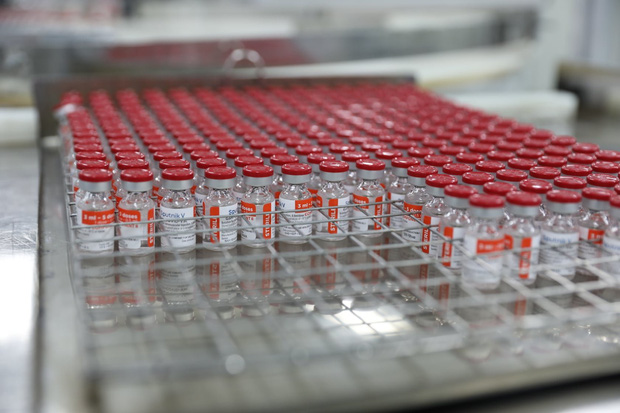 The first bottles of Sputnik V vaccine were processed in Vietnam (Photo: Vabiotech)
Kirill Dmitriev, Executive Director of RDIF, said that the two sides are actively cooperating in the process of technology transfer towards the goal of making it easier for Vietnamese people to access the Sputnik V vaccine.
"In the context of the complicated development of the Covid-19 pandemic, and more dangerous new variants of the SAR-CoV-2 virus being discovered in different regions of the world, RDIF is always working to strengthen the production of Sputnik V vaccine to speed up vaccination with one of the best vaccines in the world," said Kirill Dmitriev.
To date, Sputnik V has been registered in 68 countries around the globe with a total population of more than 3.7 billion people. According to data obtained by the regulatory authorities of several countries during the vaccination of the population, including Mexico, Argentina, Serbia, Bahrain, Hungary, the UAE and others, it has been proved that Sputnik V is a one of the safest and most effective vaccines against Covid-19. In Vietnam, the Sputnik V vaccine was also officially licensed by the Ministry of Health on March 23, 2021.
The Sputnik V vaccine is 97.6% effective based on analysis of data on the prevalence of SARS-CoV-2 virus infection among people in Russia vaccinated with both components of Sputnik V between December 5, 2020 and December 31, 2020. March, 2021. This vaccine is based on a proven and well-studied background of human adenoviral virus vectors (the virus that causes the common cold, which has existed for thousands of years);
Vaccines are stored at 2-8 degrees Celsius, which can be stored in a conventional refrigerator without additional investment in cold chain infrastructure. Vaccines do not have serious allergies.
Source : Genk