Valve launched a new trick, Steam users ran out of "eels" to other regions to buy cheaper games
Since Valve applied the policy of subsidizing the purchase of games on Steam for some markets, many players in regions with higher game prices have found ways to circumvent the law to be able to own their favorite games. prefer the "cheap" price. This is easy to understand, because the same game, but some places cost up to 50 USD (more than 1 million dong), some places reduce it to a few hundred thousand dong, who doesn't want to! However, that goes against Valve's regulations.
One of the methods that users often use is to change the country region on their Steam account, even using a VPN to hide the location they are living in, thereby accessing the Internet. The game store has been subsidized in other regions. Next, they just have to freely buy the desired games, and then return to their right area as soon as possible, god does not know the devil is not good. But Valve is neither a god nor a demon, they are well aware of this method. And in fact, they have been silently monitoring and conducting strict handling measures for many years.
Valve is well aware of the trick of changing the location of the Steam account area to buy games at a cheaper price, and they are always looking for ways to limit this situation.
Recently, according to Steam Database research, Valve has limited the number of region changes on users' Steam accounts. Currently, each account is only allowed to change the country location once within 3 months, meaning they can only change up to 4 times a year, too small compared to the number of games released within 1 year. Additionally, users must also complete product purchases on Steam using a payment method from that country – a strategy that Valve has adopted since late July 2020 (for example, you can't use a credit card). used in the US to pay for a game purchased in Poland).
For cases such as studying abroad, working or settling in another country, Valve also requires Steam users to make the first payment according to the method applicable in this country. Once successful, they can freely change the region on their Steam account and start accessing the game and app store there.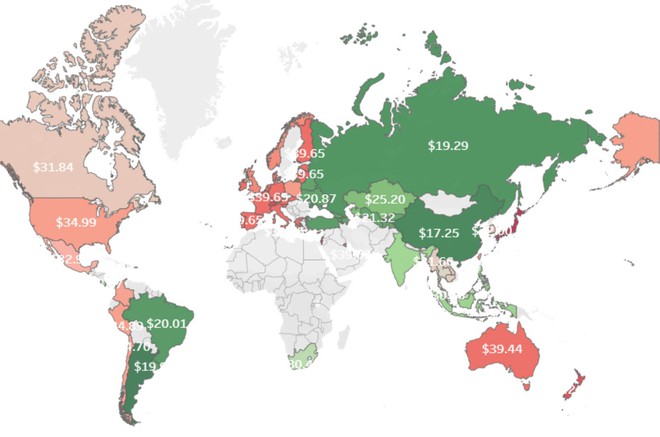 Average product prices on Steam across regions of the world.
In a research article by VPNPro in January of this year, we can clearly see the difference in the average price of Steam games and applications in different regions of the world. In regions like North America or Australia, the number is much higher than in South America or South Asia. That is also the main reason why many people find ways to "fake" the area they live in so as not to spend too much money on the game they love.
According to Kotaku
Source : Genk