Users spend up to 5 hours a day on mobile apps – which app are Vietnamese using more than Facebook Messenger?
According to Data.ai's report on mobile usage trends in the second quarter of 2022, just released by Data.ai , users globally are spending more time on mobile applications. Residents of Indonesia, Singapore, Brazil, Mexico, Australia, India, Japan, Korea, Canada, Russia, Turkey, USA and UK spend 4 hours a day on apps. In Indonesia, Singapore and Brazil, users even spend more than 5 hours a day on mobile applications.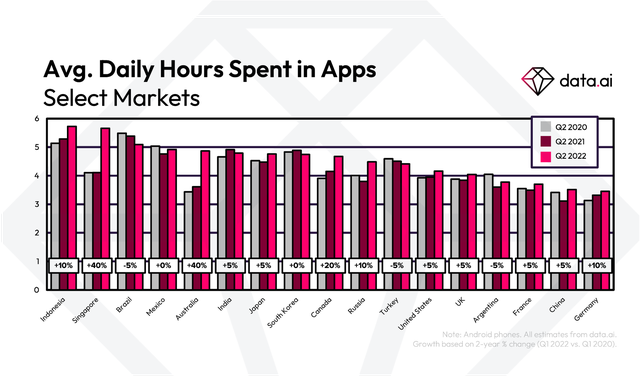 Time to use the app every day in some countries in the second quarter of 2020, 2021 and 2022 (Source: Data.ai)
It should be noted that the growth rate of time spent using mobile applications has slowed compared to the second quarter of 2020, when at the height of the Covid-19 pandemic with a rapid increase in the popularity of mobile applications. Mobile applications in all categories. Users around the world have to work and study from home, shop online, play games, and communicate with each other using various video conferencing services.
"The pandemic may have created new behaviors in the use of the application and users still maintain it in the normal period," the site assessed.
It seems that in some countries, users still keep the habits acquired during the pandemic, even when the pandemic situation has been normalized. For example, Singapore residents in the second quarter of 2020 spent an average of 4.1 hours per day on mobile applications, while in the second quarter of 2022 it was 5.7 hours. In Australia, from Q2 2020 to Q2 2022, time spent on apps increased from 3.6 hours to 4.9 hours. In both cases, the gain is 40%.
In terms of mobile games, Free Fire was the most downloaded game, Roblox had the highest number of users, while Honor of Kings was the game that consumed the most time by users in the last quarter.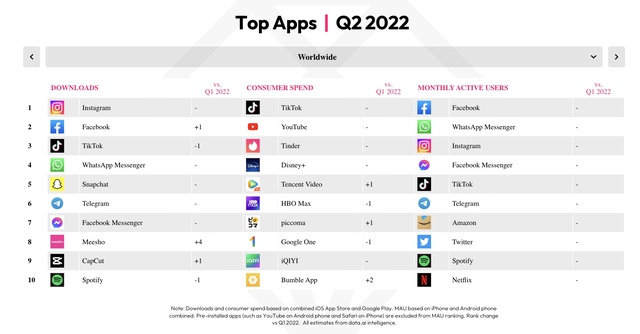 Ranking of mobile applications in the second quarter of 2022. (Source: Data.ai)
Data.ai 's rankings also show that in the last quarter, Instagram was the most downloaded app globally, while Facebook had the highest number of monthly active users. Meanwhile, TikTok consumes the most time, ranking above YouTube, Tinder, Disney. Among non-gaming apps, Facebook continues to lead in terms of users, ranking above WhatsApp, Instagram, Messenger, TikTok, etc. Telegram.
With a population of about 100 million people and over 75 million Internet users, Vietnam is one of the 15 "largest" countries in cyberspace. Every day, Vietnamese users generate a huge amount of data.
According to data from the Ministry of Information and Communications, Zalo's monthly regular users reached 74.7 million in February 2022, higher than Meta's Messenger app (67.8 million).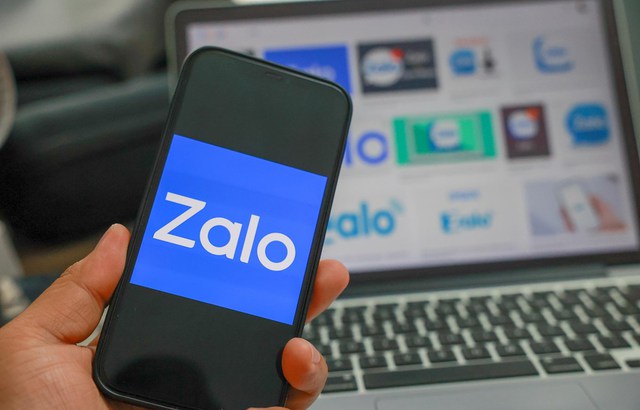 Zalo has an average of 74.7 million monthly users and Mocha has an average of 4.6 million monthly users. It is known that the average time each person uses Zalo daily is relatively high (~28 minutes) compared to Messenger (~20 minutes), Facebook (~30 minutes).
In the Top 5 communication apps, the average total amount of data each Vietnamese user creates and exchanges monthly on Zalo and Mocha is approximately 591 MB (~ 58.84% of the whole market), more than 1, 43 times compared to the total amount of data exchanged on 3 popular foreign platforms in Vietnam (total Messenger, Viber and Telegram is 413.3 MB, accounting for 41.16%).
Reference: Techcrunch
Source : Genk