TVs, phones in Vietnam began to be affected by chip scarcity
Phone makers began to turn to other chip makers, while retailers actively stocked up on best-selling TV models in anticipation of rising prices.
Vivo has just launched the V21 5G in the mid-range segment. This segment is often expected by companies in terms of sales volume and revenue, so the product is carefully invested in many aspects. Besides features enough to attract young people, the smartphone uses MediaTek's new chip, MediaTek Dimensity 800U.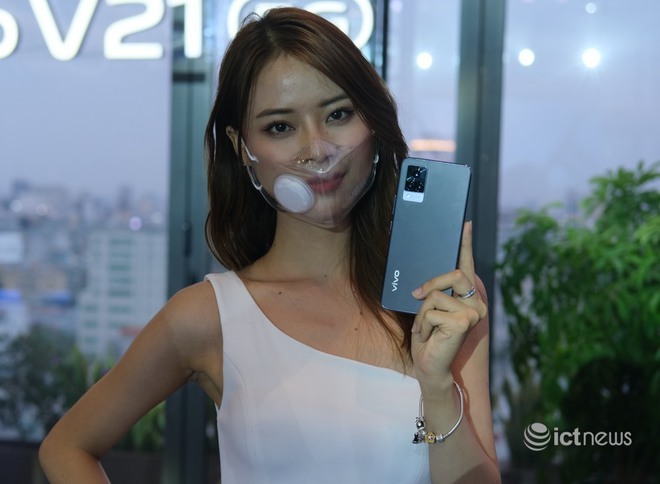 Many smartphones sold in Vietnam will soon switch to using MediaTek chips. (Photo: Hai Dang)
Usually, in the segment of 8-10 million or more, users start to pay attention to the processor of a smartphone. If the product is equipped with Qualcomm's Snapdragon processor, it will be more competitive than the MediaTek chip. Manufacturers understand this and will sometimes emphasize products using Qualcomm's processors as an advantage of phones.
However, in the near future, the Vietnamese smartphone market in the mid-range segment will witness a shift to using MediaTek chips more, due to the scarcity of Snapdragon chips.
Two phone companies in the top 5 in Vietnam confirmed to ICTnews that the upcoming trend of smartphones sold in the country will use processors from Taiwanese chip companies. MediaTek, which is heavily equipped on affordable smartphones, now has a great opportunity to upgrade to higher-end smartphones.
A product expert of a smartphone company assessed that the MediaTek chip has recently become more powerful, better compatible with software, and is used by more companies. For example, the G series processors are well-reviewed, or the upcoming Dimensity series is also used a lot. There are chip lines that will support both SIMs to connect to 5G at the same time to maximize performance.
Despite the shortage of chips, the companies all said that the price of smartphones in the short term will not change.
In the field of laptops, according to FPT Shop, there will be no shortage of goods or price increases related to processor supply. Mr. Nguyen The Kha, Director of Mobile Telecommunications, said that goods, especially laptops, are worked with the company or distributor in advance by this chain, so that the goods can be delivered continuously monthly.
"Key products are pre-imported in stock to ensure 30-45 days of sales to always have enough goods to serve customers while waiting for new shipments to arrive," Mr. Kha affirmed.
However, the representative of FPT Shop admitted that the group of laptops priced under 16 million VND had a great demand, so the goods sometimes did not arrive in time with the sudden increase in demand.
Depending on the size of the chain and the perception of each retailer, the amount of inventory will be different. Unlike FPT Shop, CellphoneS side said that recently, the shortage of goods is getting worse and new products are constantly reporting shortages, price increases or even out of models.
Forecasting that the shortage of goods may last, the Mobile World side is considering buying more goods to store more.
At the general meeting of shareholders last week, Mr. Nguyen Duc Tai, Chairman of the Board of Directors of Mobile World, said that he is considering buying more goods to stock up in the context of chip shortages and production capacity problems due to problems. effects of the disease.
About 5-7 years ago, TV prices were easy to decrease after a period of launch, but in the past few years, TV prices have not decreased sharply, even increased, so Mr. Tai predicts that users may have to pay in the near future. more when buying technology.
"I am asking buyers to consider buying all the best-selling TV models to save. Prices in the short term can only go up," said Mr. Nguyen Duc Tai.
Source : Genk