Try portable mist fan: Price is only VND 100,000, is it cooler than Xiaomi mini fans?
In addition to hats, sunscreen, in recent years, many young people have also welcomed a hot trend of sun protection: beautiful portable fans, powered by rechargeable batteries to carry anywhere, whether they go study, work or hang out.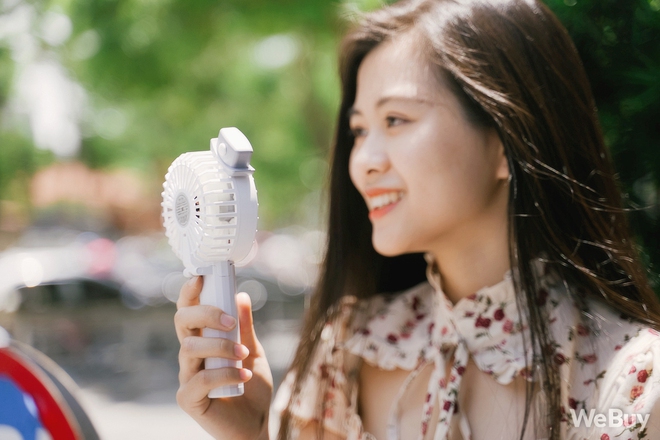 Handheld fans have become an indispensable item of many young people.
More recently there is also a slightly upgraded version, combining handheld fans with a mini nebulizer, to create "2-fold" cooling fans. Tiny droplets of water along with the breeze are advertised to provide superior performance compared to conventional fans. So how true? We tried to order one for a few days, and here is the result …
Open boxes and accessories: Cheap but full from A to Z
The price of the portable mist spray fan that we bought is only about 100,000 VND, surfing the internet a bit. In addition to this type of white, there are also more blue, pink, black … along with many lovely shapes, the girls are spoiled for choice.
However, there are also types of mini misting fans on the internet, but the "mist" bottle does not spray automatically, but must be manually pressed to spray out, cheap only a few tens of thousands, so it is best not to buy before you are disappointed.
The hand-held fan is lovely, has a cool mist spraying feature that only costs 100,000 VND.
The hat above is not only beautiful, but also a pitcher of water.
Nebulizer is located in the middle of the fan cage.
Inside the box, besides the fan and charger, there is also a small vial that looks like eye drops. Its effect is to add water to the fan to create mist, because the intake of the fan is too small to take under the tap directly.
Included accessories include a charging cord and a vial for filling water. This bottle can add 4 times more water to the fan.
Each fill of water only turned on for about 15 20 minutes, so the bottle quickly ran out. Note that only use filtered water, do not use tap water with debris that will easily damage the sprayer.
The design of the portable misting fan is basically similar to the regular mini fan, including the fan cage and the handle. This type of mist can be folded in half, according to the advertisement to be neat and to change the angle of blowing or placing on the table. However, when you see it, this design is not as effective as the base of Xiaomi fans but also feels very uncertain. Part of the cord is even exposed, if not careful can break.
The handle can be bent backwards to form a stand on the table, but it is not very efficient.
Has even opened the wire interface again.
Compared to the base of the Xiaomi fan, it is less certain.
Usage: Simple, anyone can use immediately
The misting mode works really well, but it is a bit flickery and the amount of mist is small, only felt when pressed against the skin.
On the fan body, there is only one button, press once to turn on / off or increase wind, press and hold to turn on / off the mist mode. The fan function has nothing to discuss, and the misting feature works but is not very stable. Although enough water has been poured, but sometimes still stubborn, spraying a bit is clogged always, must shake up and wait a while to spray again.
Is it really effective?
You can choose to only turn on the fan, only misting, or a combination of both. The cool when turning on the fan is almost the same as Xiaomi fan, not worse. However, when combined with misting, the feeling is preferable. Small particles of water cling to the skin, carried by the wind, so the heat is also greatly reduced. If pressed close to the face, it can be said to be "cold", not just "cool" anymore.
Mist spray fan is a bit more because there are water particles to cool down quickly, cool man feeling excited.
Of course, that is when the fan is close to the skin, but if away from about 15, 20 cm, it is no different than a regular fan, especially when used in hot weather or humid rainy day. In addition, because the water tank of the fan is too small, the spray can only spray about 15-20 minutes to run out of water, must be added immediately, but the machine does not automatically turn off.
Another small plus point for the misting fan is that it runs very smoothly, the noise is smaller. Xiaomi fan has a design error so it vibrates slightly, turning it to the highest level will make quite a loud noise.
So should I buy it?
The fan that WeBuy bought for quite good quality, battery life from 1h30p to nearly 4 hours depending on the wind level. Charging time is about 2 hours is full, use the same charger of the phone, tablet.
It is best to buy fans from a big brand like Xiaomi, at least there are already many users and verified for quality.
The cooling capacity is at an acceptable level and the misting feature is also called efficiency. The biggest minus point is not coming from any clear brand, plus the folding design feeling less durable and the water bottle is too small, the spray has not "already" but has seen it all.
Overall, WeBuy found this item to buy and play, it is best suited for use in the office or when going to school, but in the hot weather, it is very lucky, not cool, not guaranteed. durability, sometimes use a few meals to roll out broken not joke.
Source : Genk