To buy high-priced goods at shocking prices, don't forget to pocket these tips!
Choose a reputable place to buy
When surfing online stores or e-commerce floors, you will be overwhelmed by the many stalls and thousands of products. But to make sure that the product you want to buy is genuine and has a reasonable price compared to the market, you should look to reputable genuine stores or those with 5-star reviews as well as dark feedback from customer. One of the genuine booths that are being selected by many technology-loving buyers recently is the Samsung Official Shop on Shopee. Here, users can not only shop for genuine products with good warranty, but also enjoy attractive promotions, owning products at the best prices.
Align flash sale timeframes
To own your favorite products at "great" prices, flash sale is an item you cannot ignore, because these are the time frames to sell products at extremely preferential prices. To quickly buy flash sale products, you can choose a flash sale store, and press "remind" to not miss the bargain. In particular, you should choose the most suitable time such as 0am, 12pm or 6pm, which is often the time when items are discounted greatly. Not only that, flash sales usually happen quite quickly from 30 minutes to 1 hour, so quickly put it in your cart and pay for the offer.
Hunting for promotional vouchers
Discount events are often accompanied by extremely quality discount vouchers that you cannot ignore if you want to buy at the best price. Moreover, nowadays, online stores or e-commerce platforms allow buyers to apply several promotional vouchers at the same time, so the more incentives that help buyers save maximum costs. However, the number of vouchers is usually limited, so you have to be extremely fast to be able to own them. Don't forget to watch the time frames for the voucher codes to be released to save the codes and use them in time when buying!
Currently, from December 5 to 12 on Shopee, there is a promotion program "End of year sale" with preferential rates up to 35% from the Samsung brand. Please apply the tips above to own a smartphone or tablet at a great price!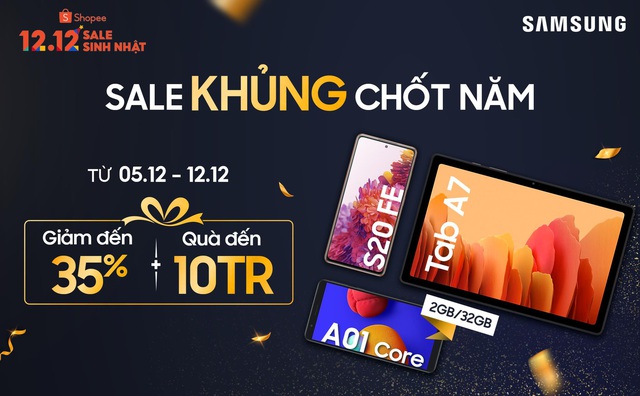 Samsung Galaxy S20 FE
Samsung Galaxy S20 FE , a latest Samsung product, owns a 32MP selfie camera that uses a technology that combines 4 pixels into one, for the ultimate ability to focus even in low light. The S20 FE's triple rear camera also possesses many unique features such as focus point or optical image stabilization (OIS) to help enhance your photography experience.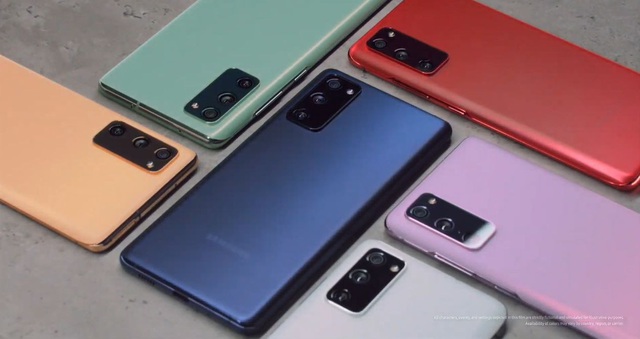 And yet, Samsung Galaxy S20 FE owns 4,500 mAh battery capacity along with 25W fast charging technology to help you be flexible in any situation. 6 youthful dynamic color schemes like purple or mint are also bright spots, extremely attractive to young users. Products are currently being sold on Shopee for only 12,290,000 VND (original price 15,990,000 VND) in the frame of flash sale. Not only that, users also have the opportunity to apply the code ELSSMT800 for an additional discount of VND 800,000. Hurry up right now the genuine Samsung booth on Shopee soup sale now!
Tablet Samsung Galaxy Tab A7
This is also an outstanding product for sale with Galaxy S20 FE on the genuine Samsung booth on Shopee. This is a neatly designed tablet with a weight of only 447g with a thickness of 7mm, suitable for many different subjects as well as many different jobs.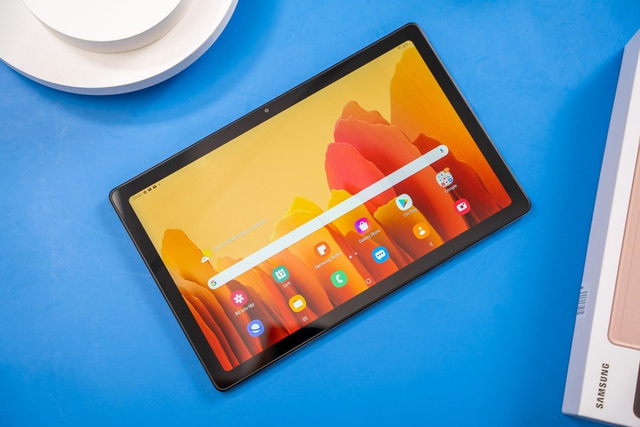 Samsung Galaxy Tab A7 owns a 10.4 inch screen with a resolution of 2,000 x 1,200 on an extremely sharp IPS LCD panel and a battery capacity of up to 7,040 mAh to help you feel secure about actual usage time in the model. This A7 tab.
In terms of configuration, Galaxy Tab A7 is equipped with Snapdragon 662 processor with 3GB RAM for very stable performance, ensuring smooth multitasking to help users fully play today's heavy games with the device. without worrying about stutter / lag. You can buy products at extremely preferential prices during the flash sale at a genuine Samsung booth on Shopee for VND 6,790,000 (original price 7,990,000 VND). In addition, when applying ELSSMT800 voucher you will receive an additional VND 800,000 discount. Buy it right here.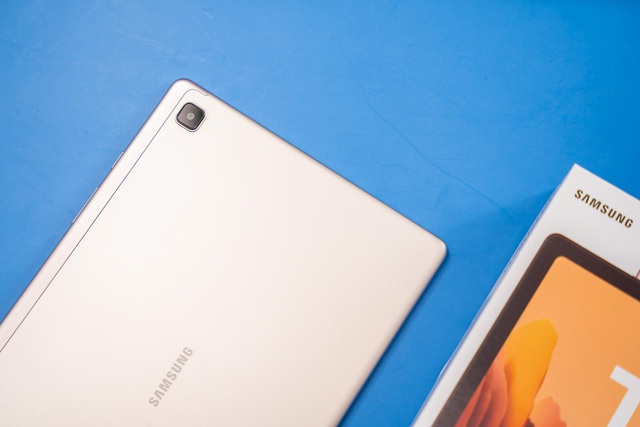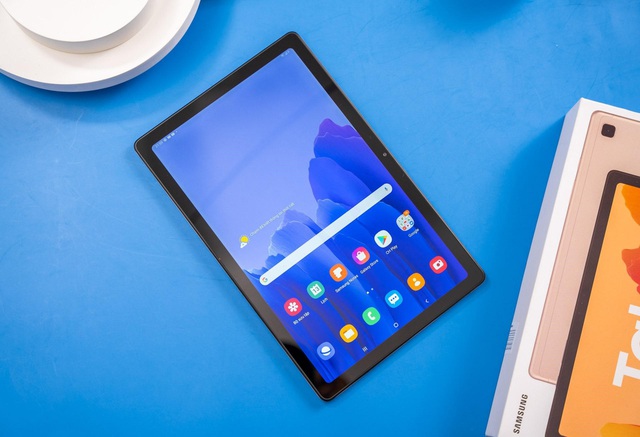 In addition to the extremely hot flash sale price and huge discount vouchers, you also have the opportunity to receive extremely valuable gifts up to VND 10 million when buying Samsung Galaxy S20 FE at special and specific time frames.
● 0H: The first 2 successful orders were awarded Samsung washing machine worth VND 8 million.
● 12H: The first 2 successful orders were awarded Samsung TV worth 10 million VND.
● 18H: The first 5 successful orders were awarded the Samsung VCC8836V36 / XSV vacuum cleaner.
In addition, in the three golden hour frames above, you have the opportunity to immediately receive Galaxy Buds + when purchasing the Samsung Galaxy Tab A7. Browse Shopee today to not miss the great deals from Samsung.
Source : Genk