This is the video with the most "likes" on YouTube!
Used to be the most viewed video on YouTube for more than 900 days in a row before being overtaken by a music video with a "haunting" melody. Despacito is really a bomb hitting the music market in general and music videos on YouTube in particular. At the time of its release in 2017, the song caused a worldwide fever when it was the first video to reach 3 billion views in August 2017, then 4 billion in October 2017, 5 billion in October, respectively. 4/2018, 6 billion in February 2019 and 7 billion in October 2020.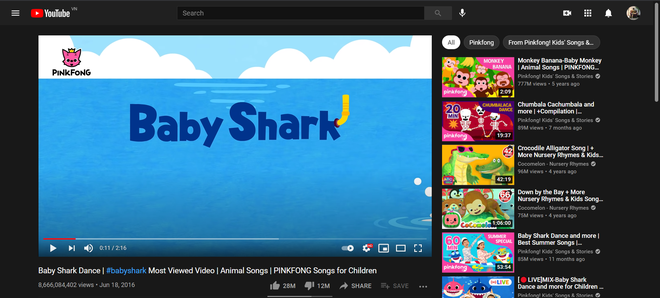 In February 2021, Baby Shark Dance officially usurped Despacito, becoming the world's highest-viewed video
Despacito was then spectacularly surpassed by Baby Shark Dance in February 2021 with 8 billion views, this children's music video is also the first and only video at the moment to achieve this number.
But recently, according to the statistics of DigitalTrends, Despacito has returned to the top position, but in a completely different aspect, it is the video with the most likes on YouTube, namely about 44 million "thumbs". upward". Therefore, Despacito has automatically become the most viewed and liked video on YouTube since the platform was launched in 2005. Despacito 's rival Baby Shark Dance currently only owns about 28 million likes, ranked No. 4 in the ranking of the most liked videos of all time.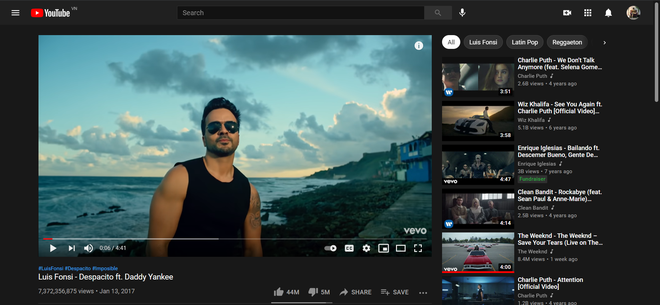 Despacito suddenly became the most liked video on YouTube
In the top 3 of the like chart, including See You Again by Charlie Puth duet with rappers Wiz Khalifa and Dynamite from Korean group BTS with 34 and 28.5 million likes, respectively.
Photo: YouTube
Source : Genk