This is how the world's 3rd largest cryptocurrency by market capitalization can become a "black swan" of the financial system.
Accordingly, some investors have suggested that a loss of confidence in Tether could cause a "black swan", a term used to describe an unpredictable and unforeseeable event. It could have profound consequences for economies, financial markets and stock markets around the globe.
The issues surrounding Tether have important implications for the nascent crypto world. Economists are increasingly concerned it will also have far-reaching implications for financial markets beyond cryptocurrencies.
Like Bitcoin, Tether is a cryptocurrency. In fact, it is the world's third largest digital currency by market value. However, it is very different from Bitcoin and other cryptocurrencies.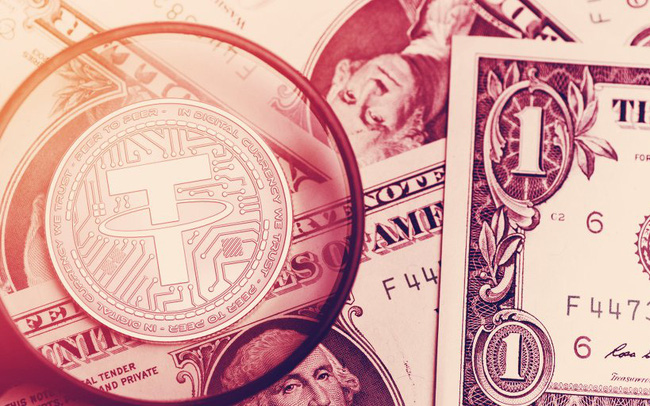 Unlike most other volatile cryptocurrencies, Tether is a digital currency pegged to a real-world asset (USD) to maintain a stable value. Bitcoin's volatility in April is an example. At this point, Bitcoin has risen to a record level of nearly 65,000 USD/bitcoin. But then, its value plummeted to only half.
However, anxiety around Tether flared up as New York authorities investigated the companies for alleged fraud of up to $850 million. Tether and Bitfinex are popular cryptocurrency exchanges owned by the same company Ifinex. Both have agreed to pay $18.5 million for the deal and are banned from operating in the state. However, neither company will admit to any wrongdoing.
Analysts at JPMorgan previously warned that a sudden loss of confidence in Tether could lead to a "severe liquidity shock to the broader crypto market". Others argue that massive withdrawals from Tether could lead to market contagion and affect non-crypto assets.
Stablecoins are becoming more and more popular. However, in June, Boston Fed President Rosengren mentioned Tether and other stablecoins as one of the potential risks to financial stability.
"A future crisis could easily be triggered if stablecoins become a more important part of the financial markets. This possibility will be ruled out in the event that we begin to regulate them and secure them. that there is actually a lot more stability than what is being marketed to the public as a stablecoin," he shared.
Last week, Fitch Ratings, one of the US "Big Three", also warned that a sudden mass buyback of tether could destabilize credit markets in the short term.
"While authorities remain concerned about potential traces of risks to the financial system, these will be limited if the currencies are fully backed by safe, secure assets. high liquidity." This agency said.
Tether is not the only stablecoin out there. But by far, it is one of the three largest and most popular cryptocurrencies, next to USD Coin and Binance USD.
Reference: CNBC
Source : Genk