This is a list of devices that will be upgraded to HarmonyOS, many 5-year-old smartphones are still "upgraded"
Recently, Huawei has officially announced HarmonyOS, the operating system developed by the company itself. This is a cross-platform operating system that can work on many different devices from smartphones, tablets, TVs to smartwatches, IoT devices or even cars.
On smartphones, Huawei says HarmonyOS will bring performance improvements over Android, especially during long-term use. HarmonyOS also has a new interface with many details that is considered "iOS learning". Finally, as an operating system developed by Huawei, HarmonyOS will help smartphones interact better with other Huawei devices.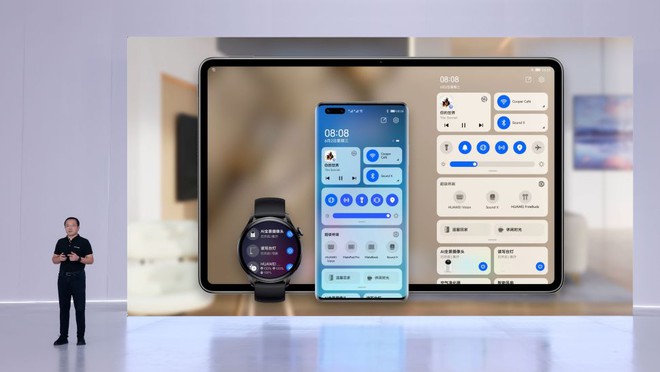 HarmonyOS will be able to run on a variety of devices
HarmonyOS will be pre-installed on a few newly announced devices by Huawei, such as the MatePad Pro tablet, the Huawei Watch 3 smartwatch and the upcoming Huawei P50 smartphone. Not only that, Huawei will also update HarmonyOS to a series of old devices. The following is the full list of devices that will be updated to HarmonyOS along with the expected update date.
June 2, 2021
Huawei Mate40 series
Huawei P40 series
Huawei Mate30 series
Huawei MatePad Pro (2019)
Q3 2021
Huawei Mate20 series
Huawei nova 7 series
Huawei nova 8 series
Huawei nova 6 series
Huawei MatePad (2019)
Q4 2021
Huawei Smart Screen V series (2021)
Huawei S Smart Screen series
Huawei Mate20 X series
Huawei X Smart Screen 65-inches
Huawei nova 5 Pro
Huawei Enjoy 20 series
Huawei Enjoy Z 5G
Huawei Maimang 9
Huawei MediaPad M6 series
Huawei Enjoy Tablet 2
First half of 2022
Huawei Mate10 series
Huawei P20 series
Huawei nova 5 series
Huawei Mate9 series
Huawei P10 series
Huawei Smart Screen V series
Huawei MediaPad M5
Huawei nova 4
Huawei nova 4e
Huawei nova 3
Huawei nova 3i
Huawei Enjoy 9S
Huawei Enjoy 9 Plus
Huawei Enjoy 10
Huawei Enjoy 10S
Huawei Maimang 8
Huawei nova 2s
From this list, it can be seen that Huawei will not only update recently launched devices, but also devices that have a relatively long life, such as the Huawei Mate 9 launched in 2016. In addition, not only high-end models, Huawei will also update mid-range Nova models.
Source : Genk