This image will help you visualize how fast the International Space Station ISS is moving at 28,000 km/h
Although most people know that the International Space Station (ISS) moves extremely fast, it is difficult to imagine how fast it is. Recently, French astronaut Thomas Pesquet took and shared a photo showing what it would be like to travel at nearly 28,000 km / h of the ISS.
Using a method he has been experimenting with, Pesquet uses a 30-second exposure while focusing on the space station with Earth's night sky glistening in the background. The 30-second exposure time helps us get a sense of how fast the ISS flies over Earth, as the lights from the cities become streaks of light, similar to when you take a street exposure photograph, but here whole Earth.
Pesquet's photo shows how fast the ISS orbits the Earth
The ISS orbits Earth from an altitude of 400 km and takes about 90 minutes to complete a full orbit. This means that the ISS and its astronauts orbit the planet about 16 times per day. Despite this incredible speed, astronauts on the space station say they have not encountered anything unusual while living and working there.

ISS flies around the Earth
NASA has set up a system that will notify those in need of when the International Space Station is moving over their area, allowing them to spot the ISS first-hand as it zips across the night sky or early in the morning if the weather is clear.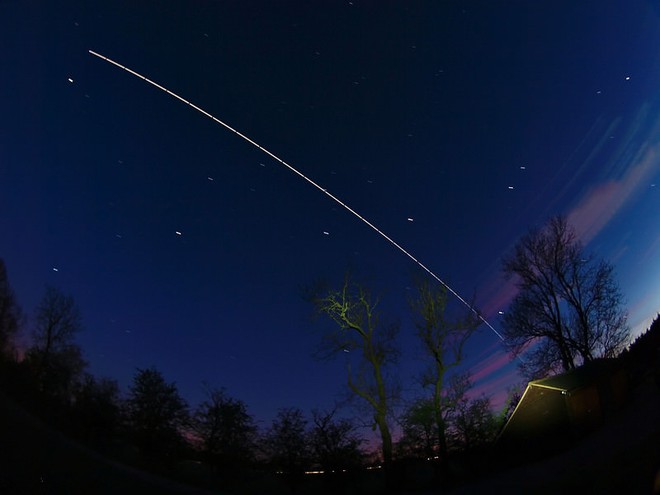 European Space Agency astronaut Thomas Pesquet has taken and shared numerous images of Earth and other astronomical photographs since arriving at the International Space Station, but this latest image is what the first in a new series of photos that Pesquet is working on. The photo project involves taking pictures showing the extremely high speed at which the space station orbits the Earth.
NASA 's YouTube channel is a great place to follow the projects of ISS astronauts as well as what life on the space station is like. Also you can go to this YouTube channel to watch live from the window of the ISS.
Reference: Petapixel
Source : Genk