The year 2020 marks the tech giants joining hands for the community, looking back at the top companies nominated in the WeChoice Awards 2020
The Covid-19 pandemic of 2020 has become a shadow covering the lives of billions of people around the world as well as in Vietnam. It disturbs and disrupts many ways of communication, work and activities that people are used to so far. But in the midst of that shadow, Vietnam emerged as a star by minimizing the negative impact of the epidemic as well as its efforts for a new normal phase in people's lives.
Contributing a part of the efforts to curb the epidemic and bring everyone's life back to normal is a hallmark of the Vietnamese technology community, with contributions from big names in domestic and international such as VinGroup, Viettel, Lazada, Momo Wallet, TikTok and Samsung.
Below are typical stories marking the contribution to the community of the Vietnamese technology industry in the past 2020.
VinGroup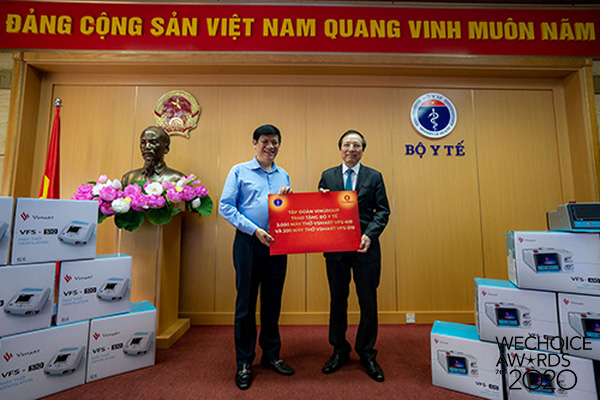 The intrusive ventilator was awarded by VinGroup to the Ministry of Health
Since the Covid-19 pandemic started to break out in Vietnam, VinGroup has been one of the leading businesses in efforts to prevent the epidemic's harm to the community. With the scientific and technical background of the VinFast automobile factory, the Vinmec medical system and the cooperation from many reliable partners in the world, VinGroup quickly produced 2 models of Vsmart VFS. -410 and Vsmart VFS-510, to aid in the fight against the pandemic.
As of September 2020, VinGroup has awarded 3,200 intrusive breathing machines to the Ministry of Health, 100 VFS-510 ventilators for Da Nang, 34 VFS-410 ventilators, VFS-510 to Quang Nam, Quang Ngai. In addition, the group also donated more than 900 billion VND to the health sector, localities and partners to support efforts to repel the pandemic.
MoMo wallet
Besides VinGroup, MoMo Wallet is also another name in the Vietnamese technology village that has contributed to helping the community overcome the epidemic. In April 2020, at the height of the Covid-19 epidemic in Vietnam, Wallet MoMo cooperated with the Central Committee of the Fatherland Front and Hanoi Medical University to call for more than 1.28 million. more than 2.6 billion dong of donors supported, doctors, doctors and students at the frontline to fight against the epidemic.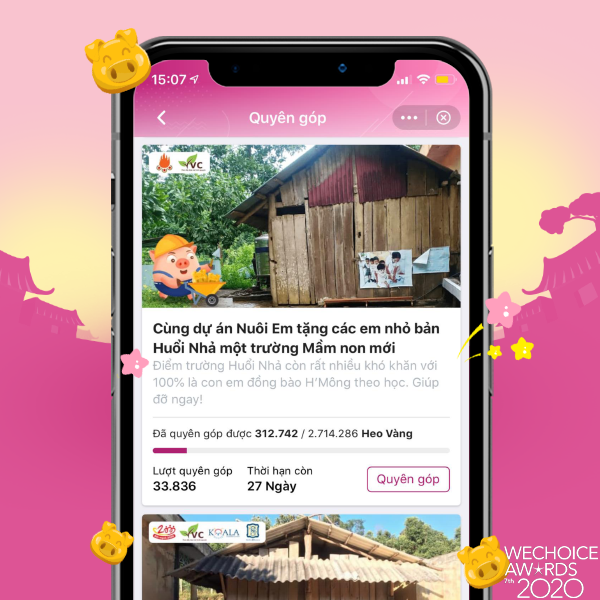 MoMo wallet stands out with campaigns to mobilize users to donate to the community
Following that, MoMo Wallet users also participated in many other volunteer events such as Supporting Vietnamese Agricultural Products in June, calling for a donation of more than 1.3 billion VND to provinces with Covid-19 outbreaks in May. 9, donated more than 7.6 billion to flood-hit provinces in Central Vietnam. Notably, a donation of nearly 790 million VND from MoMo E-wallet users in November helped maintain the program As Not yet Claimed, with another 1.5 number.
Lazada Vietnam
Lazada e-commerce platform also contributes to stabilize the community's life even in the context that most people have to be socially isolated. Not only expanding the supply of goods to stabilize the market, as well as ensuring safety standards for delivery, to help people feel more secure with safe and convenient online shopping habits.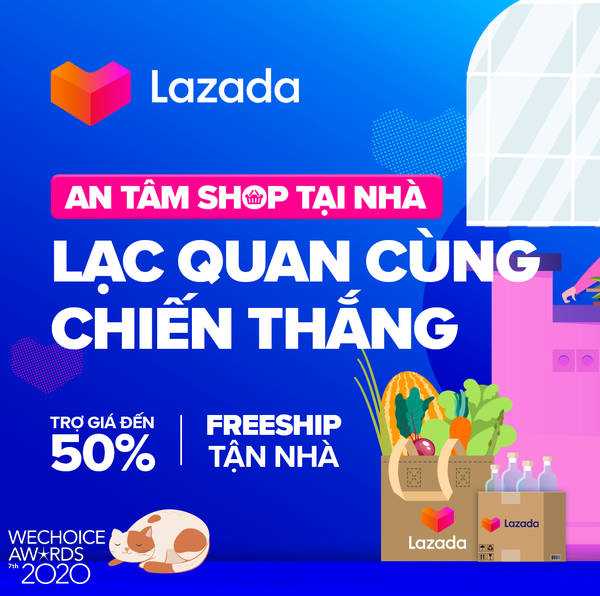 Shop without having to go far thanks to e-commerce platforms like Lazada
In addition, Lazada also supported 100,000 medical masks, 2 negative pressure isolation rooms, 10,000 medical protective suits, and supported the community and the medical sector to prevent pandemics. In addition, Lazada also supports 110,000 small and medium enterprises to reach viewers, to overcome difficulties in the pandemic.
Viettel
Contributing a lot to Vietnam Health activities in 2020 is not to mention Viettel Group with Telehealth system, solutions to support remote consultation, medical examination and treatment. After more than 5 months of implementation, the system has expanded to 34 hospitals, more than 1,300 bridges connecting medical examination and treatment, reaching even remote areas such as Truong Sa, Co To, Muong Nhe …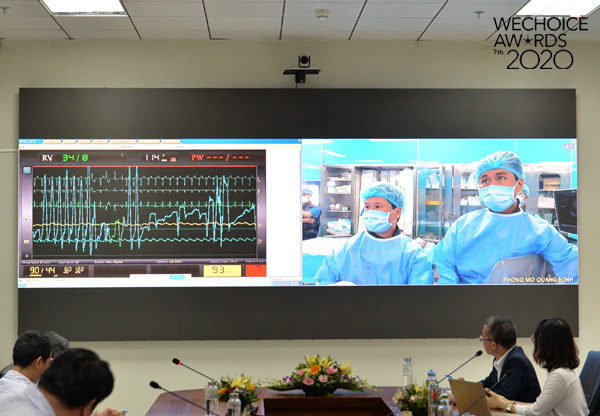 Viettel's Telehealth solution helps doctors to make medical examination and treatment remotely.
This remote examination and treatment solution is not only effective in the pandemic period, but also has a sustainable and long-term application in the future. Currently, Viettel is aiming to develop this system on personal or home devices, allowing doctors to capture clinical information about patients without having to meet in person.
TikTok
Also contributing efforts to repel Covid-19 in Vietnam, but TikTok went his own way. The #vudieuruatay (#handwashingmove) campaign on TikTok has received more than 11 billion views and more than 40,000 response videos, from both inside and outside Vietnam. This has contributed to raising public awareness about the epidemic and how to respond to it.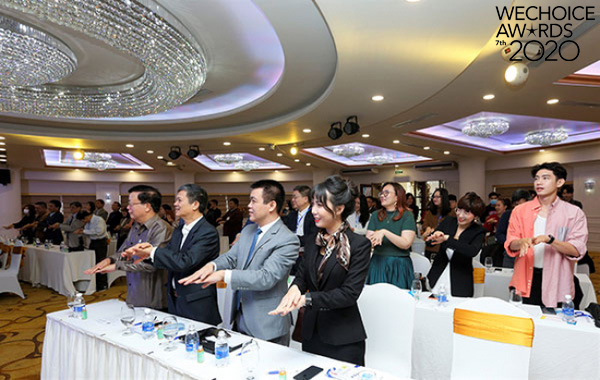 The famous hand wash dance on TikTok.
As a viral video platform, TikTok is also the starting point for other community-oriented campaigns, such as #hellovietnam campaign to promote Vietnamese tourism (more than 600 million views), campaign # onhavanvui calls for people to stay home for the community (more than 8.9 billion views), the #thankyouhero campaign is aimed at empowering doctors and staff at the front line of the epidemic prevention (over 1.3 billion views) …
Samsung
The contribution from the technology industry to the community comes not only in times of crisis but also from efforts to build a future for young people. Among them is the Solve for Tomorrow contest launched by Samsung, aiming to create a playground to help students explore, research and apply technology to their local problems.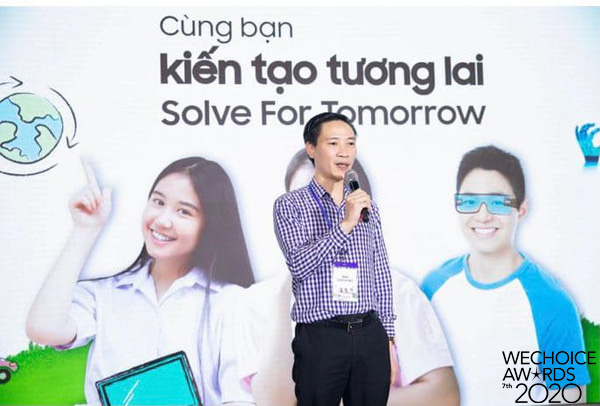 The Solve For Tomorrow contest encourages young people to explore and create, solve problems of the community
With the requirement of robot application while building solutions, this year's contest attracted 262 schools with 708 teachers and 11,531 students nationwide participating with more than 400 different tests.
The great social and community impact of the aforementioned stories is the reason these companies are present in the WeChoice Awards 2020 program, to further spread and inspire other individuals and businesses. contribute more to the community and society.
WeChoice Awards – An annual award organized by VCCorp Joint Stock Company, with the desire to honor people, tell the most inspirational stories, events, products and works that have a positive impact on the community. dong – has returned with a new message: Dieu Ky Vietnam.
The magic of Vietnam in 2020 not only comes from the numbers of its economy growth, size, or power. The miracle comes from every person of a small country, from leaders to ordinary people, from doctors to police officers, from fathers and mothers. , Son.
Please continue to accompany us on our journey to celebrate the stories and characters you find worthy of being present at the WeChoice Awards 2020 to spread even more positive inspiration across the community.

Source : Genk