The world's most expensive YouTuber revealed that he spends $48 million a year making videos
MrBeast, real name Jimmy Donaldson, is a Youtuber that almost everyone knows or has seen on the internet. He is known for his generous philanthropy, deciphering YouTube's secret to growing subscribers, and his games regularly pique the curiosity of millions.
MrBeast earns 69.8 million subscribers on his main channel, nearly 22 million on his games channel, and nearly 30 million on his four smaller sub-channels. In an interview with YouTubers Colin & Samir, MrBeast gave the duo a rare behind-the-scenes look at his financials, saying his monthly content creation costs now stand at $4. million USD, bringing his total annual video budget to 48 million USD.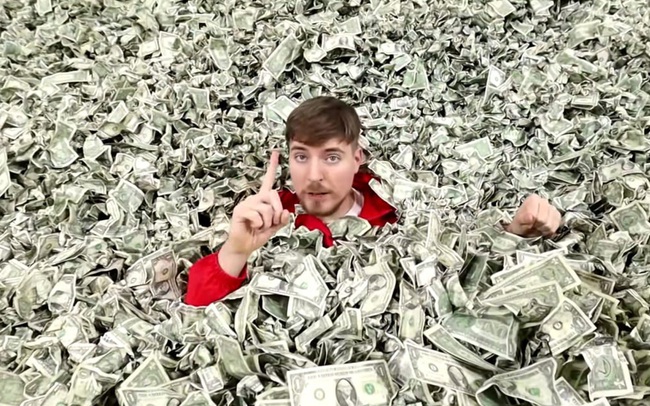 Samir Chaudry said, "You go from making money, spending money to making money, then losing money again."
Jimmy Donaldson replied, "I have to monetize some of the videos to make up for some of the others."
Even taking into account the advertising revenue and brand deals he manages with each video shoot, MrBeast regularly goes over budget, often leaving him at a loss. However, in return, he generated about 700 million views in just 28 days, equal to the combined population of the United States, Brazil, Russia, Japan, plus an extremely impressive viewer retention rate, up to 70% in each upload. These things link into the secret to success on YouTube.
MrBeast concept: "I just want to have money so I can make better videos to grow my channel. I don't care about making money, I don't care about time, I just want to create videos. best on the planet".
Of course, his Youtube channel couldn't become famous overnight. From the age of 12 to 18, MrBeast posted regularly without attracting a particularly notable audience. It wasn't until he and his friends decided to decipher the YouTube algorithm of the "black box of rules and processes that determine which videos are recommended to viewers", that he finally dropped out of college to pursue full-time content creation.
For several months, MrBeast and his associates made daily phone calls to analyze stormy videos, assigning each other related tasks and regularly "scanning" the data of the main channels, as well as analyzing audience on their most viewed posts. Before long, the theory was put into practice. The first test in the MrBeast 2.0 era was both simple and laborious: "I counted to 100,000". Since its launch on January 9, 2017, the 40-hour video has generated 23 million more views.
Jimmy Donaldson recalls in a previous interview: "I woke up, studied YouTube, studied videos, learned to make movies and went to bed and that was my life."
Bloomberg has categorized MrBeast's top videos into three popular YouTube genres. The first is a huge challenge, such as being in an ice room for a day or being the last to leave a ramen bath. This was followed by the appearance of a famous guest. Donaldson often collaborates with other famous YouTubers, including his favorite scientist Mark Rober. Finally in the reaction video, MrBeast has a team of goofy friends who take part in his stunts and often act as hyperboleers to add drama.
Donaldson added: "The videos take months of preparation. Many of them take four to five days of non-stop filming. Maybe this is one of the reasons other people don't do what I do."
Source : Genk