The truth behind the emergency notification when receiving a strange call will have your contacts, bank cards stolen
Recently, many social network users have continuously received messages reminding them to be careful when a strange phone number calls. In particular, these warnings specify the phone numbers, the beginning of the incoming phone number will steal the phone book, bank account when the recipient answers the call or calls back.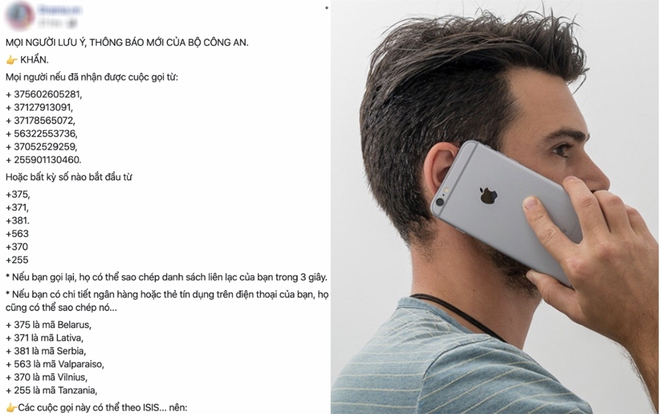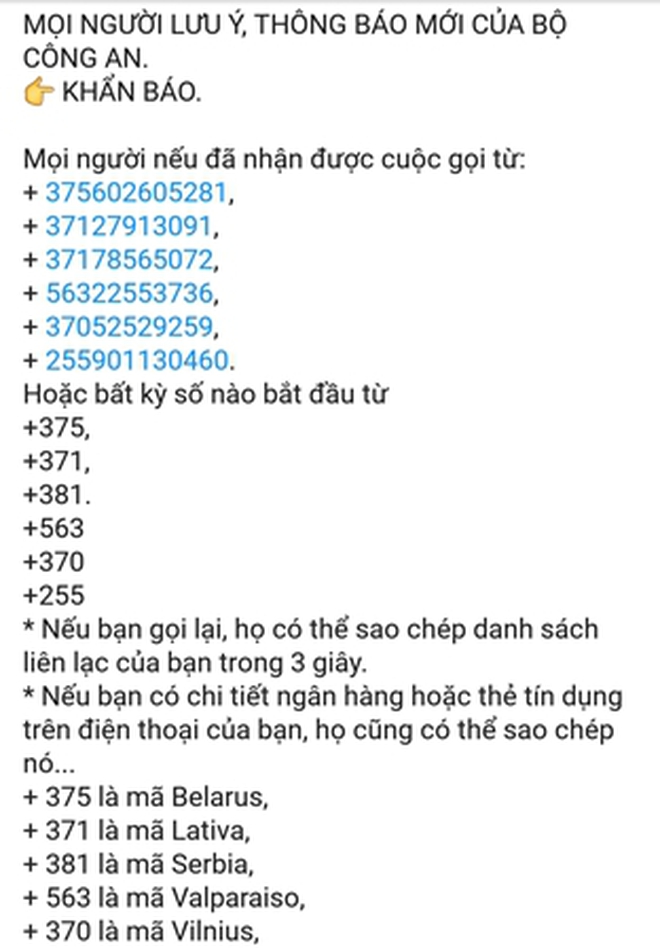 The warning that receiving a strange call will have your contacts and bank accounts stolen is spread on social networking sites
"EVERYONE ATTENTION, NEW NOTICE OF THE MINISTRY OF Public Security. EMERGENCY. Everyone if received a call from: +375602605281, +37127913091, +37178565072, +56322553736, +37052529259, +255901130460. Or any number starting at +375, +371, +381, +563 +370 +255 * If you call back, they can copy your contact list in 3 seconds * If you have bank or credit card details application on your phone, they can also copy it… +375 is Belarusian code, +371 is Lativa code, +381 is Serbian code, +563 is Valparaiso code, M370 is Vilnius code, +255 is code Tanzania These calls may follow ISIS…so: + Do not answer, + Or call back Also: + Do not operate #90, #09 on your Mobile Phone when suggested by the caller This is a new trick of terrorists to access your SIM card.Make calls at your expense and terrorize you like a criminal.So everyone share forward this message. to your friends, relatives… to stop it before it's too late roll. The more advanced technology is, the more sophisticated terrorist and fraudulent activities are, and people are very wary," the incident spread on the social network Facebook, causing panic and anxiety for many people.
In fact, the warning that receiving a strange call will have your contacts stolen, bank accounts spread on social networking sites is incorrect information. This trick appeared many years ago and has been warned by experts many times.
According to research, the above phone numbers are just ordinary personal numbers, if the caller comes only for normal communication, there will be no problem and the Ministry of Public Security has not made any urgent announcements to content as above. It is possible to hear or call back to the above numbers, losing money is possible, but through a phone call can steal contacts, bank account information is impossible.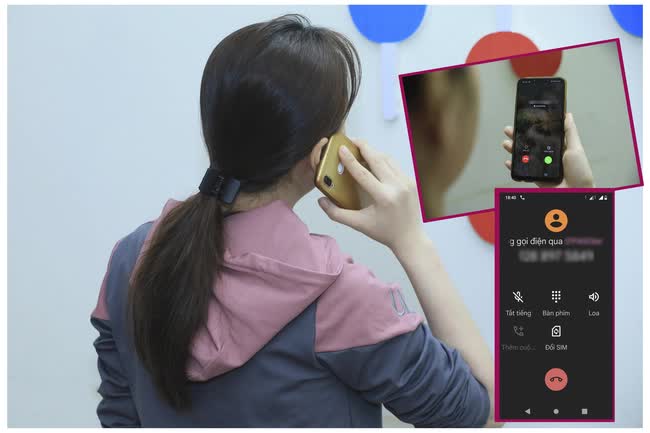 Warning receiving strange calls will have contacts stolen, bank accounts spread on social networking sites are incorrect information
Besides, at present, the security mechanism of operating systems is increasingly enhanced, only when the user accepts and agrees to the terms, an application is allowed to access certain folders on the device. . Therefore, it is not possible through a phone call to carry out bad intentions like the content of the above notice.
In case of listening to or calling back calls leading to copied phone contacts, personal information, such as: bank accounts, photos… can happen with calls via Viber chat applications , Zalo, WhatsApp … when the subject sends a link, image or an attachment that has malicious code installed.
As long as the user does not pay attention to click on that link or attachment, the malicious code will immediately enter the electronic device and proceed to copy all the information, then transfer it to the object.
To avoid being taken advantage of by scammers to carry out malicious intentions, Quang Nam Police recommends: People need to raise their vigilance when using telecommunications networks, the Internet, especially social networks. Facebook and Zalo chat application… as well as not listening, calling back, clicking on strange links, opening attachments or performing actions such as instructions from incoming calls from unknown numbers.
Source : Genk