The top 20 photos that won the Nikon Small World 2020 award reveal a beautiful micro-world
If there's one thing we have learned from the COVD-19 pandemic, it is a respect for the tiny entities, so small that the naked eye cannot see.
But in parallel with that danger and mystery, the microscopic world is also a world rich with beautiful shapes and colors. To help everyone visualize what the human eye cannot see, every year, Nikon holds a contest called Small World to award the best photos taken with a microscope. Because.
This year is the 46th year the competition has been held and Nikon has received more than 2,000 entries from all 90 countries around the world. They are not only the works of photographic artists, but also photos taken by scientists in their work.
Judges Dylan Burnette, Christophe Leterrier, Samantha Clark, Sean Greene and Ariel Waldman have been working very hard to choose the top 20 winning photos this year. Here's what you can see:
1. The photo winning the Nikon Small World 2020 award shows a zebrafish

Photographed by Daniel Castranova, Dr. Brant Weinstein and Bakary Samasa, this work is not only perfectly beautiful, showcasing the technical and artistic level of its creators, but also the source of the scientists' arrival. with a groundbreaking discovery.
As you can see, underneath the zebrafish's blue scales and bones is its orange lymphatic system.
Previously, scientists thought that only mammals had lymphatic vessels inside the skull. But with this photo, photographers Daniel Castranova and Bakary Samsara at the National Institutes of Health have shown that zebrafish also have those veins.
Since fish are much easier to keep and test than mammals, this finding could revolutionize research into brain-related disease treatments including Alzheimer's and cancer.
2. This year's Nikon Small World runner-up photo shows a series of clownfish embryos (Amphiprion percula) at different times, from hours after fertilization to before they hatch into fish.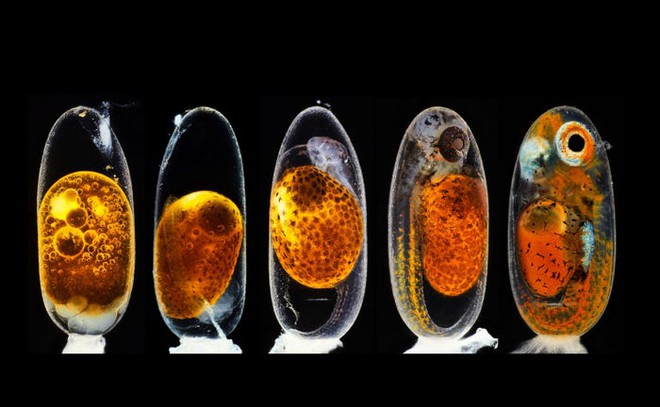 The leftmost embryo shows the clownfish embryo during the first day after fertilization. The second and third embryos are eggs that are 3 days old. The last two embryos are juveniles that are about to hatch on Day 5 and 9. This photo was taken by Daniel Knop.
3. Winner of the Nikon Small World 2020 third prize is a picture of a freshwater snail (Radula) tongue taken by Dr. Igor Siwanowicz.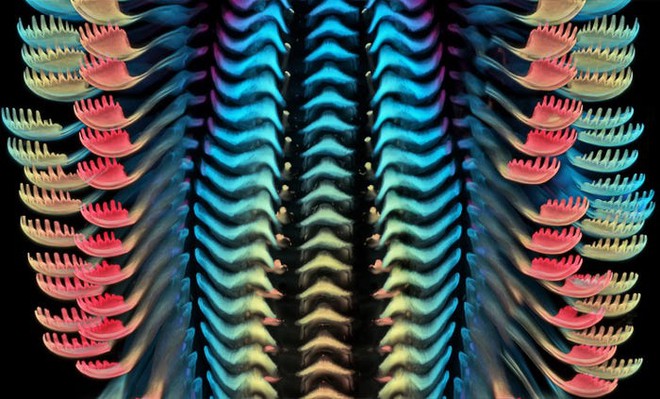 And here are other stunning photos from the top 20 of the contest:
4. Filaments and spores of soil fungus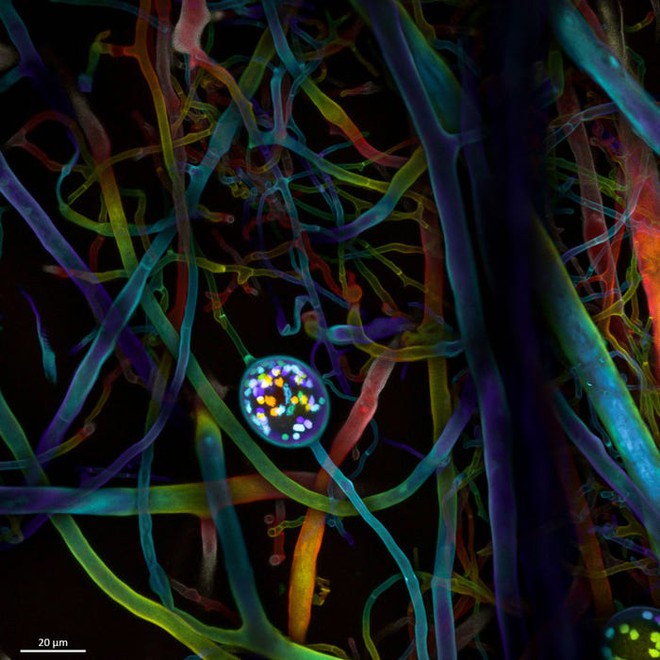 Polycystic spores and mycelium of a soil fungus (arbuscular mycorrhizal mycorrhiza) – Dr. Vasileios Kokkoris, Dr. Franck Stefani and Dr. Nicolas Corradi
5. The giant eyes and fur of a moth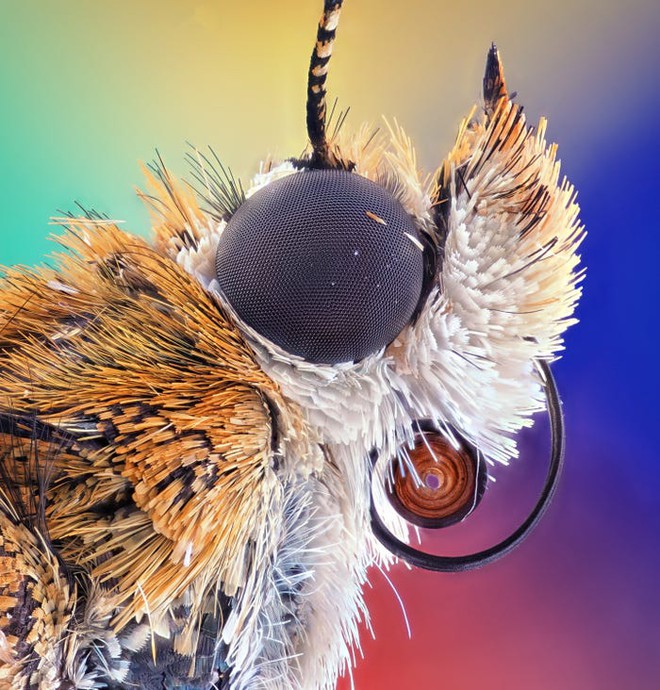 6. Anther – or pollen – of the Hebe shrub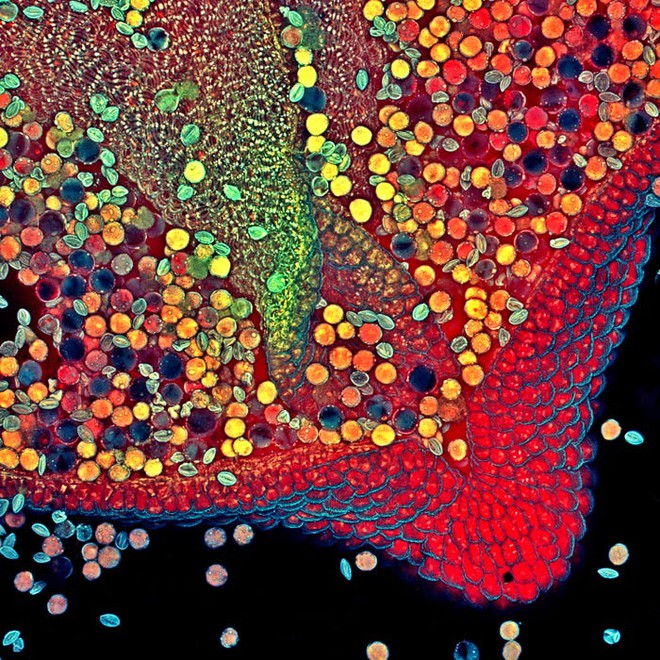 Authors Dr. Robert Markus and Zsuzsa Markus
7. A set of microtubules in the cell, surrounding an egg-shaped nucleus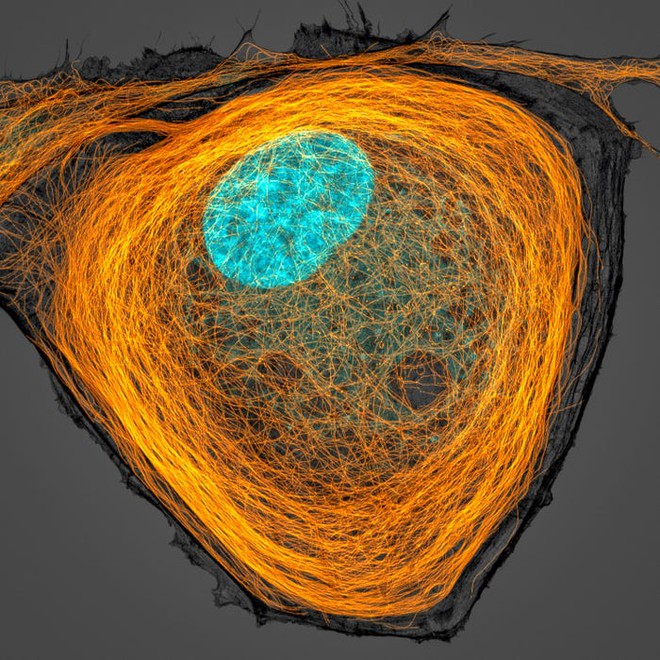 8. A chameleon embryo taken under an X-ray lens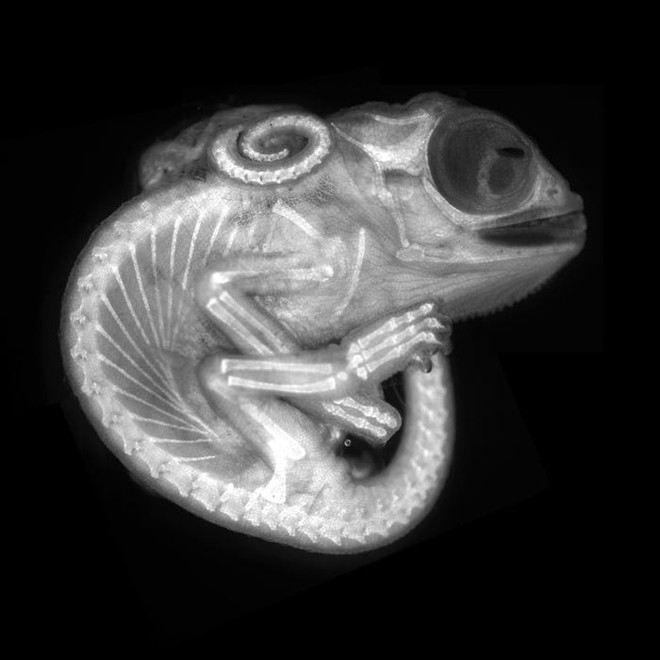 Authors Dr. Allan Carrillo-Baltodano and David Salamanca
9. Connection between neurons in the hippocampus brain region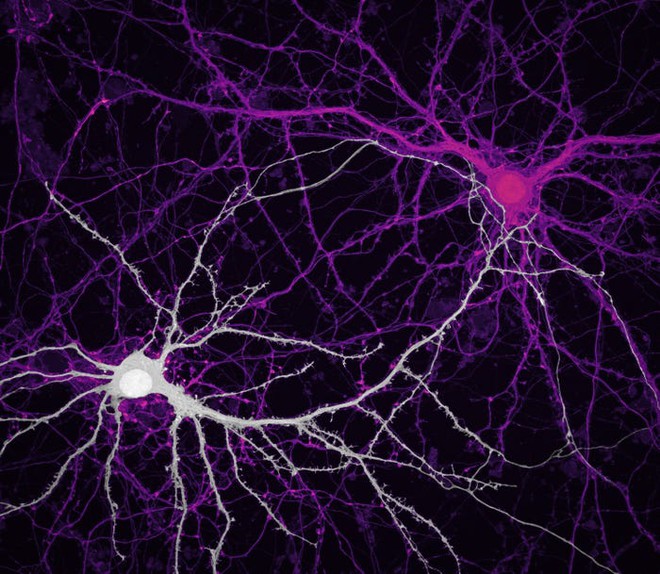 Author Jason Kirk and Quynh Nguyen
10. Daphnia magna, a crustacean smaller than a pencil eraser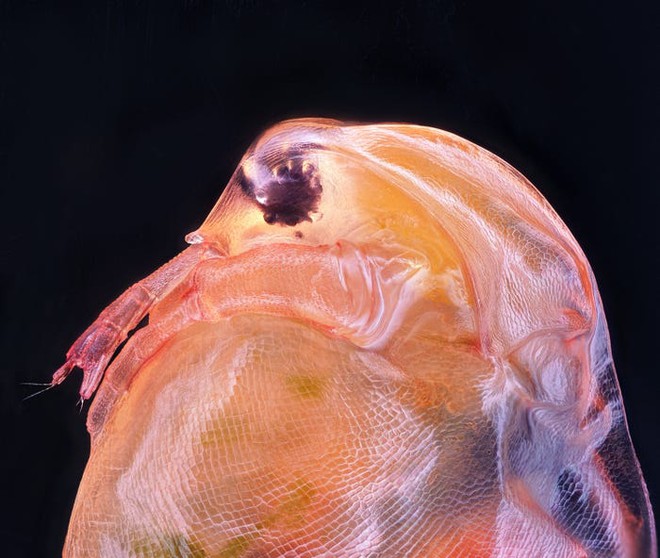 11. Not the fingers of a mutant skeleton, this is a microscopic image of the red algae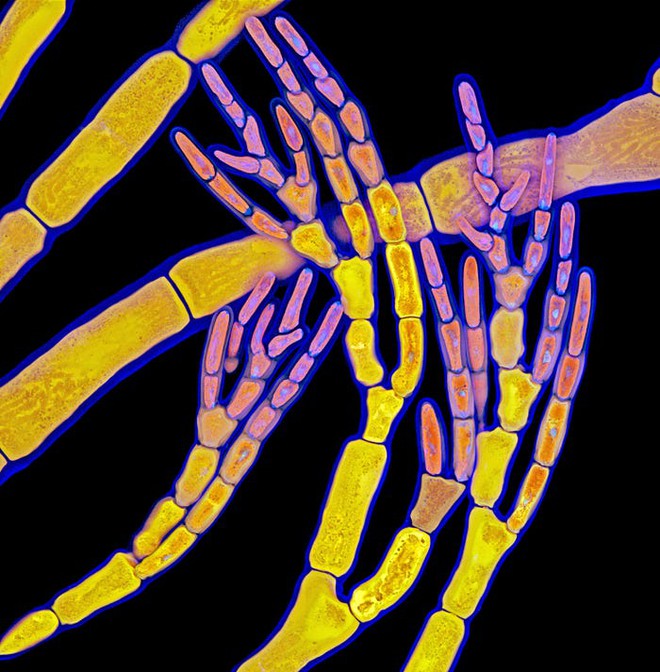 Author Dr. Tagide deCarvalho
12. A human hair is tied up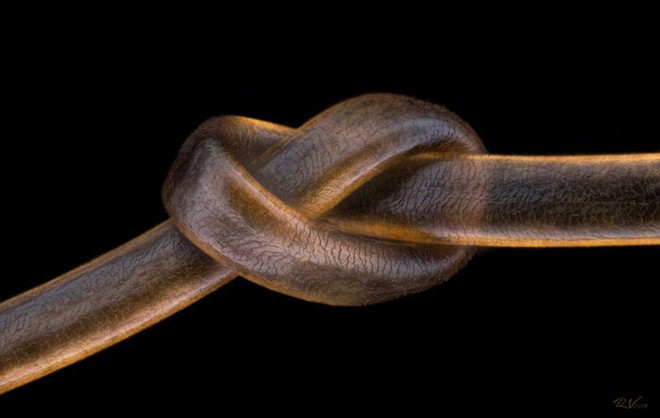 13. This dreamlike image captures amino acid crystals, which the body uses to build muscles.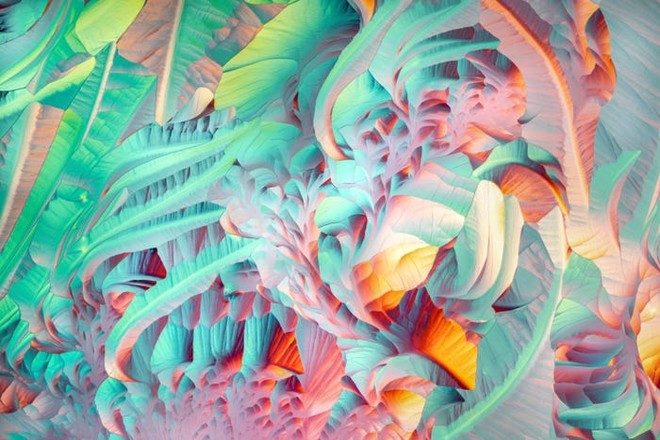 14. A leaf beetle (Byctiscus betulae)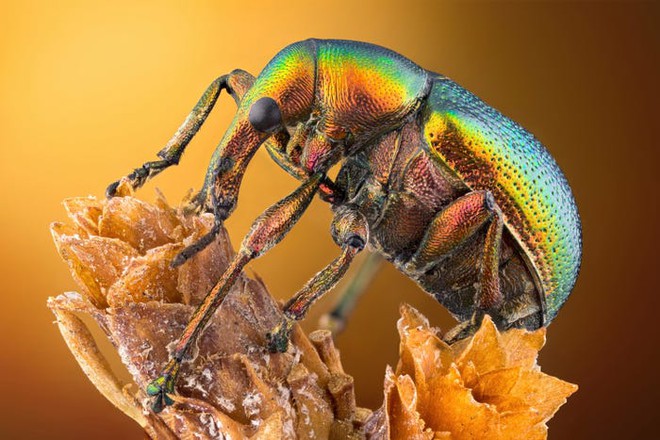 15. A sequence of Chaetogaster diaphanus worms that are reproducing asexually by multiplying themselves.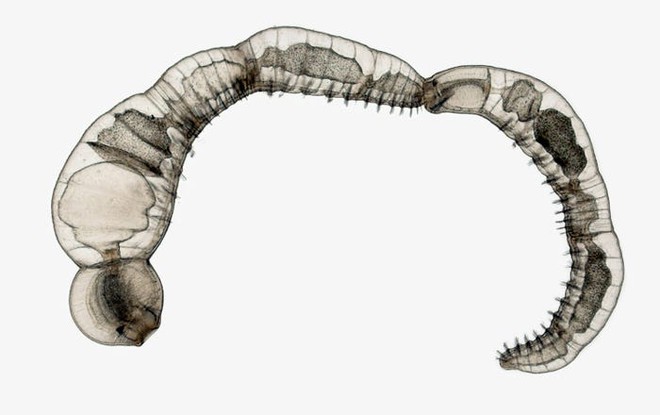 Author Dr. Eduardo Zattara and Dr. Alexa Bely
16. How are nylon mesh woven?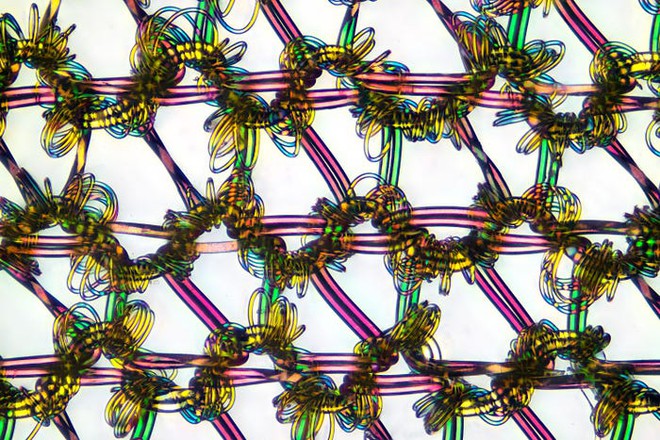 Source : Genk