The reason why Elon Musk and billionaires are selling shares at an unprecedented rate, raking in nearly $64 billion this year
Year-to-date, 48 top executives have raised more than $200 million each from stock sales. This is nearly four times higher than similar deals from 2016 to 2020, according to the WSJ.
This "wave" of share sales is carried out by famous billionaires, such as Ronald Lauder, the cosmetics billionaire or the founders of Google, Larry Page and Sergey Brin. There are also families like Walton and Meta CEO – Mark Zuckerberg are both preparing to record the largest selling value of shares ever.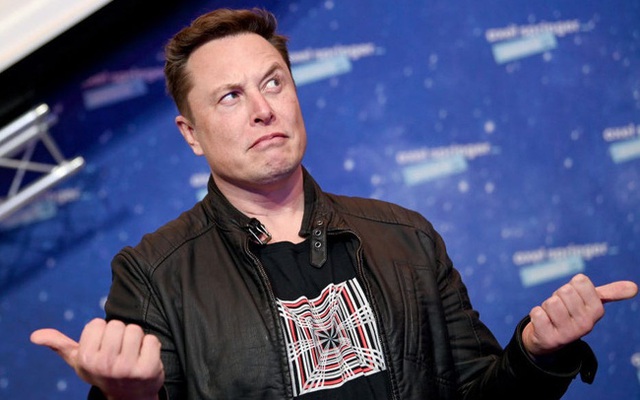 Across the S&P 500 company, founders and executives sold a record $63.5 billion in shares through November, up 50% from all of 2020, thanks to a soaring stock market and a large number of shareholders promote the sale of shares. The technology sector led with $41 billion.
"What you're seeing is unprecedented in recent years," said Daniel Taylor, a professor of accounting at the Wharton School of the University of Pennsylvania. 2021 is the time to record the most shares sold by "bosses" in the past decade, similar to the "dusk" period of the dot-com bubble.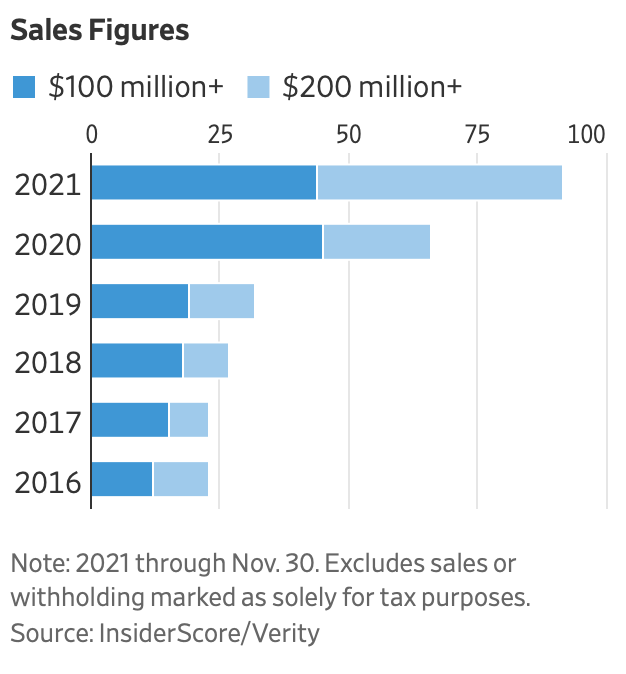 Sometimes, investors worry that the sale of shares by these billionaires means they don't expect the stock price to rise further and will affect future performance.
It is not necessary for executives to explain why. But the most recent stock sale comes as lawmakers in Washington plan to raise capital gains taxes. In November, these billionaires sold a total of $15.59 billion.
The new tax bill, currently awaiting Senate approval, is intended to impose a 5% tax on adjusted gross income over $10 million from 2022 and an additional 3% on income over $25 million, including capital gains from selling shares. According to Taylor, big company "boss" can "save" up to $8 million in taxes for every $100 million of shares sold before the law's effective date.
Tesla CEO – Elon Musk, sold 10 billion USD of Tesla shares in just about 1 month. Meanwhile, last month, Microsoft CEO Natya Nadella sold half of her total shares for about $374 million before taxes. Analysts said the move could be related to Washington state's upcoming 7% capital gains tax.
Another big sale of value shares by founders also took place in May with a total value of 13.12 billion USD, after businesses reported positive business results.
This year, about more than 10 famous founders and CEOs have sold millions of dollars of shares after 2020 without "moving". Some cases sold out for the first time in 5 or 10 years.
Prior to the most recent sale of Alphabet shares, Page and Brin sold for about $800 a share in 2017, according to InsiderScore. This year, it sold nearly 600,000 shares for about $1.5 billion before taxes, after the company recorded record revenue and profit. Currently, each still owns about 6% of shares in Alphabet.
Cosmetics billionaire Ronald Lauder, son of founder Estée Lauder, has sold more than 2 million shares this year for more than $600 million before taxes, the first time since 2016. Michael Dell of Dell Technologies and David Rubenstein of Carlyle Group also sold 5 million shares for nearly $253 million and 11 million shares for $495 million, respectively.
Meanwhile, the Waltons accelerated their stock sales this year, raking in $6.5 billion this year compared with $1.5 billion in 2020, when Walmart's stock price peaked. Zuckerberg also increased the sales speed 7 times compared to a year ago, bringing in nearly $ 4.5 billion.
Typically, executives sell shares under a pre-planned deal called 10b5-1, which is sold on a fixed schedule or at a certain price threshold to avoid violating internal trading regulations. cockroaches.
"They're clearly opportunists. They're saying the market has overheated this whole year," said Ben Silverman, research director at InsiderScore.
The increase in share price also helps them bring in more money even though they sell fewer shares. Snap CEO – Evan Spiegel, set a price target at the time of the sale of $60-80 and collected $710 million with 10 million shares, more than double that of 2020 despite selling 3 million fewer shares.
Jeff Bezos typically sells about $10 billion in stock annually to fund the space project Blue Origin. This year, he sold 25% less stock while earning almost the same amount before taxes as Amazon's stock price has doubled in the past two years.
Refer to WSJ
Source : Genk