The person who has more than 100 million online friends, founded a website that once surpassed Google: Single, owns $ 65 million, enjoys a retirement that makes everyone jealous
Before Instagram and Facebook "dominated" the world like now, there was another social network that was popular with many young people nearly 20 years ago. It's Myspace. Myspace users certainly won't forget "Myspace Tom" – their first digital friend.
Tom Anderson – co-founder of Myspace is the person with the most friends on this social network with more than 100 million people. When a new user creates a profile, his account automatically becomes their first friend.
Tom co-founded Myspace in 2003. Two years later, he sold the business to News Corp for $580 million, then retired in 2009 and almost disappeared from the public eye. That makes people wonder that since then, what has this once-popular social network boss done?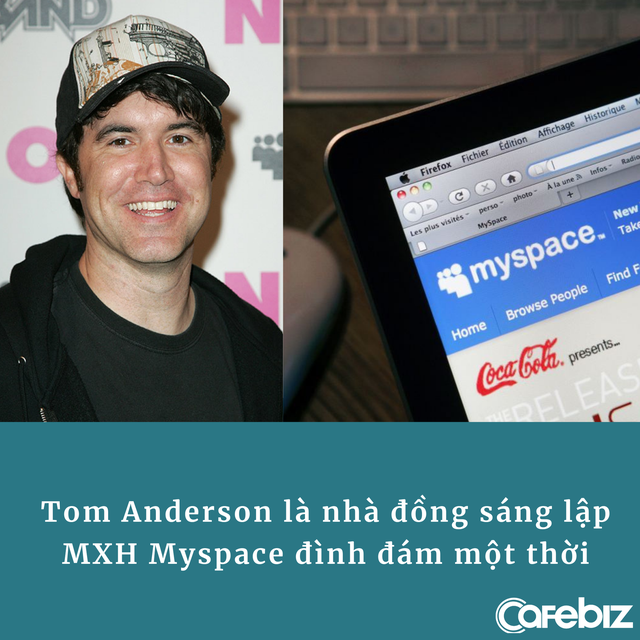 According to Distractify, the 50-year-old millionaire now lives in Hawaii and enjoys a life that makes many people jealous. He travels around the world, taking pictures and sharing them on Instagram and Twitter accounts called "myspacetom". Although he does not have as many followers as in his days at Myspace, Tom still has 647,000 followers on Instagram.
Currently, he pursues his passion for photography and travel. "Myspace user's first friend, enjoying retirement. Enjoys surfing, travelling, investing and photography. Pursuing photography for 4 years," that's Tom's self-introduction on the blog. individual.
Although he did not receive all of the above money in the sale of Myspace, Tom also pocketed enough to retire and enjoy life comfortably. It is estimated that he owns a net worth of 65 million USD. According to Cheetsheet, in 2019, he bought a house in West Hollywood for $3.8 million.
After retiring, Tom almost disappeared from public view and mainly posted landscape photos. In October 2019, he attracted attention when a number of photos of him and his girlfriend appeared online. However, at the moment, he is said to be single.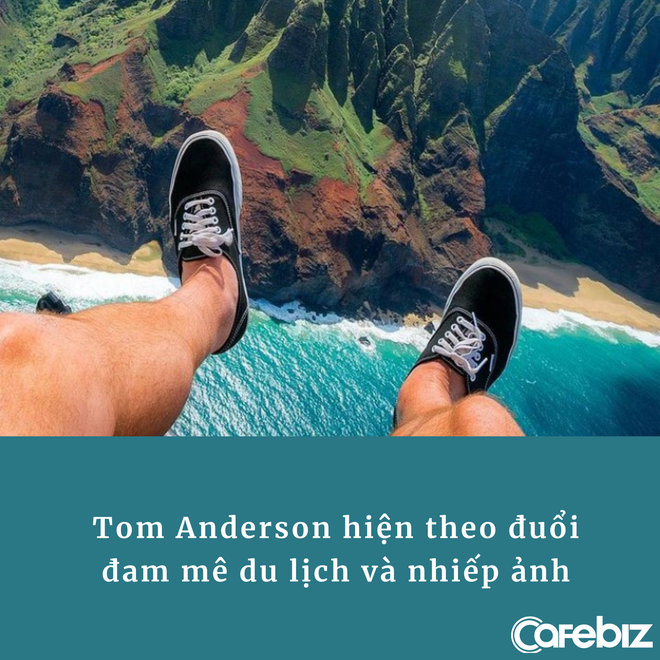 Although Myspace's collapse was partly due to the popularity of Facebook, Tom did not seem to hold a grudge and also set up a fanpage on Facebook. To date, the site has more than 1 million followers.
Last summer, the name Tom Anderson also made headlines on Twitter when a user's post went viral. The text reads as follows: " Does anyone remember Tom of Myspace who sold the company for $580 million and enjoys the retirement life of his dreams? He has never sold user data, never has. trying to influence elections and not campaigning against privacy laws. A real gentleman. Myspace is too pure for this world ."
This tweet is said to be "ca khà" Facebook and expresses appreciation for the popular Myspace social network in the past. For his part, Tom responded with emojis to thank him.
The fate of Myspace makes many people regret. Within a few years of being acquired by News Corp, the social network became obsolete and was sold to Viant for just $35 million. Viant then sold it back to Time for an undisclosed amount.
Myspace is a social networking site that provides interactive information between users and friends, allowing them to create personal profiles, write blogs, create groups, upload photos, and store music and videos. At its peak, Myspace had over 100 million users.
This social network used to have an illustrious history, surpassing even the giant Google in terms of the number of visitors. From 2005 to early 2008, it was the most visited social network in the world with 75.9 million visits per month. In 2006, Myspace surpassed Google to become the most visited website in the US.
Source: Distractify
Source : Genk