The official desktop Chrome browser with Tab grouping: Extremely useful for those who have to browse hundreds of tabs at once
After a long time of testing, today the Google Chrome browser on your computer has officially been updated with the Tab group feature (Tab Group). This is an extremely useful new feature and greatly improves browsing performance, especially for those who have to browse hundreds of tabs at once. The Tab group feature is available on Android, but it's only officially updated to the desktop version so far.
As soon as you right-click on a browsing tab, you will see a new option called Add tab to new group. You can name and choose colors for the group, and then add more tabs to this group for easy management.

You can select multiple tabs consecutively with the Shift key, or multiple tabs apart with the Ctrl key. Then right click to add all these tabs to a group. You can also choose to add an existing group or create a new one. Simply put, you can drag and drop a tab to an existing group.
Show all tabs in the group.
After you have created groups for different topics, you can click the group name to collapse and hide all tabs, or click again to show all tabs. So you can divide the tabs into groups to suit your needs, such as for work, news reading or entertainment. When you work you can snooze the entertainment tabs, and won't be distracted.

Hide tabs in groups to have space for tabs you need to use.
This tab group feature is available in Chrome 85, but users will have to enable it from the flags: // menu. Of course if you only need to browse a few sites at once, this new tab grouping feature won't help, but if you have to browse a lot of sites, this is really the lifesaver.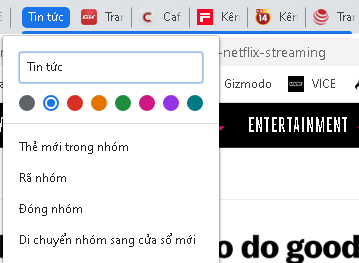 Because sometimes opening too many tabs makes you unable to read the name of each tab. With this tab grouping feature, hiding a large number of tabs that are not in-use, will create more space for the tabs that are in use.
Reference: gizchina
Source : Genk