The "money-eating" feature of Apple Watch is about to be used in Vietnam
watchOS 7.4 is an update that many Apple Watch users have been waiting for, as it will bring the ability to unlock the iPhone using Apple Watch without having to enter a password. This is a feature that is particularly useful in this time of epidemic.
However, watchOS 7.4 also "unlock" a very important feature of Apple Watch for Vietnamese users, which is ECG (electrocardiogram). The ECG was first introduced by Apple on the Apple Watch Series 4 since 2018. However, since it is a health related feature, it needs to be licensed by each country before going into operation.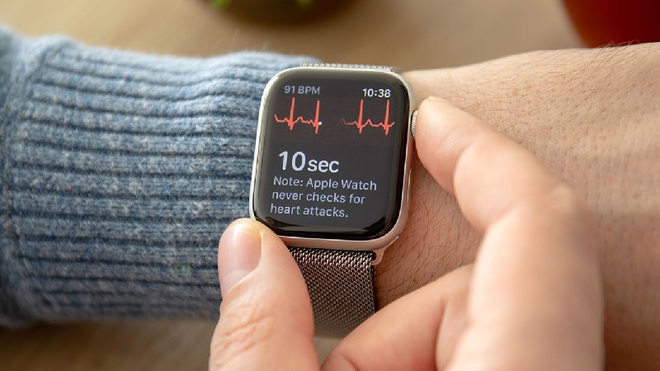 Vietnamese users will be able to measure ECG using Apple Watch after updating to watchOS 7.4
Therefore, although every Apple Watch Series 4/5/6 has the ability to measure ECG, Vietnamese users cannot use this feature due to not being licensed.
This is about to change with watchOS 7.4. According to official information from Apple, ECG will operate in two countries, Vietnam and Australia from this update. watchOS 7.4 will be officially launched by Apple next week.
What is an ECG?
The technology that the Apple Watch and many other products are using to measure heart rate is the Photoplethysmogram (PPG). PPG monitors heart rate with a light sensor and a green LED. The advantage of this technology is that it is easy to deploy on products, but the results are not completely accurate.
Electrocardiography (ECG) is the technology behind the Apple Watch Series 4/5/6's electrocardiogram. This is considered the "gold standard" for measuring heart rate and is common in clinics. The Apple Watch is designed with one electrode at the back pressed against the wrist, and another electrode on the crown.
Electrodes on Apple Watch will detect very small electrical signals (about 1 / 1,000 volts), emitted naturally from the top to the bottom of the heart with each beat. These electrical signals are signals directly from the heart, not indirectly from blood vessels. Therefore, the measurement will be much more accurate and faster than previous PPG technology.
ECG allows diagnosing atrial fibrillation (AFib). Atrial fibrillation is a heart rhythm disorder, which causes the heart muscle to appear to vibrate instead of contracting. It can hardly be diagnosed from external symptoms.
Source : Genk