The metaverse – the digital super universe is making both Mark Zuckerberg and the CEO of Binance eagerly pursue
During a recent earnings call at the end of July, Facebook CEO Mark Zuckerberg said that the future of the company is no longer in the social network, but in building a metaverse – what is seen as a new incarnation of the company. Internet. Not only the boss of Facebook, the word metaverse is also constantly mentioned by Changpeng Zhao, CEO of the Binance cryptocurrency exchange in many of his tweets, even recently the CEO of Binance also participated in an online conference with his mother. Elon Musk on this metaverse topic.
So what is the metaverse? Why is it so important that many of the world's leading technology companies today are so interested in it?
Metaverse – Digital Super Universe
In short, the metaverse – or a digital superuniverse – is where anything we can imagine exists. Not only can you see those virtual objects, you can also interact with them, hear them and touch them just like in the real world.
To achieve those capabilities, the metaverse will need key components including universal connectivity, cryptocurrencies and crypto networks like Bitcoin or Ethereum, eXtended Reality (XR – or Open Reality). wide) including VR and AR, as well as NFTs.
With the ability to connect anytime, anywhere with everyone, this digital super universe will be like our second world. It spans all senses, in terms of sight, sound, and touch, as every digital object blends into the real world or immerses in fully 3D environments whenever we want. would like. The technologies to do that are also known as Extended Reality (XR), which includes both AR and VR.
If you are still confused about this, remember the very popular movie recently, "Ready Player One". A movie about a future scenario, when most of humanity lives in a virtual reality simulation game. In that world, the player can interact with the surroundings as well as with the player with many different senses, as if they were really living in that world.
The ideas of the metaverse are similar to the OASIS world in the movie Ready Player One, but much broader than that
Not only that, players can also change their appearance at will, buy virtual items to use in the game. Not only useful in the game, these items also have real-life value when players can buy and sell them and exchange them for real money. Therefore, these items become very important to players, both in the game as well as in the real world.
For sustainability, the same is true of the metaverse. Currently, the virtual item market is worth more than 10 billion USD, and Fortnite game alone is worth 1 billion USD. But the problem is that Fortnite items are only tradable in Fortnite, and if Epic Games decides to shut the game down, this billion-dollar market will disappear.
That is why the metaverse will need cryptocurrencies, cryptographic networks as well as NFT (non-fungible tokens) technology. Each NFT is a digital item that can be created, sold or exchanged on the open market, and owned and controlled by anyone, rather than subject to permission or support from a centralized company.
Metaverse is like a digital world with full functionality like the real world, so it needs cryptocurrencies as well as NFT for users to safely collect and exchange virtual items. whole.
Existing as an independent, durable entity gives NFTs real exchange value. Even many auctions of digital NFTs have brought in millions of dollars for their owners. This is the difference between NFTs and items in Fortnite: actual ownership. Buyers of these NFT items won't have to worry about a company stopping service or freezing their account or taking over the item.
This is also another characteristic of the metaverse – an open ecosystem that does not depend on the will of any single company. It also means that the metaverse needs not only a widespread internet connection, but also open standards for programming languages, multimedia, and decentralized ledgers to exist as such. an entity independent of other companies.
What is so important about this digital super universe that Facebook and Binance want to pursue?
For social media companies like Facebook and cryptocurrencies like Binance, the metaverse is an inevitable evolution of the internet of the future, when connections will not only make it easier for people to communicate with each other, but also Work, interact, and meet each other in virtual environments more easily with a more authentic experience.
In an interview with The Verge about his vision, Facebook CEO Mark Zuckerberg said that the metaverse will be the successor to the mobile internet. But not only limited to a game like the movie Ready Player One, the digital super universe in Facebook CEO's vision is also a real digital world where people can work, study or meet each other. anywhere, at any time.
That future certainly appeals to the likes of Facebook or Binance, and even Apple and Microsoft, who both own or develop technologies that can stay ahead of the trend.
If a metaverse needs cryptocurrencies and NFT technology for the items that appear in it, Binance is the one that promises to meet these requirements as one of the largest cryptocurrency exchanges. current world. If a metaverse is to take shape in the future, companies like Binance will certainly have a much-needed role to play in it.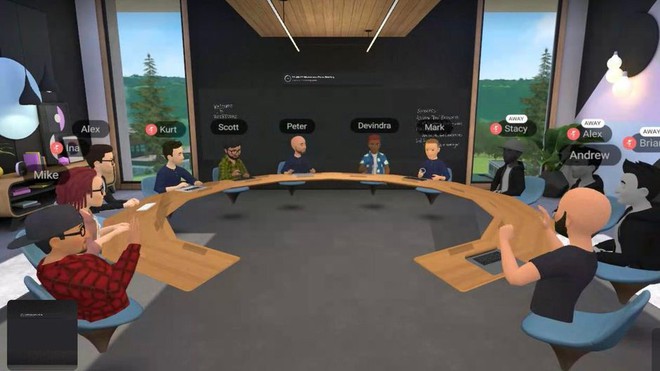 According to the Facebook CEO, the metaverse is not only a world for gaming, but also a place where remote working can be improved.
With Facebook, the vision of a metaverse may have led the social network to spend money to acquire Oculus, a maker of VR wearables for gaming. In addition, it is impossible not to mention the ability to connect users through social networks that Facebook owns.
Most recently, Facebook also introduced a beta version of Horizon Workrooms, an application aimed at managing remote work in groups in a 3D environment, with virtual meeting rooms and the ability to video call up to 50 people. Even not long ago, Facebook was still dreaming of releasing its own digital currency. If successful, maybe this will also be a part of the digital super universe that they want to work towards in the future.
Not only Facebook and Binance, the same vision for the future of the internet was also mentioned by Satya Nadella, CEO of Microsoft, when talking about a "metaverse for business" during the earnings report last July. Microsoft itself has HoloLens, an augmented reality device, as well as a profitable gaming business. However, so far, the AR device segment has only contributed a small part of Microsoft's total revenue.
Another big player that also has the potential to join this playground is Apple. Although it has never been publicly acknowledged, many rumors suggest that Apple is also developing a VR wearable and possibly even an XR augmented reality wearable in the future. These devices not only complement Apple's current ecosystem, they could also contribute to a future metaverse.
However, the most active participants in this area are still Facebook and Binance. With their established platforms and latecomers in the smartphone and mobile internet revolution, perhaps these two companies are eager to stay ahead in the race towards the next revolution of the internet: creating a super universe. number.
synthetic
Source : Genk