The M1 MacBook chip can be used as a car key
Apple recently announced the first series of Macs to use the M1 chip developed by itself. The M1 is a chip based on the ARM architecture, similar to the iPhone and iPad.
In addition to improved performance and battery life, the switch to ARM-based chips also gives Macs another huge advantage: the ability to run apps on iPhones and iPads. Due to the same architecture, all iPhone and iPad apps can be run directly on the Mac without going through any emulation layers, even developers don't need to edit apps.
Recently, Youtuber Quinn Nelson has demonstrated another very interesting use of the M1 MacBook chip models, that is … unlocking cars, specifically Tesla cars. Specifically, he has successfully installed a Tesla application on a MacBook running M1 chip. Since this app is not available on the App Store, he installed it using the IPA file.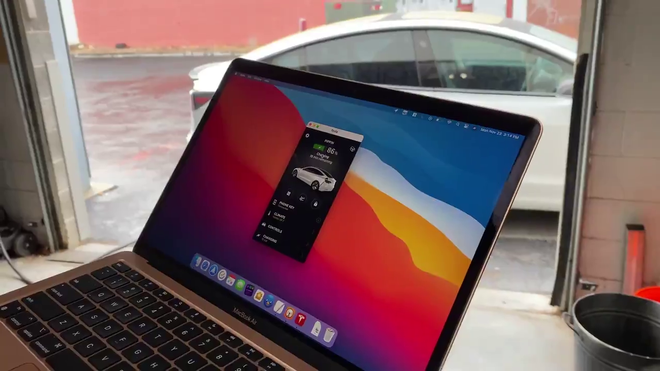 The Tesla application runs on a MacBook chip M1
Quinn was then able to use his MacBook to remotely control the Tesla car, which involved unlocking the car. Usually on an iPhone, the Tesla app uses the iPhone's Bluetooth connection to communicate with the car. Now on the Mac, although not yet optimized by Tesla, it can still use the Mac's Bluetooth connection instead.
Unlock a Tesla car with a MacBook
Quinn has called it "the greatest car key of all time" and "the dumbest use of the Mac M1". Another witty user replied: "Wait, I'll do the same with the upcoming iMac".
Currently, Apple is selling three Mac models with the Apple M1 chip: MacBook Air, 13-inch MacBook Pro, and Mac mini. All three do not have many changes in appearance and features, only different in the Apple M1 chip for 2-3 times higher performance than the Intel chip it replaced. In 2021, Apple is expected to launch many new Mac models running its own chips such as the iMac, the 16-inch MacBook Pro or the 14-inch MacBook Pro. Apple said the transition from Intel chips to its own chips developed by it will take about 2 years.
Source : Genk