The low-cost MacBook Air that Apple doesn't sell to users
Apple recently started selling new MacBook Air, MacBook Pro and Mac mini models using the Apple M1 chip developed by it. Among them, the Mac model that attracts a lot of attention from users is the MacBook Air. With a starting price of $ 999, this is the cheapest MacBook model Apple sells. Despite being priced at up to $ 300 cheaper than the MacBook Pro, the MacBook Air offers almost comparable performance.
The $ 999 MacBook Air is equipped with an M1 chip with 8 CPU cores and 7 GPU cores, 8GB of RAM and a 256GB SSD. Users can completely spend extra money to upgrade their MacBook Air with more powerful configuration, such as M1 chip with 8-core GPU, 16GB RAM or SSD up to 2TB.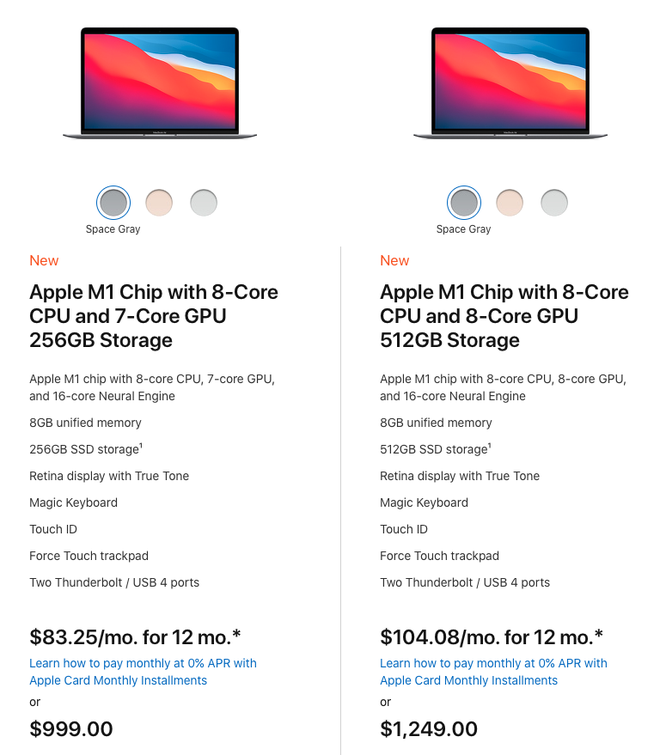 However, not everyone knows that the MacBook Air also has a version with a cheaper price, but users can not buy. That's the MacBook Air with the M1 chip and 8GB of RAM, but the SSD is just 128GB, half the $ 999 model above. The price for this model is only 799 USD.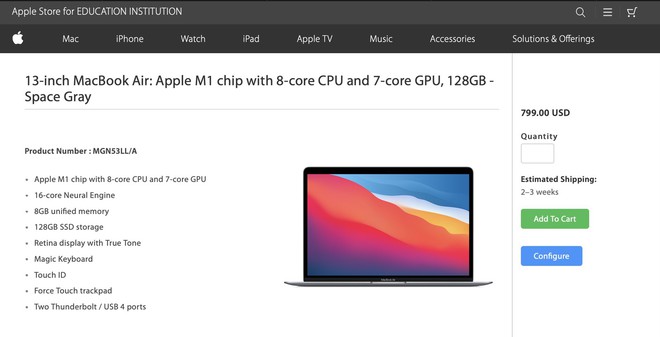 So why can't users buy this model? Because, this model MacBook Air with SSD 128GB is only sold by Apple to educational institutions, such as schools. In some countries, it is quite common for schools (especially private schools) to issue MacBooks for students / students to use.
Because of the purchase of the device in bulk, so schools are among Apple's "priority" objects and often receive discounts. In fact, the MacBook Air M1 model with 256GB SSD is also sold by Apple to educational institutions and students / students for $ 899, $ 100 cheaper than the listed price.
However, users should not be too regretful if they cannot own the $ 799 MacBook Air model above. Because, 128GB is a very limited memory capacity for a computer, and users will quickly encounter a "full drive" situation that makes them unable to continue working.
Source : Genk