'The law of silence' of Apple
Hyundai's 180-degree swivel handling is quite understandable considering its partner Apple, a company obsessed with top secret. Businesses that have done business with Apple have to sign strict nondisclosure agreements, even if they are public companies, and Apple is a major customer.
While nondisclosure agreements are ubiquitous in the industry, those who have worked with Apple say they have to be extra cautious. According to a source of CNBC, Apple told its partners that they must not mention the "defective apple" publicly or in the press. In at least one case, Apple threatened to fine the supplier $ 50 million for every information that was leaked.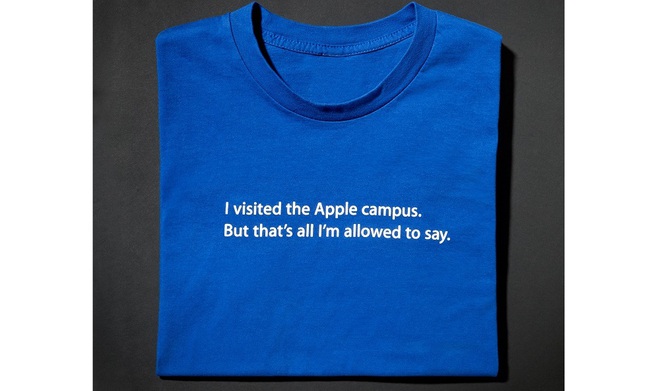 "I visited the Apple campus, but that's all I'm allowed to say." (Photo: Fortune)
Corning CEO Wendell Weeks once said during a business telephone briefing that they use the nickname for Apple within the company. He also revealed that his face will turn red and be confused if he reads the name of Apple, and some firms may discuss limited business with Apple, especially if Apple has made public about the relationship and let permission to do that. Corning – the partner supplying the tempered glass for the iPhone – is one of these. The iPhone maker has paid Corning at least $ 540 million since 2017 and highlighted in a separate press release as an example of supporting manufacturing in the US.
Why does Apple love top secret?
An obsession with secrets is one of the hallmarks of Apple. In 2011, Apple even sold a souvenir shop shirt that read: "I visited the Apple campus, but that's all I'm allowed to say."
This ethos of Apple is closely linked to founder Steve Jobs. Jobs is a brilliant marketing guru who always makes product launches special, relying on surprises to lead events. Today, the element of surprise is still used in Apple conferences and attracts millions of online followers.
Apple views details on unreleased products as "one of the greatest assets". In a company's business practices policy, employees are required to selectively disclose them to a partner or supplier. They do so only after signing a nondisclosure agreement. In addition, suppliers should also adhere to Apple's guidelines.
The business handbook reads: "When business needs to share confidential information with suppliers, manufacturers or third parties, never more than what is needed to process. Any confidential information shared externally should be part of a nondisclosure agreement.
Double-edged sword
Although faced with an elite of undisclosed terms, many vendors are willing to seize every opportunity to sell to Apple.
In a filing with the US Securities and Exchange Commission (SEC), audio chip maker Cirrus Logic said Apple accounted for 81% of its total sales in fiscal 2020, or $ 1.28 billion. However, the Cirrus leadership rarely mentioned Apple by name, and for many years they avoided it completely. In 2017, Cirrus Logic's pre-investor presentation included a client logo slide, but not Apple. Instead, they inserted a photo of a brown box with the words "customer number 1". Cirrus is supplying to 7 top smartphone manufacturers in the world.
Before a meeting with the analyst in November 2020, Cirrus Chairman John Forsyth had to "hedge" that they could not discuss specifically the relationship with the "biggest client" due to common policy.
A number of other public companies are also opting for this when it comes to doing business with Apple. In June 2020, CEO Broadcom Hock Tan pointed out that the iPhone 12 will be released later than usual when discussing revenue forecasts. But he did not mention Apple, but used the phrase "our large North American mobile phone customer", even when his previous transaction with Apple was large enough to appear in filing filed with the SEC.
Doing business with Apple is a double-edged chew. In 2013, GT Advanced Technologies signed an agreement to supply Apple with raw sapphire balls to manufacture scratch-resistant iPhone screens. GT cannot make sapphire in Apple's own factory in Arizona and must declare bankruptcy. During bankruptcy proceedings, GT submitted a contract labeled "top secret", which required GT to pay "defective apple" 50 million USD for each information leaked. The contract also mentions three independent confidentiality contracts that GT must agree to. The terms of the top secret agreement must also be confidential. Another contract specifies that any publicly available information relating to Apple must be approved in writing.
Apple settled with GT shortly after the information about the $ 50 million fine was revealed. One condition of the agreement is that GT must keep the description of the relationship with Apple confidential.
Source : Genk