The Internet laughed at the reporter on live broadcast but forgot to turn off the "cute" filter of Facebook
When using Facebook's AR filter (Facebook Live Mystery Mask) to chat with your lover or friends, people will call it a little "cute". But if you put all these filters on national television, you will immediately turn into a joke for people, not cute or cute at all.
This half-crying incident happened on February 20 in North Carolina, USA. Specifically, WLOS ABC 13 reporter Justin Hinton casually made the weather news – his daily work through the livestream, but forgot to turn off the filter on Facebook. As a result, he immediately covered the local media with an appearance like this: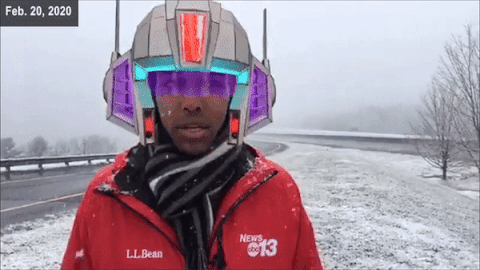 Reporter Justin Hinton casually made an online weather report but forgot to turn off the Facebook Live Mystery Mask feature.)
Worse, Justin's weather news this time received a great deal of attention from the viewers. This is the first time in history, the city of Asheville in North Carolina received a real blizzard, though very small, did not cause any serious damage. However, for regions that do not regularly get snow, this is a unique phenomenon that is curious to the locals. Therefore, a lot of people have been constantly monitoring the weather news to update the situation, as well as receiving measures to prevent slippery roads when driving cars.
And so during 1 minute of the broadcast, Justin made viewers laugh continuously because of the unique filters of Facebook. Sometimes he has big round eyes like cartoon characters; sometimes wearing a strange astronaut hat; sometimes as a character in a horror movie when the surroundings are dark, only you with the flashlight from the bottom up very scary; and even transformed into the characters in Cats' "bombs", which premiered earlier this year. Justin himself is still very serious with his work, briefing, accurate and professional, because he did not know he forgot to turn off the AR filter feature of Facebook.
The 1-minute online weather news instantly turned into a powerful comedy after the distraction of reporter Justin Hinton. This poor guy himself is also ignorant and still sports seriously and passionately.
It was not until the live news ended, Justin had time to skim through the comments of the audience and realized his disastrous but also very humorous mistake. But fortunately the filters that appear randomly are very lovely, "clean", does not contain any images that are too sensitive at all. Besides, this occupational accident also seems to help Justin become more famous – a big plus for those pursuing a career as a professional reporter. Some netizens also appreciate this guy's reporting skills and wish him even more success in the future.
However, this is probably still a lifelong lesson for Justin and other colleagues. Once it is broadcast, it is best not to use Facebook or any other social networking platform, because it is likely that they will be continually called by the Internet even though they do not know they have made a mistake. what.
According to Gizmodo
Source : Genk