The impressive 5000 mAh battery smartphone early 2020
Realme C3 (3GB / 32GB) – Official price 2,990,000 VND
Duration of use: watching 20 hours of movies, playing 8-9 hours of games, surfing 19 hours of web surfing
Equipped with Mediatek Hellio G70 gaming chip with outstanding performance in the segment of less than 3 million, it is not surprising that quite heavy games like PUBG Mobile can run at high graphics settings very smoothly. on Realme C3. The phone also has a large 6.5-inch screen with a dewdrop design for up to 89% of the front display, which makes it easy to control and observe the whole scene when playing games.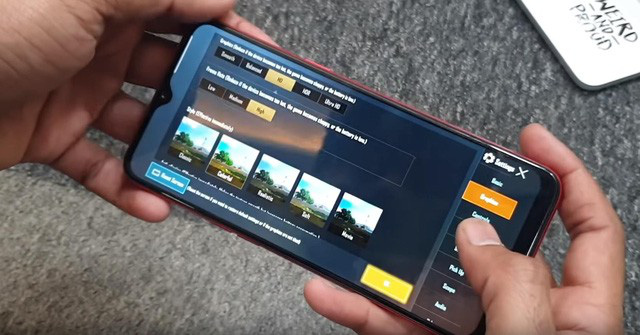 PUBG Mobile adjusts to High settings on Realme C3 based on machine performance
The 5,000 mAh battery combined with the optimized interface of the Realme UI 1.0 operating system and the battery-saving technology of the G70 chip allow Realme C3 to have an incredible usage time. If you only use daily tasks like watching movies, surfing the web, you can almost use it continuously for two days to recharge. And if you are a gamer? Rest assured, the "loss of power" during the game will only be a distant memory.
Samsung Galaxy M30s (4GB / 64GB) – Official price VND 4,490,000
Duration of use: 21 hours of movie watching, 8 hours of gaming, 16 hours of web surfing.
The Samsung Galaxy M30s is the only phone with a battery capacity of up to 6,000 mAh on this list. In the phone segment of more than 4 million, Samsung Galaxy M30s has many significant advantages with strong configuration from Exynos 9611 chip, 48MP Rear Camera with many impressive shooting modes such as removing fonts or super wide angle.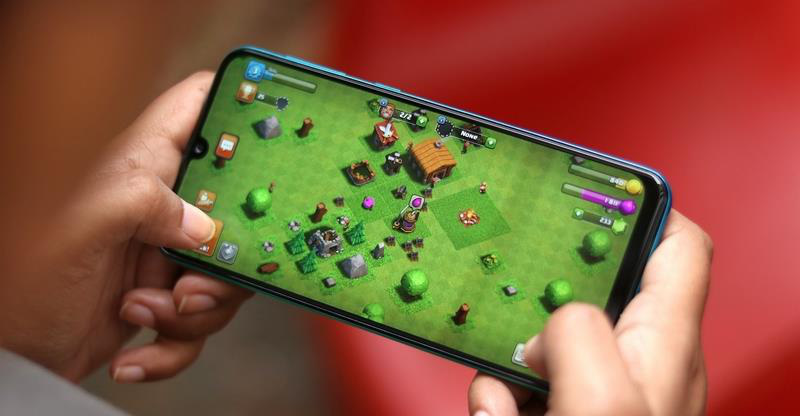 Samsung Galaxy M30s gets attention with its 6,000 mAh battery
Continuing to play Lien Lien Mobile game on Samsung Galaxy M30s at the highest setting, this phone still lasts up to 8 hours to drain the battery. When surfing the web continuously, the device used for 16 hours and took about 2 hours 38 minutes to fully charge the battery.
Vsmart Joy 3 (3GB / 32GB) – Official price VND 2,690,000
Duration of use: 20 hours of movie watching, 5-7 hours playing games, 16 hours surfing the web.
The cheap smartphone of Vsmart made a lot of attention at the time of launch with a very strong configuration when equipped with Snapdragon 632 and 3GB Ram chip for a price of only 2,690 million. Along with the modern water drop design, large 6.5 inch screen and 3 Camera for super wide angle shooting, 5,000 mAh battery capacity is an impressive highlight on Vsmart Joy 3, especially for gamers. It also supports 18w fast charging, allowing full charge in about 2h30 minutes.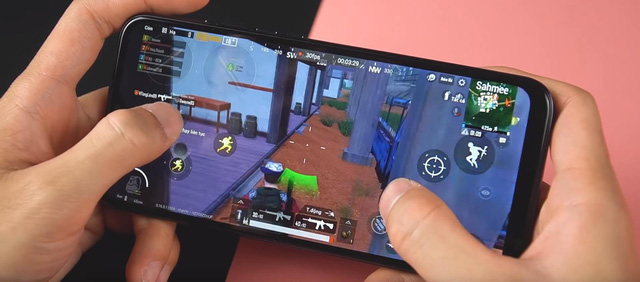 Vsmart Joy 3 plays PUBG Mobile quite smoothly at low graphics settings
At high settings on some familiar games such as Lien Quan Mobile or PUBG Mobile, Vsmart Joy 3 is not really good when there are still many frames, lag, lag. However, when the setting was reduced to a low level, the device for a smooth experience and sustained over 5 hours of continuous play.
Redmi 8 (3GB / 32GB) – Official price 2,790,000 VND
Duration of use: watching movies 16 hours, playing games 4-5 hours, surfing 16 hours.
Most experts believe that Xiaomi has regressed when it launched the Redmi 8 with a Snapdragon 439 chip for a performance score of less than 100,000 (Antutu V8). However, apart from the slightly weaker chip, the overall Redmi 8 has quite a lot of advantages compared to other products in the same segment. It comes with a dual camera with a sensor from Sony and AI support for very good imaging capabilities, as well as 18W fast charging technology that allows the device to be charged up to 65% in just one hour.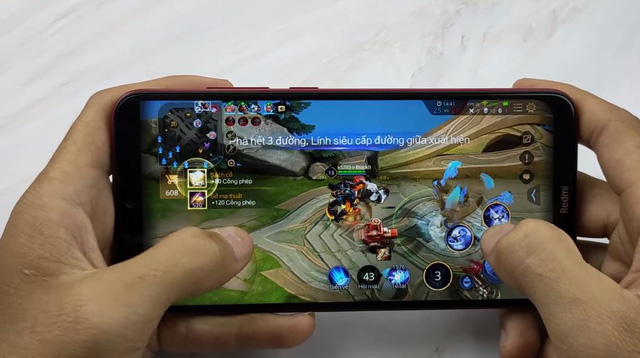 Liên Liên Mobile was at medium settings for a frame rate of about 27-29fps
Battery life is one of the most important factors in Redmi 8. With a 5,000 mAh battery, you will almost easily pass 2 days of normal use with Redmi 8, as well as continuous gaming power in 5 to 6 hours to be recharged.
Summary of performance and duration of the above products
Source : Genk