The importance of data and the impact it has on the business
In the online training series organized by Microsoft and Just Analytics recently, Just Analytics representatives also had extremely useful shares on "Data Modeling (data modeling) with lots of information and evidence. specifically demonstrating the importance of data and data analysis So what analytical methods can help businesses make the most of the benefits from their data sources?
The influence of data on business decisions
Data is one of the most important factors in business because data helps us understand the problems the organization is facing, and effective use of data helps businesses improve business results. better market strategy, reduce costs, help businesses make faster and more accurate decisions, .. Data analysis has a great impact on various industries such as retail, consumer goods ( Consumer Goods, Financial Services (FSI), Manufacturing (Manufacturing), Insurance (Insurance) …
Take the fact that retailers can fully observe behaviors and shopping habits to adjust business operations, from marketing to customer service to the most suitable by collecting data from multiple channels, such as social networks, call logs, store visits, browsing history, … Besides using data to come up with appropriate business plans, Data analysis also helps businesses find new customer files, which are advantageous to strengthen their competitive advantage and lead the way.
What is the best data mining and analysis tool available today?
One of the key tasks of the data analysis process is to collect information – to collect and analyze indicators. Dashboard is a highly appreciated choice for managers, this is also the best data mining and analysis tool available today.
On the market, there are many tools that allow businesses to build Dashboards, such as: Power BI, Tableau, Qlik, Supermetrics, Google Data Studio, … For huge amounts of data coming from collection systems. Different business collection, from ERP (multi-functional, multi-departmental management software that helps businesses collect, store, manage and analyze data from business operations) to CRM (data management and analyzing customer interactions) or other systems, Dashboard can help businesses process data easily.
How with a business Dashboard can fully describe all the important information and activities of the business. Let's take a look at the examples below: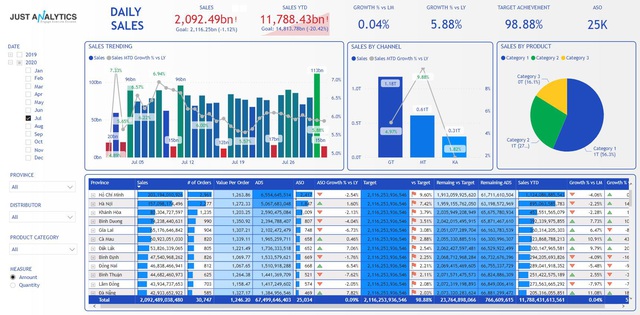 Business Activity Dashboard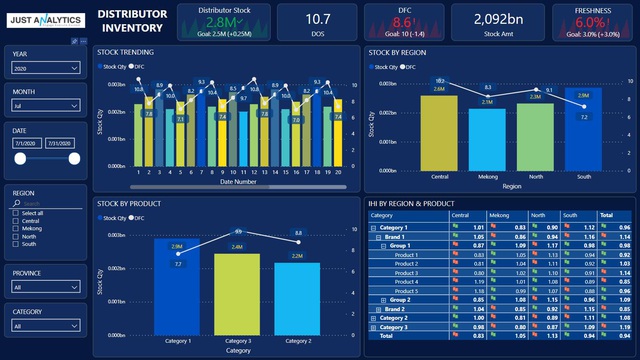 Business Distributor Inventory Dashboard
Mr. Dang Trung Tin – Country Director Just Analytics Vietnam shared: "Dashboard is just the tip of an iceberg. Enterprises need to identify the business objectives & questions that enterprises need to answer and build. building a roadmap to get data to support answering those questions, thereby gradually building a centralized data platform with accompanying AI solutions Digital transformation must come with mind transformation , process transition ".
Just Analytics – selected from a leading data analysis consulting firm
Founded by former top Oracle architects and certified consultants, with the goal of helping clients understand the importance of data analytics in order to make sound business decisions – Just Analytics is a leading Data & Artificial Intelligence (Data & AI) solution provider founded in 2011, headquartered in Singapore.
Just Analytics has accompanied many businesses in Vietnam and Southeast Asia in building a roadmap for business data platforms – having implemented more than 300 projects, diversifying in different industries such as retail ( Retail), Consumer Goods (Consumer Goods), Financial Services (FSI), Manufacturing (Manufacturing), Insurance (Insurance) … Some notable partners that have been very successful include Suntory Pepsico Vietnam. Beverage, SSI, Starbucks, National Gallery Singapore.
Choosing a reputable partner to find the right data analysis solution for the operating system will assist businesses in business orientation, making long-term and sustainable strategy.
To follow helpful events or workshops from Just Analytics (JA Vietnam) and Microsoftwz, please visit: https://www.justanalytics.com/events
To receive consulting on data analysis for businesses, please leave information at: https://www.justanalytics.com/contact-us
Source : Genk