The identity of the man who 'inverts' the DeFi community: Embezzled more than 100 million USD, manipulated the token price, crashed an exchange
The US Department of Justice DOJ ordered the arrest of Avraham Eisenberg in Puerto Rico in December for allegedly manipulating prices on a cryptocurrency exchange called Mango Markets. The fact that Avraham Eisenberg withdrew more than $100 million from the platform caused Mango Markets to almost collapse.
In response, Eisenberg refused to plead guilty. The common denominator is always "I did nothing wrong", "I only did it because Mango's software code allows it".
Last week, Avraham Eisenberg returned to federal court in downtown Manhattan to participate in the trial. The man faces a series of civil complaints from both the Securities and Exchange Commission and the Commodity Futures Trading Commission.
Brian Klein, attorney for Waymaker LLP, who is representing Mr Eisenberg, said: " This new indictment involves many very complex circumstances. Mr. Eisenberg looks forward to the court date ."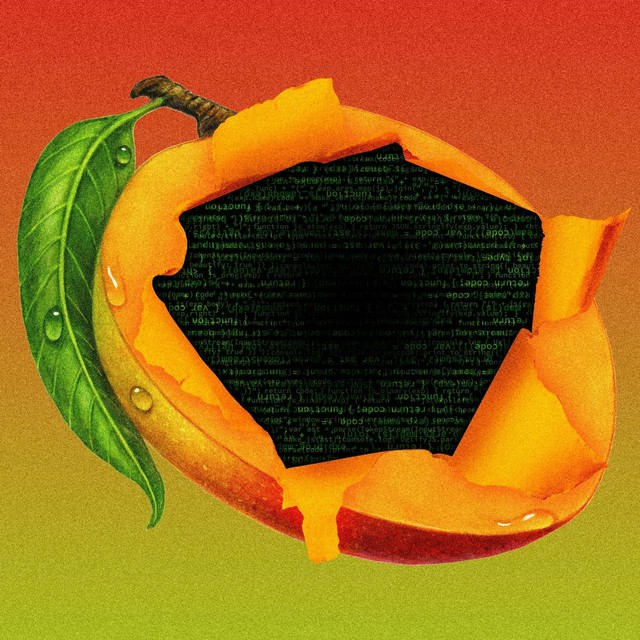 It is known that US authorities have been cracking down on forms of market manipulation. In a press release on Mr. Eisenberg's case, the Justice Department said it was pursuing " new frontiers of financial crimes ".
According to the WSJ, Eisenberg's transactions are a prime example of crypto investors' belief that software should be able to determine what is and isn't allowed. In other words, code is 'king'. In Eisenberg's case, the government believes that there are lines that should not be crossed, even if they could be.
" There is a cultural difference between cryptocurrencies and the traditional market. In the crypto world, it feels like code is the law. To put it bluntly, the government doesn't agree with that ," says Nihal Patel, partner at law firm Fried, Frank, Harris, Shriver & Jacobson LLP.
Go back to October 11, when Mr. Eisenberg sold futures contracts from one anonymous Mango account to another anonymous Mango account. This contract is linked to Mango's internal token: MNGO.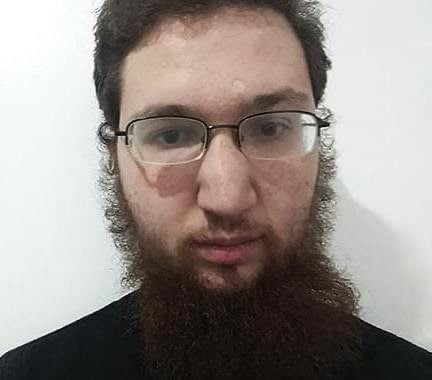 After that, this man started to collect large amounts of MNGOs on cryptocurrency exchanges. Y bought a total of 488 million/500 million tokens in circulation, and in just 20 minutes, the swaps pushed the price up 1,300%.
The value of the MNGO futures contract held by Eisenberg increased sharply. He is also allowed to use these assets as collateral to borrow more than $100 million on the Mango platform.
Eisenberg then quickly withdrew the entire amount estimated at $114 million and transferred them to platforms beyond Mango's control, according to the lawsuit filing. Prosecutors said he had no intention of returning the money.
According to the authorities, Eisenberg's withdrawal almost wiped out all other investors on the platform. The price of the MNGO futures contract dropped sharply after he stopped trading.
On October 15, Eisenberg revealed his role on Twitter, in what he calls a " highly profitable trading strategy ": " I believe that all I do is legal, just The development team did not anticipate the unintended consequences ". In the tweets, he also claimed to have helped negotiate an agreement that would allow Mango users to access their deposits.
Known on decentralized financial platforms like Mango, crypto traders do not rely on banks or brokers to make transactions or borrow digital assets. Instead, the requests are basically made in code.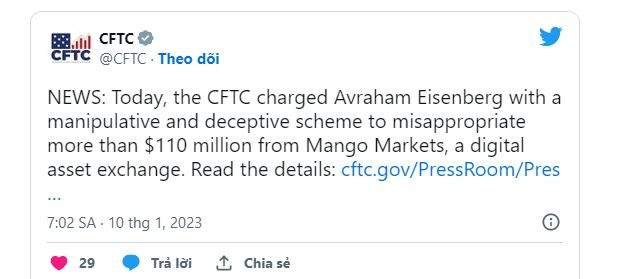 According to Kim Grauer, director of cryptocurrency research firm Chainalysis, Eisenberg is just one of many players using price manipulation to execute their intentions. Oracle manipulators have reportedly withdrawn around $400 million from DeFi platforms over the past two years, up from $65 million in 2020.
Before becoming famous in the field of cryptocurrencies, Eisenberg was a self-made entrepreneur and platform developer. While still an undergraduate at Yeshiva University in New York, this man started selling a variety of items on Amazon.com.
On December 23, Eisenberg was wanted. He was arrested three days later in Puerto Rico and is still in a New Jersey prison.
Mango Markets is a project that provides low-cost leveraged trading, futures and lending services. In addition to Mango Markets, DeFi giant Aave is also a victim of Eisenberg. The platform has suffered over $2 million in bad debt because of his move.
According to Bloomberg, Eisenberg reminds experts in the world of other serious attacks with the same method. Specifically, Harvest Finance lost $34 million in 2020, while Beanstalk lost $182 million in April. Last October, decentralized credit platform Moola Market was also mined for $9 million.
By: WSJ, Bloomberg
Source : Genk