The hottest money-making blockchain games today
The blockchain game craze is showing signs of a strong flare up along with the rebound of the virtual currency market. Blockchain games are understood as games built on the blockchain, where players create their own unique virtual items (NFTs) and sell them to each other for profit.
Such types of blockchain games are therefore also known as play to earn games. Players will plow hoes in the game to sell virtual items for virtual money, thereby selling virtual money on cryptocurrency exchanges and then exchanging for real money.
Here are the notable blockchain game projects with a clear development roadmap today:
Axie Infinity

Axie Infinity is a game developed by Vietnamese studio Sky Mavis. This game has been out since the beginning of 2018 and started to create a stable community from the end of 2020 after a long time of testing new features.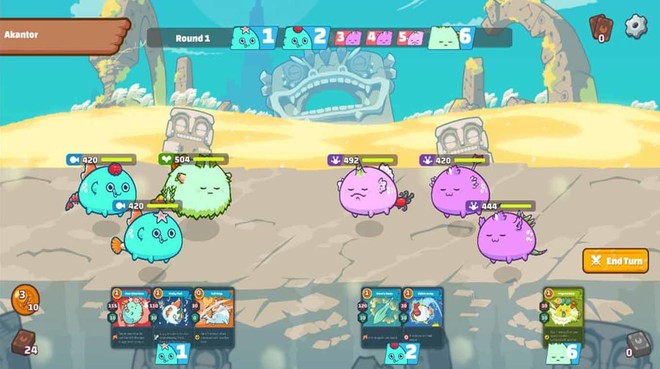 Just cute animals fighting each other, Axie Infinity is attracting millions of players around the globe.
From the beginning of 2021, along with the booming cryptocurrency craze, Axie Infinity has continuously attracted attention in Asia, culminating in July. The fever of raising virtual pets Axie rapidly increased, causing the coin The virtual currency of this game Axie Infinity Shards (AXS) increased in value 300% in a few days and peaked at $52 on July 27.
Currently Axie Infinity has about 600,000 players per day (DAU) and about 1 million players per month (MAU). AXS coin currently holds a value of 42 USD with a market capitalization of about 2.6 billion USD.
Going forward, the Axie Infinity development team intends to open tournaments, attract streamers and build an eSports community in a roadmap that lasts another 5 years.
Decentraland
Before Axie Infinity created a craze, Decentraland was the name that attracted the attention of the cryptocurrency community. This game creates a 3D virtual world where players will live in a rather interesting miniature society.
There, gamers can buy land, go to casinos, listen to music, attend seminars, shop… with a virtual currency called Mana. Decentraland is also the game that set a record for selling a piece of virtual land for more than 900,000 USD.
Decentraland players create a virtual moon to celebrate the 52nd anniversary of the Apollo 11 mission that landed the first man on the moon in 1969.
The appeal of Decentraland made the once famous American game company Atari teamed up to open the virtual city of Vegas City in the game. Or most recently, Coca-Cola conducts sales of virtual collections in this game.
At the time of its release in 2017, the virtual currency Mana used to be worth only 0.01 USD. Currently, the coin is priced at $0.7 with a market capitalization of $1.2 billion and attracts about 10,000 players a day.
The Sandbox
Tested at the end of 2020, The Sandbox is a mobile version blockchain project launched in 2012.
With this new version, The Sandbox brings a 3D virtual world where players are free to build things and trade them on the market with their own virtual currency called Sand. Currently, this coin is valued at $0.6 with a market capitalization of $452 million.
The direction of The Sandbox is for players to build their own worlds like Minecraft.
As its name suggests, The Sandbox aims to build a free open world where players are content creators, similar to Minecraft with each world being a different playstyle.
So the most important part of this project is building the Game Maker toolkit (already available) to support building countless games on the 'mother' platform The Sandbox in the future.
Source : Genk