The hot weather lasts, people in Hanoi and Ho Chi Minh City race to install an app to monitor electricity bills: Use as much as you can, no need for an electronic meter
In recent days, the temperature in the Northern and Central provinces has continuously increased, causing the demand for "cooling" devices such as air conditioners to skyrocket. Worth mentioning, although many households predict that the electricity bill will definitely increase, many people still feel…fire when the actual amount paid is much higher than predicted.
To overcome the above problem, many households have previously sought to buy electronic meters, which cost from a few hundred thousand dong to several million dong. However, these devices are relatively difficult to install and pose many electrical safety risks to the majority of users, not to mention a certain error in measuring electricity consumption.
However, users in Hanoi now have an additional way to monitor their family's electricity consumption through the Epoint EVN mobile application developed by the Electricity of Vietnam (EVN).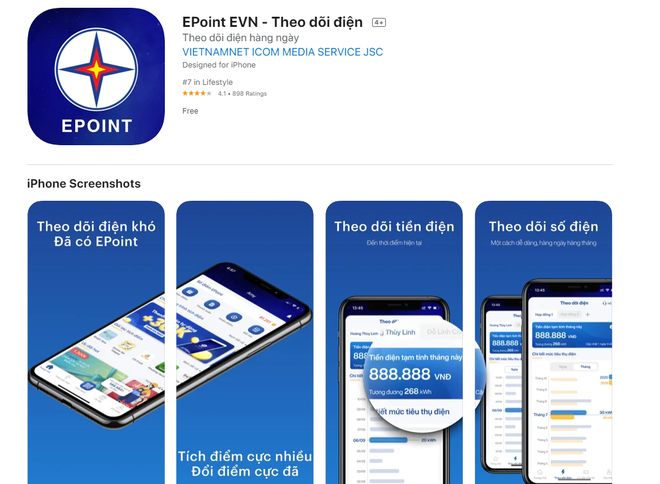 The EVN Epoint application is now available on the App Store (iOS) and Play Store (Android).
Since its launch in December 2020, Epoint has continuously reached the top of the most downloaded applications on Google Play and iOS in Vietnam. In particular, the total number of app installs in June increased 30 times compared to previous months due to the high demand for electrical appliances.
Easily track your phone number right on your smartphone
Accordingly, Epoint is currently the first and only application in Vietnam that allows users to directly monitor and check the amount of electricity as well as electricity bills each day at households.
In addition to showing the amount temporarily charged to customers, the application also compares electricity consumption with the same period of the previous year so that customers can assess the current consumption level and adjust in their daily life accordingly. Besides, the application can remind you to pay your electricity bill when it's time for a new payment; Monitor monthly electricity bills in full, notify expected power cut schedule if any, estimate electricity consumption.
" In May 2021, our house electricity bill was about 800,000 VND, by June 2021 it was 1.7 million VND, more than twice as much. Because the amount to be paid was still higher than expected, the couple had planned to install the power plant. electronic network to monitor, but then 'give up' because the installation is too complicated.Since installing the Epoint app, I just need to turn on my phone to know how much electricity the whole family used up yesterday, really much more convenient ," said Mr. Tran Tuan (Cau Giay, Hanoi).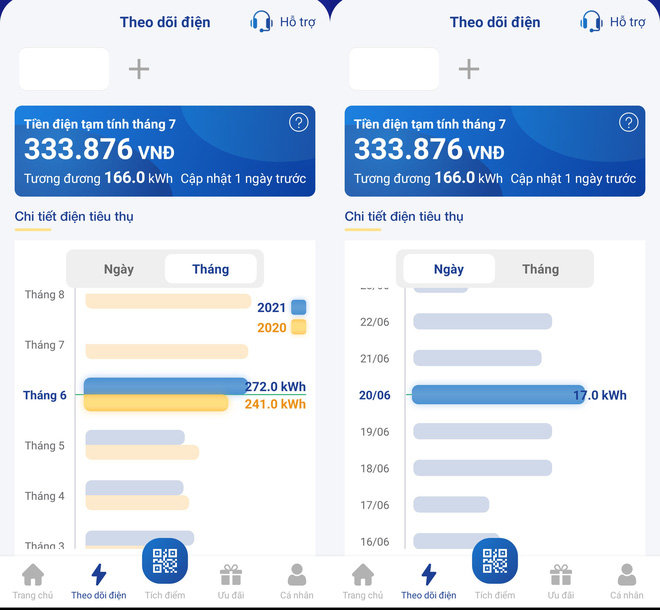 Electricity consumption is updated every day
For Ms. Ngoc Mai (Hai Ba Trung, Hanoi), transparency is the biggest advantage Epoint brings, helping to clear doubts when encountering a sudden high electricity bill compared to the previous month.
" In the past, I often wondered if my home's monthly electricity consumption was wrong or not. However, with this application, I can clearly monitor the amount of electricity I use every day. If you use it a lot, you will know how much electricity will increase ," commented Mai.
Registering to use Epoint is also quite simple. After downloading and installing, users only need to enter their phone number, the system will send an OTP code to the phone for activation. Once registered (or successfully logged in), users need to add to the electricity contract to know the amount of electricity consumed.
Notably, with the Epoint app, users are not necessarily the owner of the electricity contract but can still manage and check multiple electricity contracts at the same time. Of course, you need to know the customer code (which is clearly indicated on the paper electricity bill or on the electronic bill if paying via e-wallet), and the number of kWh consumed in the most recent month.
Another point to note is that for users who regularly pay for electricity via Momo e-wallet, the kWh consumption indicator is usually not displayed on this application. Therefore, users will have to use the Electricity Bill Calculator on the website evnhanoi.vn to estimate the amount of electricity they have consumed, based on the amount paid.
Currently, tracking electricity numbers via the Epoint application is only applied in Hanoi. People in Ho Chi Minh City can also install the EVNHCMC application of the HCM City Electricity Company with many similar functions.
Source : Genk