The game "Dinosaurs who lost their lives" received a super mod with 26 powerful weapons
Google Chrome is one of the most popular web browsers in the world today, a powerful online tool that helps users easily look up information quickly and conveniently. However, even when offline because of a connection error, this browser can still bring entertainment moments for us thanks to its already famous game "Dinosaurs who lost their lives".
Essentially, this is a simple obstacle course that will automatically appear on the user's screen every time they start Chrome without an Internet connection. Just press the Space key / up arrow key and they can control the dinosaur Chromasauras to jump away from the thorny cacti, or annoying birds. The longer Chromasauras can run, the higher the player's score will be.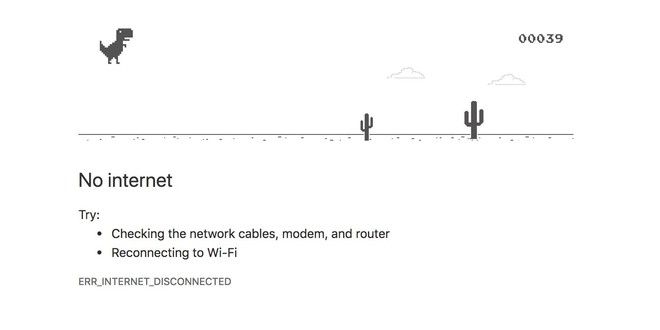 "Dinosaurs lost their lives" can be considered a familiar part of the Google Chrome browser.
Although it is only a product to kill time while waiting for the Internet connection to stabilize, "Dinosaur lost his life" really has left a great impression on the hearts of many global users. That is why recently, 2 online organizations MSCHF and 100 Thieves have cooperated to launch the game Dino Swords – an updated version for the dinosaur Chromasauras.
Basically, the graphics and mechanics of Dino Swords do not have too many differences compared to the "genuine goods" of Google Chrome. However, instead of simply repeatedly pressing the Space key, players can now collect 26 different weapons on the run and use them with many other buttons. Each weapon has its own use, such as destroying obstacles or turning to teleportation gates to help the dinosaur "dodge" in some cases. From a very simple game, "Dinosaurs lost their lives" now suddenly becomes more complex and requires more operations than ever.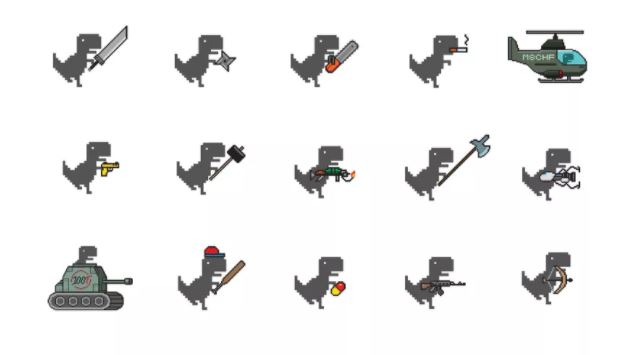 "Dinosaurs lost their lives" are now armed to this tooth.
Daniel Greenberg, Chief Strategy Officer of MSCHF said: " Google's dinosaur game is what remains after the heyday of Addicting Games or Miniclip Games. With this new mod, we hope to be able to more accurately describe its nature as well as bring back a sense of nostalgia . And it is true that when adding new weapons, "Dinosaurs lost their lives" brought the image of a game on the web browser in the early days, when Flash games were dominating the Internet.
Matthew "Nadeshot" Hagg, Founder and CEO of 100 Thieves, said: " Dino Swords is our new version of Chrome's dinosaur game, with 26 new weapons to help players in their journey. their. Many of them are familiar weapons, appearing in many classic games. Some even possess super powers, but some are completely useless. In addition, we have also "installed" a few easter eggs that players can find on their own, but not that easy . "
Although this is a pretty crazy idea and a bit "idle", but 100 Thieves team hopes players will still love and have the best time with Dino Swords. Matthew also promised that " there will be many attractive rewards for those who can prove they are the best player in this game ", whatever the reward, he does not clearly share.
You can experience Dino Swords at this website .
According to TheVerge
Source : Genk