The fire left 47 million Koreans unable to text, call, or pay
Shares of South Korea's Kakao Group fell sharply in Monday trading after the data center it rented caught fire over the weekend. The incident caused all Kakao services to be suspended for several hours, affecting its 53 million global users.
According to the initial police announcement, the fire started from one of more than 30 auxiliary power supply devices located in the electrical room, the third basement. The battery of the device providing the power supply and the surrounding electrical elements led to the fire at the data center. This is also the center where many other large Korean technology companies rent data storage.
Kakao is the corporation that owns Kakao Talk – Korea's leading messaging application. The company also plays an important role in many other areas from online payments, games to ride-hailing apps as well as login confirmation for many other major websites.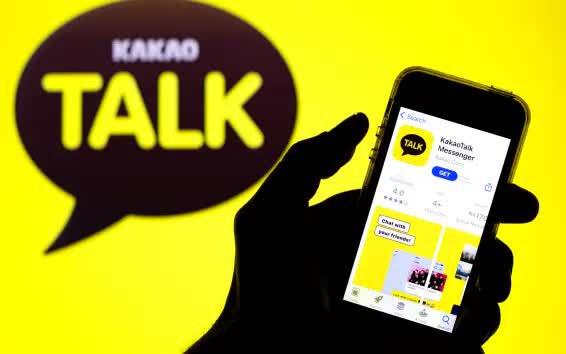 Specifically, the problem caused messaging, payment, games and many other services to be suspended for many hours on Saturday. By Monday morning, the main Kakao Talk service was almost restored during translation. mail service, map still error. KakaoBank also said that now all services have returned to normal.
Kakao reported 47.5 million monthly users in South Korea in the second quarter. This number accounts for more than 90% of the Korean population.
South Korean President Yoon Suk-yeal described the impact of the incident that Kakao had just encountered on a very large scale. He called on the relevant ministries to investigate the exact cause of the incident and make plans to avoid similar situations. " Although this network is run by a private company, it is in reality like the national telecommunications infrastructure. If there is a monopoly or a situation where the market has only a few large carriers, we We must take systematic measures from the national level for the benefit of the people ," said Mr. Yoon.
As a result of the crash, on Monday, Kakao stock fell more than 9% in the opening session, to its lowest level since May 2020. In just a few minutes, Kakao's 2 trillion won ($1.39 billion) market cap was blown away. While the giant Navar fell 2%.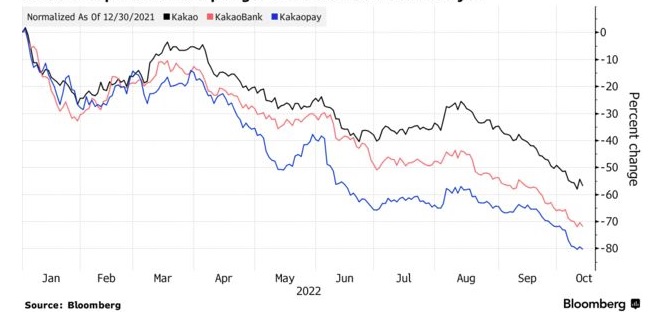 On Saturday afternoon, when the fire broke out, Kakao announced: " We bow our heads and sincerely apologize to all users who are affected by Kakao's problem right now. promised to do the utmost to prevent such a situation and investigate the cause of this incident.It is a rare situation where the data center is completely affected, so it takes more than expected to take precautionary measures ".
After the incident, many criticisms emerged that Koreans were too dependent on one company and called for a boycott of Kakao.
" The incident occurred when public opinion was not on Kakao's side due to the company's share price has been falling since last year and some executives sold shares at branches after the IPO ," Ahn Jae- Min, an analyst at NH Investment & Securities Co. " We expect short-term sentiment towards Kakao to be negative ."
The whole country is in chaos
The problem has stopped all communication on the Kakao application – which is used for everything from work to commuting. Evidence showed that students could not receive data regarding their test preparation and parents had to be contacted via phone calls. Tech drivers are also unable to connect with customers thus reducing their daily income by 90% compared to normal. Stores are also unable to process digital vouchers through the app for customers.
The domestic media also simultaneously reported on the overwhelming influence of Koreans on the app, leading to a "wake-up" campaign – led by users looking for alternative apps such as Line and Telegram.
"It feels like going back to the 2G era," one user shared.
Some other coal:
"It's too bad."
"I really like life without Kakao. No more forced chat groups…"
"Why don't people think about deleting Kakao from now on".
"I don't really feel upset but I guess this situation will make it clear who are relying on Kakao too much."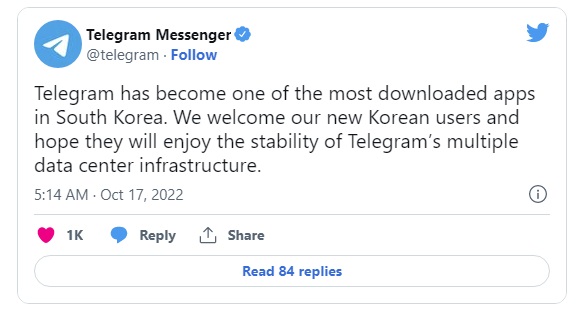 Notably, in the midst of the incident, Kakao Talk's rival messaging app Telegram tweeted that it was seeing a sharp increase in users:
" Telegram has become one of the most downloaded applications in Korea. We welcome all new users and hope all will be satisfied with the stability of the multi-data storage infrastructure. form of Telegram ".
Source: Bloomberg, CNBC, Reuters
Source : Genk