The deeper the price drops, the more 'sharks' holding the most Bitcoin in the world take advantage of 'bottom fishing'
Microstrategy – an enterprise operating in the field of business intelligence (BI), mobile software and cloud-based services – is currently the largest Bitcoin public company in the world. .
Despite officially entering the crypto market in 2020, the company has made a series of moves to buy BTC in large quantities. On August 11, 2020, MicroStrategy confirmed it had purchased 21,454 BTC for $250 million. At this point, the average value of each BTC bought is about $11.6k. Since then, MicroStrategy has continuously spent more money to increase the amount of BTC it owns. On February 24, 2021, this company went on to buy 19452 BTC in the amount of 1 billion USD at a price of about 52,000 USD.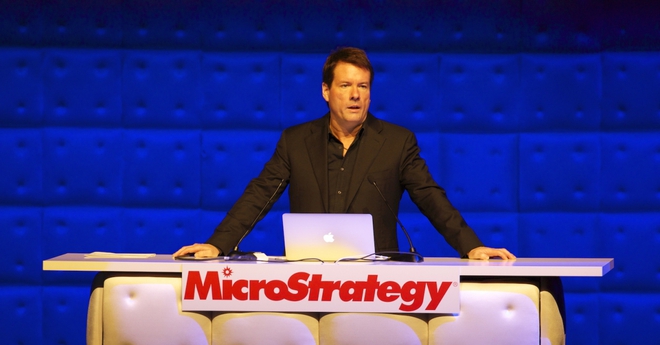 Michael Saylor – CEO of MicroStrategy
Most recently, MicroStrategy continued to spend about $10 million more to buy about 229 BTC , according to Yahoo Finance. According to the announcement posted by CEO Michael Saylor himself on Twitter, MicroStrategy bought this Bitcoin at an average price of about $43663/BTC. Previously, on May 13, 2021, MicroStrategy also bought 271 BTC, with an average price of about 55387 USD/BTC.
In the context that the cryptocurrency market is still in the red when the Bitcoin price drops below the $43000 threshold, it can be seen that MicroStrategy has continuously 'bottom-fishing' – a move to add to the amount of Bitcoin it owns at a high price "great discount" compared to 64,000 USD a few weeks ago.
In total, MicroStrategy currently owns about 92079 BTC – double the amount of BTC Tesla owns. The total amount MicroStrategy spent buying Bitcoin is $2.251 billion (average around $244450 per BTC). With the price of Bitcoin at $4,500 (as of May 18), the business has doubled since it started investing in the crypto market, according to data from Coinbase. Of course, this number certainly does not stop in the near future.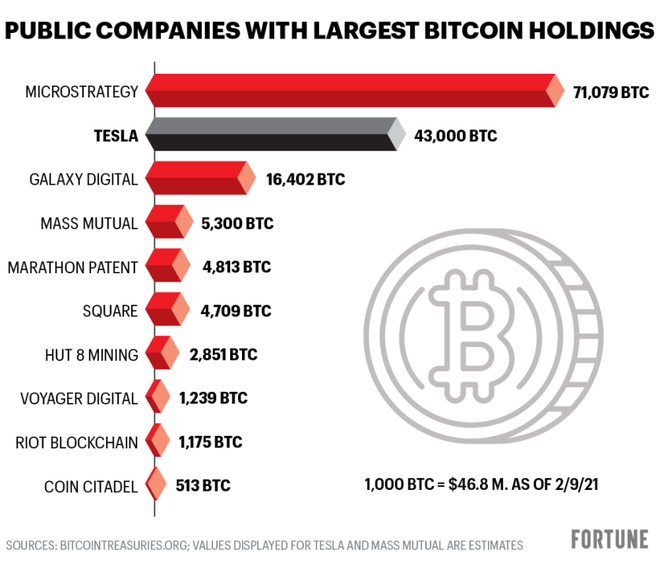 List of public companies holding the most Bitcoin in the world – data as of February 9, 2021. Source: Fortune Magazine
Michael Saylor, CEO of MicroStrategy, said that the focus of this business right now is to continue to grow the software business as well as buy more Bitcoin, with the expectation that the price of this cryptocurrency will continue to increase in the future. long-term.
CEO Saylor also believes that the market capitalization of Bitcoin and other cryptocurrencies will grow to $100 trillion.
"When the crypto market cap hits $10 trillion, its volatility will be significantly less. As it approaches $100 trillion, you'll see a decrease in growth, a decrease in volatility, and it will creating a stabilizing influence in the entire financial system of the 21st century," the CEO of MicroStrategy said in an interview earlier this year.
synthetic
Source : Genk