The confrontation of the super rich: Billionaire Richard Branson wants to surpass Jeff Bezos in the space race
Virgin Galactic management has previously announced the company will conduct three more spaceflights to complete the development test of the VSS Unity spacecraft. The company is working to begin toll-ride passengers as early as 2022, after a successful spaceflight last month with just two pilots on board.
According to that plan, the first of the next three flights would carry four passengers to test the capsule, the second with Branson and the third to carry members of the Italian air force to Professional astronaut training.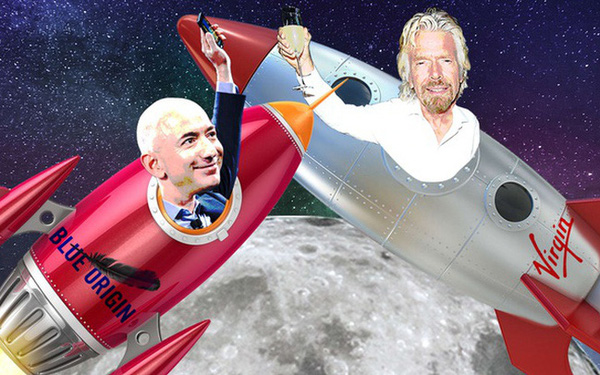 However, an article earlier this month by a blogger based in Mojave, California – where Virgin Galactic manufactures its vehicles – said the company was considering rescheduling its flight schedule to bring Branson into space on the next one, instead of on the second. The post comes shortly after Bezos announced he would fly Blue Origin's first passenger flight, scheduled for July 20 – something that suggests Branson may be trying to beat the odds. Bezos by personally flying into space on July 4.
Virgin Galactic has not confirmed or denied that it is considering reorganizing its spaceflight schedule.
" I know there's a lot of interest and speculation out there, but we haven't announced the dates or who will be taking part in those flights. We have three more flights on our test flight program. and we are and will continue to go down that path, " said CEO Michael Colglazier.
Branson's Virgin Galactic was founded in 2004 and Bezos' and Blue Origin's was founded in 2000. The two companies are competing to take passengers on short flights to the edge of space, an industry. called "suborbital travel". The two companies' spacecraft will reach an altitude of about 80 km to 100 km and spend several minutes hovering in a microgravity environment.
Shares of Virgin Galactic jumped more than 30% in trading on Friday, after the company announced that the FAA (Federal Aviation Administration) had granted it the necessary licenses to carry passengers on space flights. Future.
Colglazier emphasized that " the May 22 flight was a huge success for us " and with FAA approval now in hand, Virgin Galactic is turning " its attention to clarifying when we will ready for the next flight ".
While Virgin Galactic hopes to eventually have multiple flights per week, for now VSS Unity is the only active spacecraft in the company's fleet, making turnaround time a key factor if Branson wants to. fly into space before July 20.
More than two years ago, when Virgin Galactic made its first and second spaceflight, it took the company 71 days to cycle between launches.
To get to the next spaceflight on July 4th, they had to prepare the spacecraft in just 43 days. But a turnaround time of 71 days means that Virgin Galactic's next spaceflight will fall on August 1, a few weeks after Bezos' scheduled flight.
However, Virgin Galactic has conducted test flights using faster boosters than before. As the company ramped up testing in 2018, it took VSS Unity on three booster flights that increased in altitude as they got closer to space. During those three rocket flights – conducted on April 5, May 29 and July 26, 2018 – it took the company 54 days and 58 days to spin VSS Unity, respectively.
Going into space before July 20 will require Virgin Galactic to prepare VSS Unity in 58 days or less – that is, faster than before.
For now, Colglazier thinks this is "not the time" to talk about the timing of the next spaceflight.
" We approach this in a very methodical way, putting safety first, and once we've checked everything and taken all the steps, that's when we can move on and announcement, " Colglazier said.
Reference: CNBC
Source : Genk