The business helped Microsoft out of stagnation and CEO Nadella was paid 249 times more than employees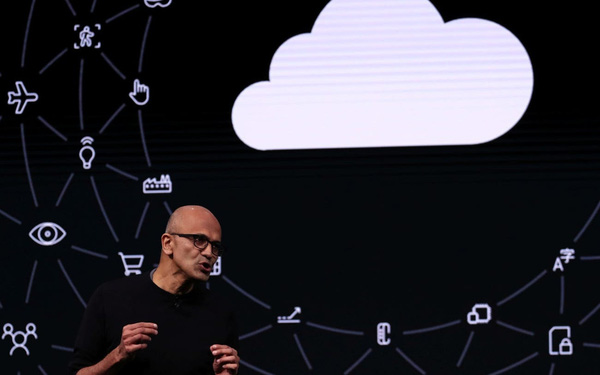 Satya Nadella is credited with leading the innovation of Microsoft's vision. The central pillar is cloud computing – the array that makes Microsoft one of the most valuable companies in the world.
Microsoft's market capitalization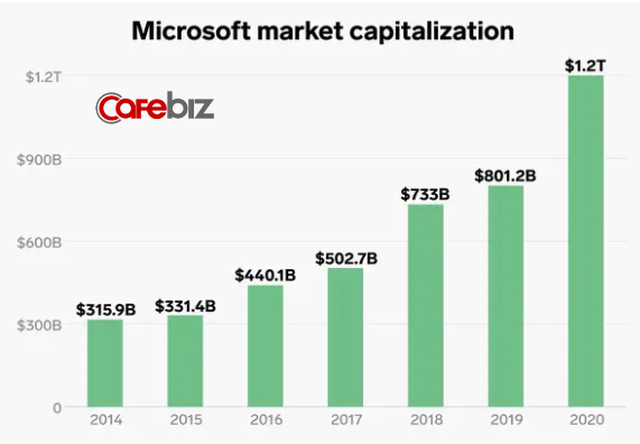 Microsoft's market capitalization under Nadella has risen to more than $ 1.2 trillion at the time of entry, from $ 315.9 billion in January 2014 – the month before he was in charge of running the company. .
Microsoft President John Thompson pointed out that Microsoft's market value growth is one of the reasons why Nadella is 249 times more paid than the average Microsoft employee.
Microsoft employees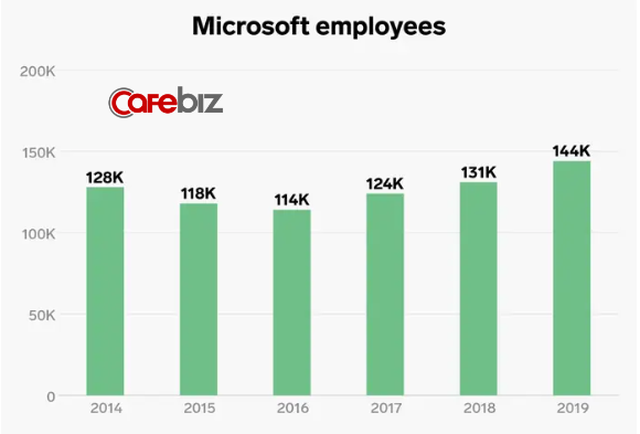 Microsoft personnel decreased significantly in Nadella's first two years of work as a result of Nokia's failure to $ 7.6 billion under Steve Ballmer's regime.
Microsoft stopped distributing Nokia in April 2014. The result was internal disagreements and friction between Ballmer and the Board of Directors of Microsoft which led to his resignation. The company wiped out almost all purchase price and laid off thousands of employees. Microsoft personnel began to have promotion opportunities.
Microsoft revenue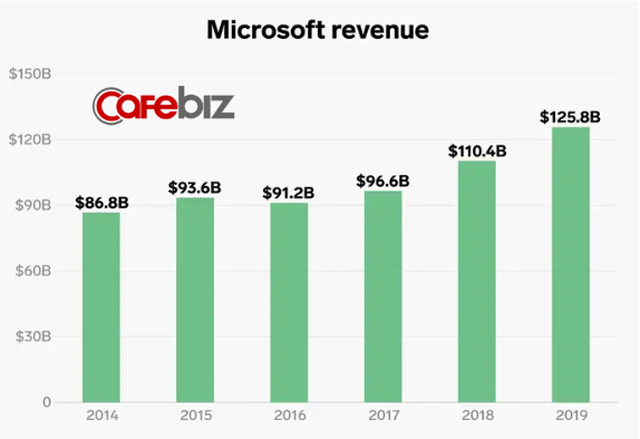 Microsoft's revenue grew steadily under Nadella, except for the fiscal year 2016 – a time when it was a turning point for the company. At about the same time, Microsoft underwent job cuts to businesses including the Windows operating system and the phone business.
However, bright spots have appeared. Microsoft's cloud business has turned into a lucrative source. In 2016, Microsoft began publicly posting revenue growth of its Azure cloud computing platform at 113% that year. The promise of Microsoft's cloud business helps the company regain support from investors.
Microsoft's revenue surpassed $ 100 billion in the first part of fiscal 2018 and peaked last year with $ 125.8 billion in revenue.
Microsoft commercial cloud revenue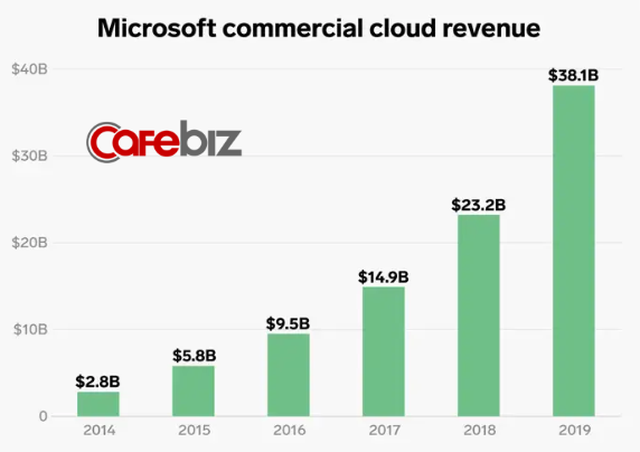 It is difficult to know exactly the amount of money generated by Microsoft's cloud business – the Azure cloud computing platform because Microsoft does not report its independent revenue.
Instead, Microsoft announced sales of commercial cloud computing, including Azure, Office 365 and other cloud services. Sales of commercial cloud computing increased to $ 38.1 billion during the company's 2019 financial year, from $ 2.8 billion in fiscal 2014 when Nadella took over the leadership role.
The way Microsoft reports cloud computing revenue makes it difficult to compare with Amazon Web Services. Amazon achieved $ 25.7 billion in 2018 throughout the fiscal year.
Net income of Microsoft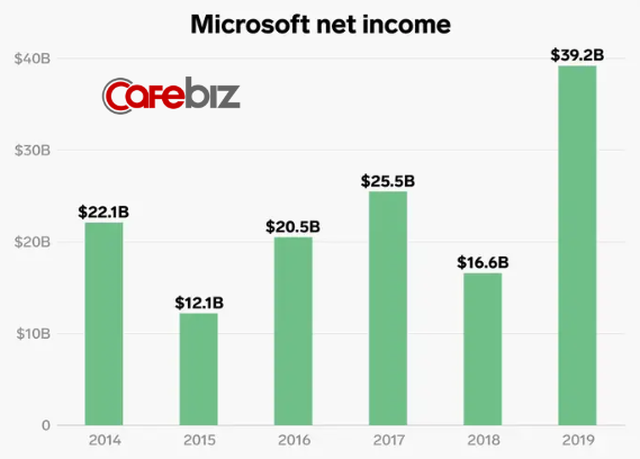 Microsoft's net income in the first fiscal year of Nadella as CEO made a big change because the cost of $ 7.6 billion was related to Nokia's failure.
The company wiped out more than $ 7.5 billion in connection with the deal and said it took $ 2.5 billion for "Integration and restructuring costs," largely related to the phone business.
Azure revenue growth rate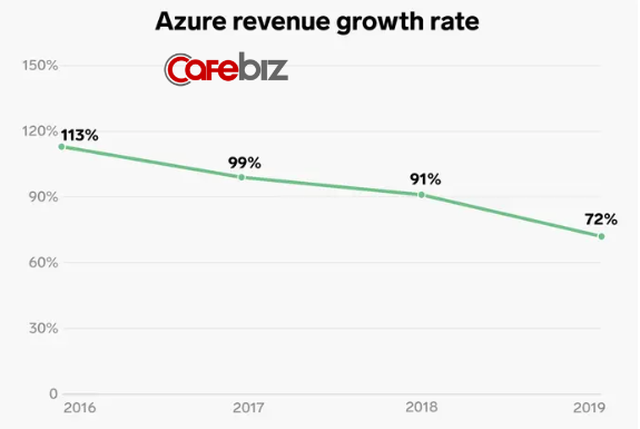 Azure growth slowed as the company first revealed its revenue growth calculations for 2016.
While growth is slowing, the analyst explains for the "Law of Big Numbers". Basically, the larger the platform, the harder it is to calculate growth to the hundreds when the platform is still young. Amazon Web Services revenue growth has been slow.
Cost for research and development by Microsoft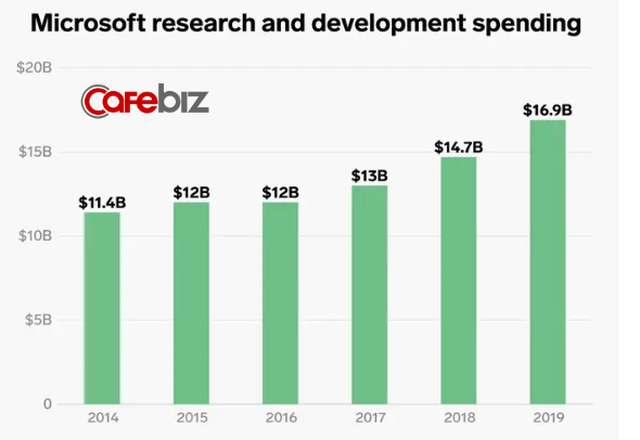 Microsoft spent a lot of money on research and development when Nadella was responsible for running the company, but that was because the company's revenue increased.
Microsoft maintains 13 to 14% of its revenue for research and development before Nadella is CEO. Therefore, growth hardly shows changes in research and development strategies and investment.
Compared to Amazon, they spent 12.4% of 2018 revenue – $ 28.8 billion on "technology and content". What is accepted as a source of use for research and development. However, some analysts think this is not an accurate comparison.
Source : Genk