The big guys in the world electric vehicle industry
Producing electric vehicles is expensive and all players in the game have to accept heavy spending to be able to deliver cars to customers.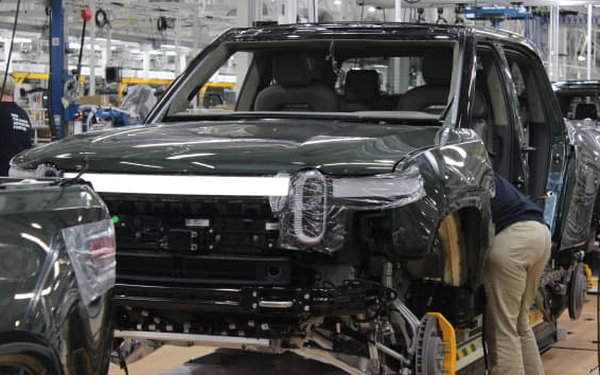 According to CNBC, in the transition from gas cars to electric cars, what every car manufacturer needs right now is MONEY.
Old-timer automakers and up-and-coming startups alike are rolling out new battery-powered vehicles in an effort to meet rising consumer demand. Increasing production of new models is an extremely expensive process not to mention the rising costs and tightening regulations that are squeezing their budgets further.
The price of raw materials used in electric vehicle batteries has skyrocketed over the past two years as demand has also increased.
The situation is even more complicated when the US strengthens regulations to tightly control the electric vehicle sector.
The result: Cost pressures increase.
Automakers often spend hundreds of millions of dollars designing and building models of new cars before a finished vehicle is shipped. Nearly all of the global automakers currently maintain large cash reserves of about $20 billion or more. This reserve is to ensure that companies can continue to make new models if available and survive a crisis that affects their sales and profits for several quarters.
All of that makes electric vehicle production a risky bet: If a new model doesn't resonate with customers, or if production issues are slow or related to quality, manufacturers The car does not have enough money to cover the expenses incurred.
Take Tesla as an example. When preparing to launch the Model 3, CEO Elon Musk and his team planned a highly automated production line with robots and special machines at a cost of billions of dollars. However, some of those lines didn't perform as well as expected, and Tesla had to shift some of the work at the end of the line to makeshift tents installed outside the factory to keep up with production targets.
Tesla learned a lot of valuable lessons. Musk later called these experiences "production hell" and said they were on the verge of bankruptcy.
With electric vehicle startups ramping up production, more investors are learning that taking a car from design to production is a "very capital-intensive" process. And in the current environment – where interest rates are stellar and stock prices falter, it's much harder to raise money than it was 1.2 years ago, it's become even more difficult.
Here are the most prominent electric vehicle companies in the industry right now:
Rivian
Rivian is in a strong position in the market with over $15 billion in hand as of the end of June. This amount is enough to help the company operate and expand through their plan to launch their R2 model in 2025. This is information CFO Claire McDonough said during the business results meeting on August 11.
Rivian has struggled to ramp up production of the R1 and SUV models amid supply chain disruptions and early-stage production challenges. The company burned through $1.5 billion in Q2 but also said that it plans to cut short-term spending to $2 billion this year from $2.5 billion as originally planned to ensure there is no shortage of cash. long-term goals can be met.
At least one analyst thinks Rivian will need to raise more money before 2025: In an announcement, Morgan Stanley expert Adam Jonas said Rivian will need to raise $3 billion by the end of next year and an additional three. billion more by 2024 and 2025.
Lucid
Luxury electric car maker Lucid Group doesn't have as much cash in reserve as Rivian, but it's not in dire straits either. They ended the second quarter with $4.6 billion in cash, down from $5.4 billion at the end of March. That's enough for the company to survive "well into 2023," according to CFO Sherry House.
Like the Rivian, Lucid has struggled to ramp up production since the launch of the Air sedan last fall. They are planning to spend big capital to expand the factory in Arizona and build another factory in Saudi Arabia. However, unlike Rivian, Lucid has a rich "back" including Saudi Arabia's public investment fund, which owns 61% of Lucid's shares. They can offer help if the company runs out of cash.
Fisker
Unlike Rivian and Lucid, Fisker does not plan to build his own factory to produce electric vehicles. Instead, the company will use contract manufacturers such as Magna International and Foxconn for production.
Here's the bottom line: Fisker won't have to spend a lot of money initially on the newly launched car to produce, but it will have to fork out a portion of the profits to pay manufacturers later.
Production of the Ocean series will take place in early November at Magna's plant. Fisker will consider temporary costs including payments to the manufacturer, but with $852 million on hand as of the end of June, they appear to have no problem covering these costs.
RBC expert Joseph Spak says the company will need more cash despite using an outsourced production model. He predicts the company will need $1.25 billion in the "coming years."
Nikola
Nikola is one of the electric vehicle manufacturers to IPO through the merger with the company SPAC. The company has started delivering the first battery-powered models called Bamboo in small quantities and plans to ramp up production and launch more new models in 2023.
Right now, however, they can't afford to do that. The company has had a tough time raising capital, with accusations of short selling sending stock prices down, and the CEO is also facing lawsuits.
Nikola has $529 million on hand as of the end of June and could raise another $312 million through inflows from Tumim Stone Capital. This is enough to run the business for 12 months, according to CFO Kim Brady. However, in the long run, the company needs more money.
Deutsche Bank expert Emmanuel Rosner predicts Nikola will need to raise $550-$650 million before the end of the year and even more in the period after.
Source: CNBC
Source : Genk