The App Store app has an error, blocking users from opening applications like YouTube and WhatsApp
Some users complain that they cannot open certain applications like YouTube and WhatsApp because the system has an unexpected error when opening these applications.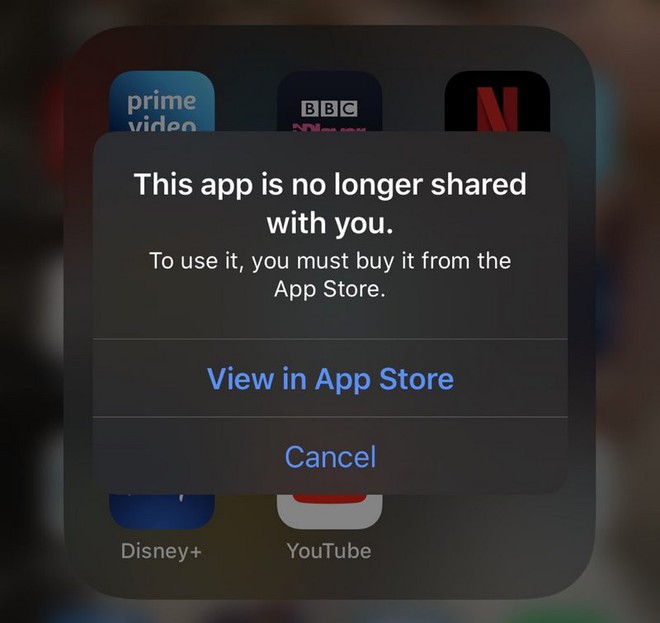 Specifically, the error message is as follows: "This app is no longer shared with you. To use it, you mush buy it from the App Store", roughly translated as "This app no longer be shared with you. To use To purchase this app, please purchase from the App Store ".
At this point users only have two options, which is to cancel the prompt or View (see) in the App Store. However, the error only appears with certain applications and many people believe that the cause may come from iCloud Family Sharing. It is possible that the mechanism to prevent users from purchasing Apple's application has encountered a problem and affects the application.
Worse is that there is currently no thorough solution to the problem. Meanwhile, Apple has not yet confirmed the problem on the System Status page that makes users even more confused. However, Apple will undoubtedly prioritize fixing this issue as soon as possible.
According to iPhonehack, reinstalling the app may temporarily fix the problem, but users will face data loss if they don't back up first. According to another update from iPhonehack, the problem also appears on previous iOS 13.4.1 versions.
Apple has just released iOS 13.5 this week and is expected to release the next major iOS 14 update at WWDC 2020. The recently released iOS 13.5 and iPadOS 13.5 feature one of the expected features, It is support to automatically bypass Face ID and switch to the password entry screen when the user wears a mask.
Refer to iPhonehack

Source : Genk